Only the people living within the walls make a house a home. But when those walls are flat and boring, and the home is a basic design, how can can you add character to your home? How can you shape it and make it your very own?
Fear not! Even if you live in a cookie-cutter home that was built with the most basic of designs, there are ways to add personality and character. From adding decorative wood trim and accents to mingling antiques and modern furnishings, here are eight easy ways to add character to your home.
Want to Add Character to Your Home? Try these Excellent Tips!
① Dress Up the Ceiling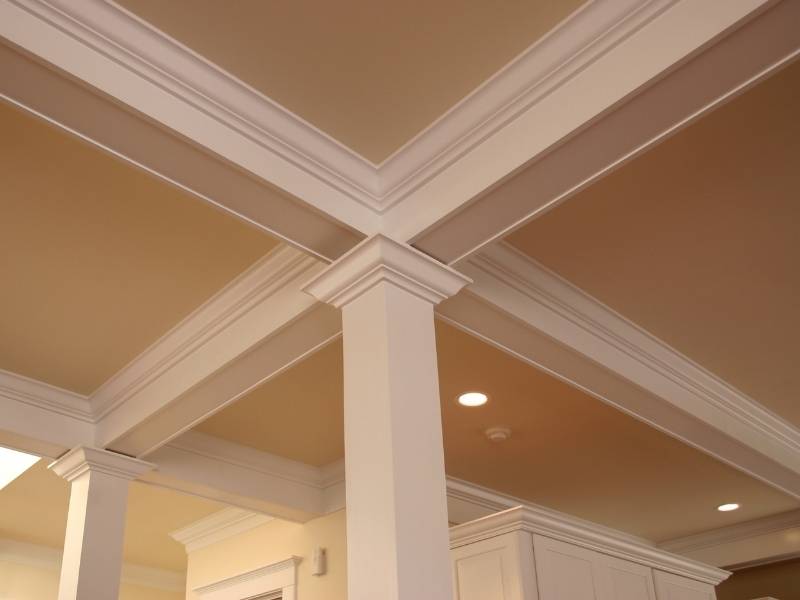 Ceilings often go overlooked. But when you step into a room with architectural beams and crown moldings, it is an instant surprise. It lends a more luxurious feel, but also catches the eye and makes a room appear taller. 
There are several ways you can dress up a ceiling and add character to your home. For starters, add medallions around bedroom ceiling fans and large lighting fixtures like chandeliers and pendants over the dining table.
Another trick is to incorporate crown molding or a coffered ceiling to create extra dimension. Faux beams, which are lighter and easier to install than the real thing, can be added to create a structural depth. Even inexpensive beadboard paneling can give a shiplap, nautical look to a room.
② Dress Up Boring Windows
When it comes to windows, think past plain curtains. Yes, window treatments can do a lot for a space, but they're common. Instead, to add character to your home, go for something more unexpected.
Focus on the window trim, painting it a bold color or using decorative moldings. Opt for a streamlined look for more modern windows and go without trim entirely! But, there are still many other possibilities for windows.
For instance, in place of a curtain rod, install a curved cornice board, tucking sheers and drapes behind them. To achieve an industrial flair, use metal piping. Or, for a country charm, add some shutters. If your windows face the street, boost that curb appeal with some window boxes, filled with draping vine-like blooms and ivies. 
③ Bring in a Fireplace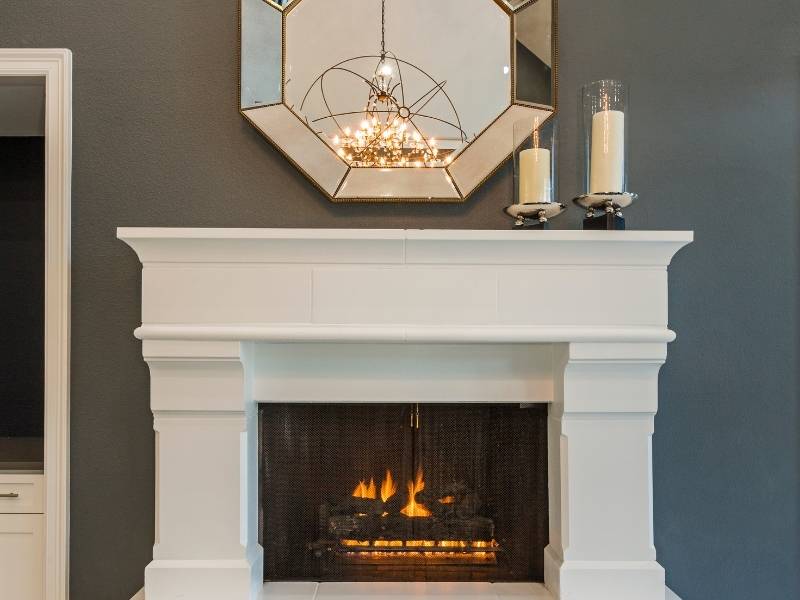 Fireplaces can create a lovely focal point in a living area. The crackling fire adds a physical and visual warmth that elevates any space, but also adds a natural, earthy element that our brains instantly connect with. If you have the budget, add a real working fireplace, whether it's operated by a gas-start or matches.
If you seek a more affordable option, look for a faux fireplace that can be attached to a wall and give the illusions of embers and flames. Add a shelf above to create a mantel of sorts and dress up the area with a bundle of birch logs and a poker. You'll never be able to tell the difference!
④ Mingle Vintage and Modern Decor
Another way to add character to your home is to mingle vintage and modern decor styles. Mixing and blending styles create tons of personality, especially when you can display collections of mementos from your travels and other cherished items.
For instance, in a more modern kitchen that exudes an efficient utilitarian vibe, you can add vintage hardware to the cabinets and drawers. Today, you don't have to go hunting estate sales or salvage shops. You can find very inexpensive replicas of hardware and furnishings online.
Adding antique furnishings and vintage knick-knacks around a room can not only give it character but create a more thoughtful and intentional interior design. Make antique heirloom pieces take center stage and surround them with more modern and contemporary accent pieces.
⑤ Replace Interior Doors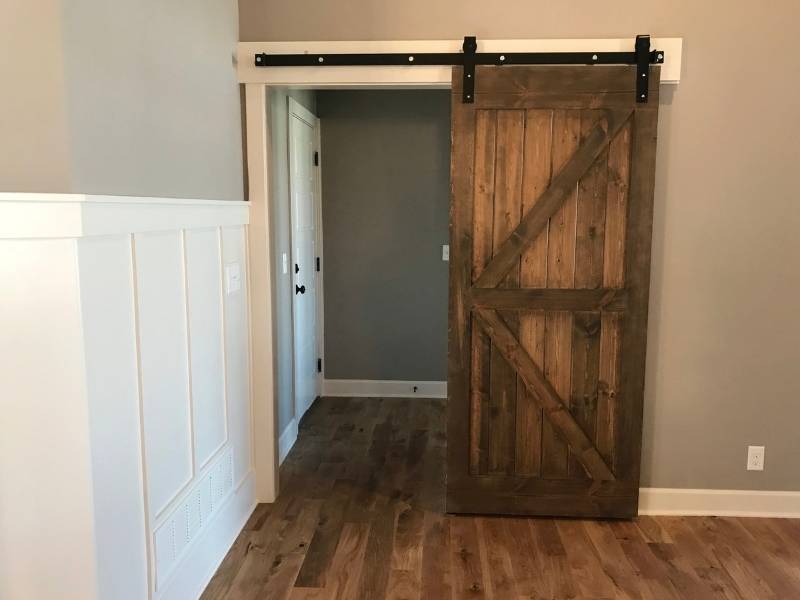 Like your front door, your interior doors can use some character, too! Replace (or remove entirely) your interior doors and replace them with something more unique.
For instance, sliding barn doors have become such a huge trend in recent years and it's clear to see why. With their rustic look and clever space-saving track, these doors can add tons of character to any space, but especially a modern farmhouse-style home. Find a matching pair and you can create a French door between two large spaces.
If this country look isn't your thing, opt for a more modern look instead, with sheer panels that can give a more Zen-like, minimal look. You could also simply stain them or paint them.
⑥ Make a Grand Entrance
Make your boring front door into a grand entrance, making it more welcoming for guests and family. Transform a front door by painting it in a bold color, like bright reds or yellows. You can also add some character to a front door by hanging a seasonal wreath and placing out a fun doormat.
A stylish front door can create wonderful curb appeal. But take it a step further with a vintage mailbox and reclaimed railing from older homes. Hang some flower baskets also to liven up the front porch. 
⑦ Don't Be a Wallflower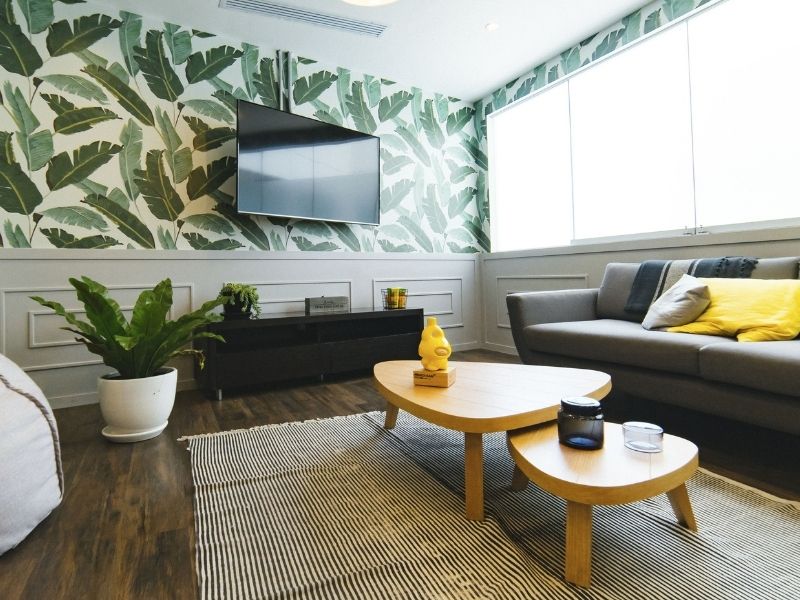 Neutral painted walls are perfect for certain areas like bathrooms and compact spaces. But, don't be afraid to branch out. Wallpaper is making a complete comeback and is now, once again, en vogue.
So, stay away from the old looks and lean into more modern patterns. Apply a unique wallpaper to a focal wall or downstairs powder room to make a statement of character.
If the thought of wallpaper makes you cringe, there are many other ways to dress up your walls, including backsplash tiles, a collection of artwork and even textural panels.
⑧ Add Built-ins
If you are handy or have the funds to hire someone, create some built-ins through the space. This might be a bench seating (with extra storage!) tucked within a bay window or built-in shelving for your personal home library.
Create a built-in closet complete with hooks and baskets in a mudroom or child's bedroom. Need to break up a larger space? Incorporate a knee-high pony wall that acts as a visual divider and allows a shelf for potted plants and knick-knacks.
If you have a few suggestion about how to add character to your home, please do so in the comments below. We love to hear from our readers! Also below, you will find links that will take you to other fantastic articles about all things design.
Images Courtesy of Canva.
Other Posts You Might Enjoy:
5 Improvements that Add Value to Your Home
Textured Walls Create the Character of the Room
Unique Ceiling Fan Design Ideas That'll Inspire Your Creativity
12 Tips to Make Your Living Room Look More Expensive and Elegant
Share This Story, Choose Your Platform!