Trends come and go, but a timeless interior endures the test of time. Which, of course,  ensures that your home always looks great, year after year. However, are you wondering, what a timeless interior is and how to achieve it?
A timeless design doesn't adhere to any decade or trend. Rather, it has a classic look, regardless of the latest trend. You also benefit by creating a timeless design that remains versatile over the years. Therefore, you don't find a need to replace major items, which ultimately saves you money.
With a timeless style, you make subtle upgrades to your space that are on trend. You also do it without breaking the bank. So, whether you're redesigning your home or starting from scratch, here are seven top tips for creating a timeless interior in your home.
Your Guide To A Timeless Interior Design In Your Home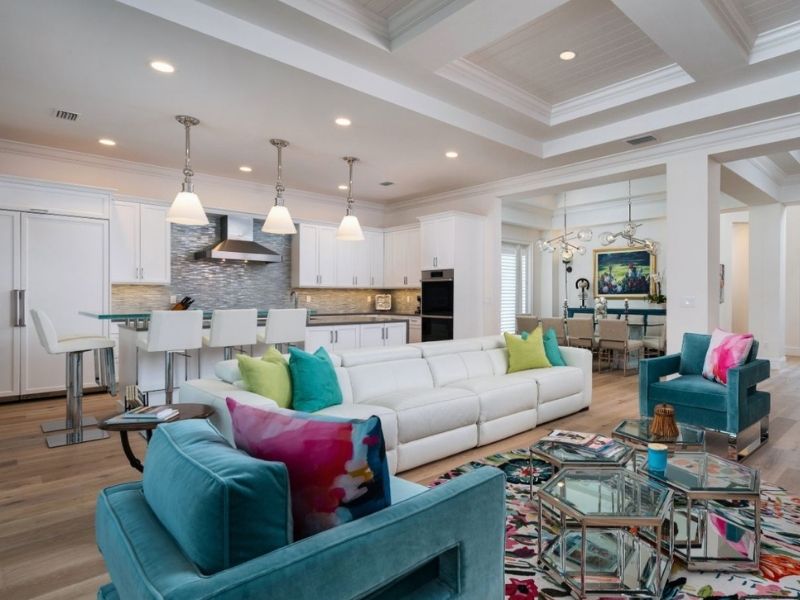 1. Remember, quality over quantity.
First and foremost, if you want to create a timeless space, it's important to choose quality furniture and other major pieces that last for years. Inexpensive furniture usually doesn't last long and likely needs replacing. So, in the long run, there's no real savings from buying inexpensive furniture. Instead, save for that special piece and then, purchase a quality item.
Again, high-quality pieces save money in the long run. However, you don't need to break the bank for them. Rather, we must emphasize investing in affordable pieces. In the end, a few high-quality pieces are always preferable over filling a room with a bunch of inexpensive things.
2. Hide the technology.
Technology is something we accept as a part of life. In fact, most don't want to live without it. However, technology is an eyesore in most rooms. To ensure your room always looks ageless, it helps to find effective ways to hide cords, wires, and the technology as well.
3. Use trendy designs sparingly.
While it may be tempting to fall into the latest trends, they are opposite of timeless. Most trends rarely last more than a few years which quickly outdate your interior. But the best way is to use trends that don't require a lot of time or money. In fact, it's easy to switch out trendy rugs, pillows, and other accessories, for example.
4. Use natural materials.
Nature often inspires timeless design. Also, nature never goes out of style. So, use natural materials like wood, stone, rattan, and plants to create a cozy, yet timeless space that works with any style and is never out of date.
5. Go a neutral color scheme.
Stick to neutral colors like white, gray, or beige when it comes to furniture and wall paint as they work with any style or color palette. Remember to use paint primer first. Not using a primer before applying paint can change the hue of the color. However, neutral doesn't have to be boring.
Instead, add pops of color with accents like pillows, rugs, and accessories. Another benefit of going neutral is that there's no repainting or recovering furniture when you want to switch things up.
6. Focus on functionality.
While creating a beautiful space is important, the function is of equal importance. Make the space proportional with pieces that balance and fit the room. You want it to look good, but you also want the pieces in the room to have a purpose for use in your daily life. Of course, a timeless design with good proportions doesn't have furniture that's too large or too small for the space.
7. Mix old and new.
A great way to create a timeless space that that is not from a particular era or trend is by mixing antique pieces, finishes, or features with contemporary ones.
Antiques create a focal point in your room with a strong history that has presence and tells a story. Mixed with contemporary pieces, your space achieves the perfect balance of old and new. Moreover, it's unique instead of buying it out the showroom at the furniture store. In fact, this beautiful balance of time periods or design styles creates an ageless look, that's both interesting and beautiful.
In conclusion.
If you have any questions or suggestions, we always love to hear from you in the comments below. Also below are links to more fantastic articles about ALL things DESIGN for your home or business.
Images Courtesy of Canva.
Other Posts You Might Enjoy:
Interior Design With Winter White For Any Time Of Year
Home Wall Murals: 5 Interior Design Tips for Success
Protecting Your Interior Design Proposals and Ideas
Share This Story, Choose Your Platform!