Looking to invest in a Yoga Home Studio? Lockdown was a time for self-reflection and self-improvement. Some took up running, some threw themselves into home cooking and some realized the importance of slowing down. Embracing regular yoga practice at home was another popular way people took care of their wellbeing during the pandemic.
Yoga Home Studio
: How-To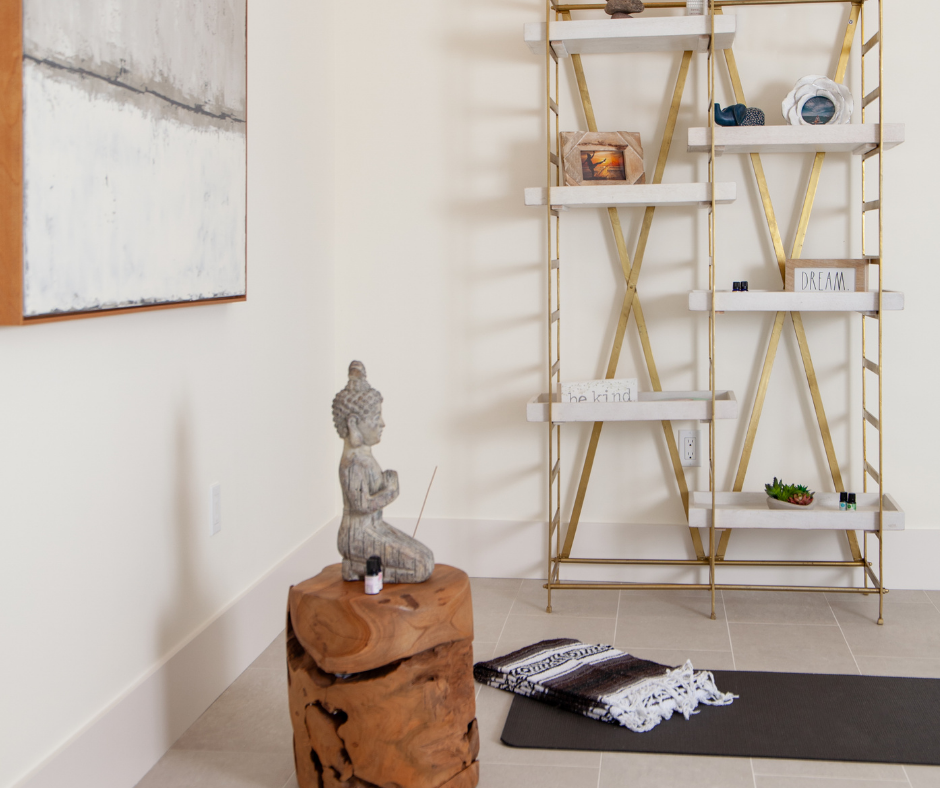 Design by Patricia Davis Brown
Going to a yoga studio is an enjoyable experience. They tend to be beautifully decorated and styled in a way that oozes "zen". However, if you're keen to practice yoga at home, you can replicate the studio vibe by creating your own dedicated space. A peaceful place to work on your downward dog in peace.
Here are some tips on how to create a calming yoga space at home.
Decide on a Color Scheme
If you have a full room to dedicate to your yoga space, you might paint it to enhance its appearance. So if you choose to paint the walls, opt for soft, calming colors or natural earthy tones like green and brown.
If you've not got an entire room to work with, you could incorporate color with the additional accessories.
Decorations
Bare walls can create a cold, unfriendly environment, so consider making your space look cozier with the addition of accessories and decorations. Dreamcatcher and ornaments made from wood or other natural materials will be very fitting for a yoga room.
You could even replicate your favorite yoga studio's décor by adding printed posters with inspiring quotes or mantras that would motivate you to stay mindful.
Add Greenery to Your Space
It's common knowledge that nature can have a calming effect. Incorporating plenty of greenery and plants into your yoga space will help create a peaceful, relaxing yoga home studio. Opting for flowers is also a great way to add a touch of color to the space and make it feel inviting.
Choose Mood Lighting
A yoga space should have dimmed lighting, with just enough light to see what's going on around you. Any artificial light should be soft and subtle. Instead of harsh or bright, which could affect your ability to relax and unwind.
Opt for a few small lamps or light some candles to replicate the feeling of a professional yoga studio. So if you'd prefer a little more light, a floor lamp will make a great alternative without overpowering the space.
Experiment with Fragrance
One aspect of a yoga studio that's easy to recreate at home is the calming, aromatic scents that linger in the room. Invest in an essential oil diffuser and experiment with fresh scents to find the ones that complement your home practice the best.
Another option for achieving that rejuvenating smell is to light a few scented candles around the room. Therefore, to ensure you choose candles which all have the same fragrance, or you might find it's a little overpowering for your senses! In conclusion, you deserve a place to find your inner peace during all the craziness in the world.
Other Posts You Might Enjoy:
12 Advantages of Choosing a Quartz Countertop
3 Steps to Design Your Cozy Living Space
5 Ways to Brighten Up Your Bedroom
Share This Story, Choose Your Platform!