Home maintenance often emphasizes visible aspects, while unseen components, such as your sewer system, might go unnoticed. Be aware that overlooking this critical part of your property can lead to serious complications, including blockages and structural damage. Just as you'd maintain other parts of your house, it's prudent to schedule inspections to diagnose your sewer system's condition comprehensively. One way to do this is by requesting a sewer camera inspection. A sewer inspection camera allows professionals to thoroughly examine your sewer pipes, diagnose existing issues, and address them effectively.
Benefits of a Sewer Inspection Camera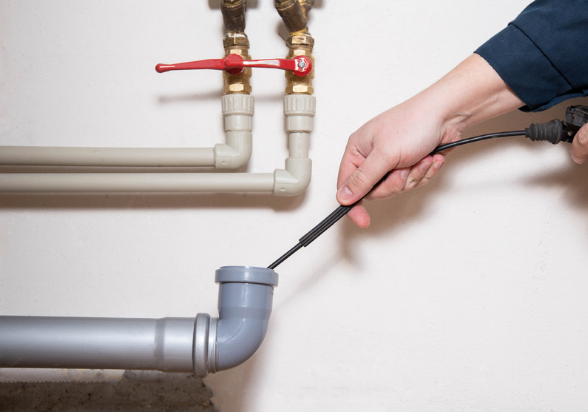 This article will delve into the inspection process, its advantages, and why it's a vital service for every homeowner.
How Does A Sewer Camera Function?
Generally, experts use a specialized waterproof camera affixed to a flexible rod. They insert this apparatus into your sewer line for a comprehensive examination. As it travels through the pipe, it sends back real-time video footage to a monitor. This allows trained technicians to visually inspect your sewer pipes' interior without digging up your property. 
The sewer inspection camera is generally equipped with bright lights to illuminate the inside of the pipe, ensuring that every crack, clog, or other issue is visible. Additionally, each sewer inspection camera has a radio transmitter that records any defects' depth and physical location.  
This means technicians can not only detect issues but can also identify their exact location. This precise location information is invaluable when it comes to planning repairs.
The Inspection Process
A typical sewer camera inspection proceeds as follows:
The first step involves preparing the site for inspection. This may include clearing the area around the sewer cleanout access point and setting up the inspection equipment. 

The technician then inserts a flexible rod with a high-resolution camera into the sewer line and carefully monitors this footage to identify any signs of damage or blockage in the sewer line. 

Following the inspection, the technician reviews the footage, notes any issues, and compiles a detailed report. This report can include the type and location of any problems, along with recommended solutions.
Here are some of the common issues that a sewer camera inspection can help identify: 
Root intrusion

– Tree roots can infiltrate your sewer lines, causing blockages and potential damage.

Cracks and punctures

– Over time, sewer pipes can develop cracks or get punctured, leading to leaks.

Corrosion

– Older metal pipes can corrode over time, leading to weakened sections and potential failures.

Broken, sagging, or misaligned pipes

– These structural issues can impede the flow of waste, leading to backups and other problems.

Drain blockages

– Anything from hair to grease can build up in your pipes, causing slow drains or complete blockages.
You can address these issues during your next home maintenance cycle by arranging a sewer camera inspection. This inspection can help prevent any of the problems mentioned above from compromising your sewer system. 
When to Request A Sewer Camera Inspection
A sewer camera inspection is not just a tool for diagnosing existing problems; it's also a great preventative measure. Here are some situations when you might want to consider requesting a sewer camera inspection: 
If you're contemplating buying a house, a sewer camera inspection can disclose the pipes' condition and potential issues.

If you're dealing with recurring drain problems, such as frequent clogs or backups, a sewer camera inspection can help determine the root cause.

If your home's older, and you're uncertain about the sewer system's condition, a sewer camera inspection can offer a comprehensive view of your pipes' status. This can help you anticipate potential issues and plan for necessary repairs, replacements, etc. 
Even without immediate issues at hand, a sewer camera inspection can act as an effective preventive measure. The continual advancements in this technology enhance its ability to spot minor problems before they escalate into major ones.
Utilizing this technology could result in substantial time and money savings and contribute to preserving the value of your property. 
Try It Today
A sewer camera inspection can help preserve your home's structural integrity and value by uncovering hidden issues and enabling timely interventions.
To secure a top-tier inspection, you need to involve seasoned professionals. Before you enroll the services of one, scrutinize their qualifications, experience, and customer reviews to ensure quality service.  
Furthermore, don't hesitate to obtain estimates from various sewer inspection experts. Doing so lets you weigh the cost against the value provided, ensuring you receive the most from your investment. 
Other posts you might enjoy:
How to Know if Your Sewer Line is Damaged?
Trouble Ahead: 6 Signs It's Time to Replace Your Sewer System
Share This Story, Choose Your Platform!