It's no secret that exterior painting can increase the value of your home. Applying a fresh coat of paint on your house is one of the most affordable, and effective ways to boost its curb appeal.
5 Signs It's Time to Repaint Your Home's Exterior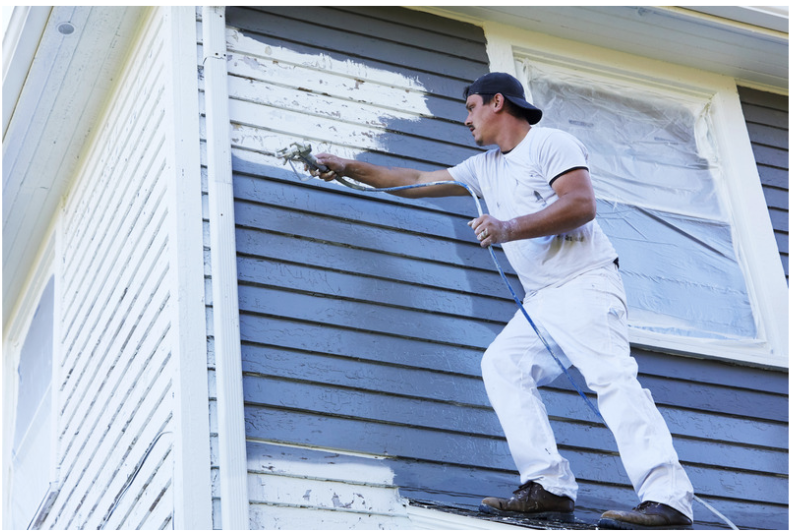 Watch out for these signs that show your exterior needs repainting!
#1 Peeling Paint
After long exposure to different weathers, you shouldn't be shocked to find your walls with cracks. Although this can be caused by weathering and aging. Also, a poor paint job can cause moisture to get into cracks and crevices, promoting peeling.
If you see any areas of your house where the paint is peeling, then you should address this issue as soon as possible to prevent further damage. Ensure proper exterior painting by letting the experts like Groovy Hues do their magic and enjoy the lasting beauty of a freshly painted wall!
#2 Fading Paint
Over time, the sun's rays can begin to fade your exterior color – especially if you used a cheaper paint with poor UV protection. So, inspecting your home periodically is an excellent idea to ensure the color is still vibrant. If your walls suddenly look dull and lack the original liveliness they once had, then you should consider repainting them. Not only will it make your home look more attractive, but it will also help protect the exterior from further damage caused by sunlight and other elements.
#3 Mildew and Mold
Wood rotting, rusting of metal surfaces, and other structural issues can be caused by mildew and mold on your walls. These organisms typically grow in damp, dark areas, creating the perfect moist environment for further severe damage. This is especially true if the affected regions are below the roof line or in contact with the ground.
Painting these affected areas with an antimicrobial coating will help to prevent them from re-developing in the future.
#4 Bubbling Paint
Air pockets are commonly found on painted walls. It happens when moisture gets trapped between the exterior paint and the wall. This results in raised areas of paint that look like bubbles or blisters on the surface of your house.
Repainting is the only way to remove these areas. You'll need to scrape off any bubbled or flaking paint and then apply a new layer of primer before painting over it again.
#5 Outdated 
Style and trends are constantly changing. When your exterior doesn't feel the same, it may imply that it needs a fresh coat of paint. While this is more of an aesthetic consideration than a functional one, it's still important to make sure that your home looks appealing from the street. Repainting can help to give your house an updated appearance.
Keeping an eye out for these signs can help ensure your home looks great inside and out! Exterior painting could be tedious, but you can always choose the hassle-free option by letting the painting professionals handle the work for you. Along with the proper care and maintenance, your house can surely give off a new and updated beauty that lasts many years.
Other Posts You Might Enjoy
Tips for Hiring a Professional Painting Company
Your Guide to the Different Types of Paint for Your Home
Why You Should Repaint Your Home More Frequently
Share This Story, Choose Your Platform!