You might assume that paint for your home is a simple item. However, there are many different types of paint. In fact, it comes in many different colors, finishes, and forms for different uses throughout your home. However, it's important to get both the the paint type and color choice right when decorating your home. Of course, the color of your walls, ceilings, and floors determine the style and ambiance of the room. 
Paint also protects the interior and exterior surface of your walls by helping them to withstand wear and tear. While outdoor paint can protect surfaces from weather conditions, certain types of indoor paint can protect the walls from any grubby hands and damage from the furniture. The right paint can even help to increase the value of your property and make it easier to sell in the long run. Chipped paint and dirty walls are quick and easy to fix – give your home a fresh lick of paint before selling up.
Your Guide to the Different Types of Paint for Your Home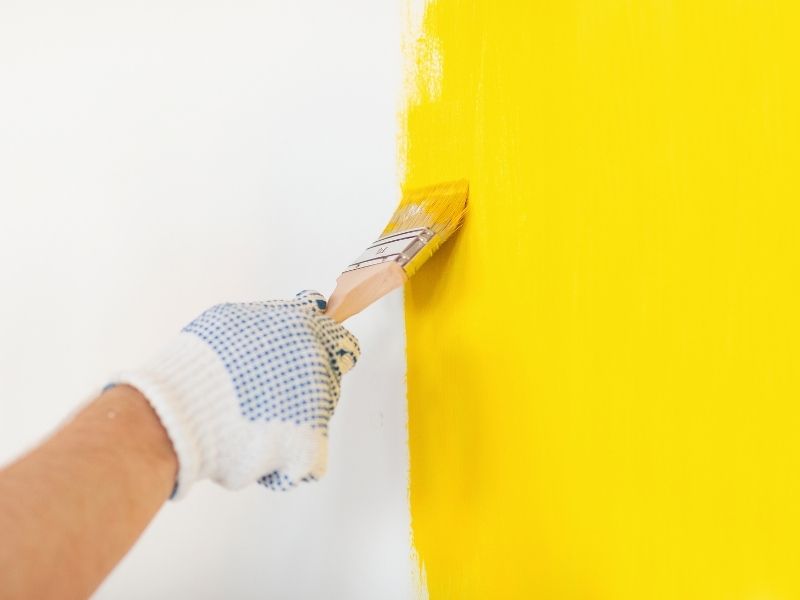 Where to begin?
First of all, the type of paint is dependent on the kind of surface you are applying it to. Try to go for low to zero VOC paint, this will minimize any toxic fumes in your home. You also need to consider the cleanability of the paint and how it will wear. Furthermore, different rooms will have different environmental factors to contend with – for instance, bathroom paint needs to be able to withstand mold, mildew, and moisture. 
If you have young children or a busy house, you may want a paint that can be cleaned quickly and that can withstand heavy traffic. Different paints will also provide unique benefits and looks for ceilings, kitchens, bathrooms and much more. 
Different types of wall paint.
⎆ Semi-gloss finish.
Semi-gloss paints provide a glossy and slightly reflective finish. They are durable and offer good resistance to mold, mildew, and moisture in wetter environments meaning they are often good bathroom paints. Semi-gloss paints can also be cleaned and wiped easily, so they are also ideal for kitchens and utilities.
⎆ High-gloss finish.
If you're after an even shinier look, high-gloss paint is the one for you. It's stain-resistance and washable, again making it useful for children's playrooms, kitchens, and bathrooms. However, high-gloss paint can highlight imperfections more than other paints, so it can be more suitable for areas like doors and trim instead of walls.
⎆ Flat/Matte finish.
Flat or matte paints are best used in low traffic areas like ceilings and in quieter rooms because of their relatively low durability. These paints are 'matte' as described and so are the least shiny. However, they provide good coverage and need relatively fewer coats to cover imperfections under the paint.
⎆ Eggshell finish.
Eggshell paint is slightly more glossy than matte paint and is more durable, but less so than semi-gloss and high-gloss finishes. They are often useful for trim work such as skirting boards and door frames, but they are suitable for walls if you don't want a really shiny surface.
⎆ Satin finish.
Satin is a popular paint finish for interior walls around the home. It offers a sheen, cleans well and looks great on wood surfaces, walls, doors and even hallways. Do not scrub satin paint as you will damage the overall look – but you can lightly clean away any marks. Painting with satin paint is tricky but if done properly, the results can be spectacular.
In conclusion.
We recommend that you continue doing your research into the different types of paint for your home. This will ensure that you find exactly what you need for long-lasting results.
Images Courtesy of Canva.
Other Posts You Might Enjoy:
5 Critical Questions to Ask When Hiring a Painting Contractor
Getting to Know Contract Paint
7 Important Things to Know Before You Pick Up a Paintbrush
Share This Story, Choose Your Platform!