Homeowners have many options when it comes to repairing their air conditioners. But making the right choice can be difficult, with so many different contractors available. Should you hire a licensed HVAC contractor or take on the repair yourself?
It's important to understand why working with a licensed contractor is usually the best decision for AC repairs and maintenance.
7 Reasons Why You Should Work with a Licensed Contractor for AC Repairs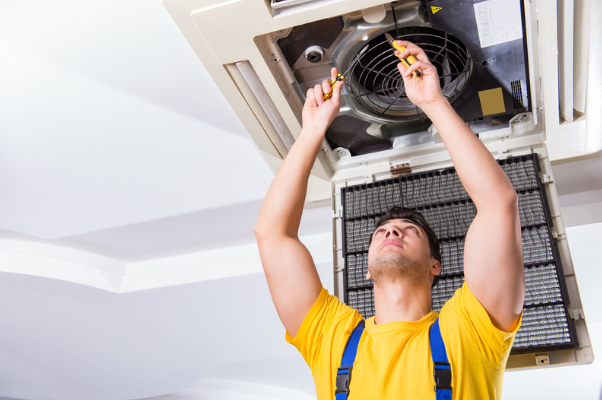 Here are seven reasons why homeowners should consider hiring a licensed HVAC contractor for their next AC repair job. If you're looking for an HVAC contractor, you can always reach out to IMS for AC tune ups.
Repairing your AC may be a simple, straightforward task, but it's quite the opposite. You should always team up with a reliable HVAC contractor if your AC is acting up.
If you're still convinced that you should fix your AC unit by yourself, you should take the following factors into consideration. After reading today's list, you'll understand why you should always team up with a reliable HVAC contractor for AC repairs and other HVAC-related projects.
#1 — Licensed Contractors Have Expertise
Licensed HVAC contractors have the expertise and knowledge to properly diagnose, maintain, and repair any make or model of air conditioner. They are also up-to-date on all relevant industry regulations and safety standards for AC repairs.
#2 — Safety
A licensed contractor is experienced in handling electricity safely and working with ventilation systems that require specialized tools or skills. Homeowners who do not have this experience can put their safety at risk if they attempt their own AC repair job without the proper qualifications or equipment.
#3 — Cost Savings
In most cases, hiring a licensed contractor can save homeowners money in the long run since they will be able to quickly identify potential problems with an AC unit and take steps to prevent more costly damage from occurring down the line.
#4 — Compliance Regulations
Licensed contractors must comply with local codes regarding building materials, electrical work, duct insulation requirements, etc., which ensures that homeowners get safe repairs completed according to local standards rather than relying on DIY methods that may violate code regulations.
#5 —Licensed Contractors Offer Warranty
Many licensed HVAC contractors offer a warranty on their products which can give homeowners peace of mind in knowing that they are protected if any further problems arise with their AC unit after the repair is completed.
#6 — Homeowners Can Rely on Professionalism
Licensed contractors have gone through a rigorous training process and must adhere to regulations set by their local licensing boards. Homeowners can be sure that they are dealing with professionals who understand the importance of providing quality, ethical services in a timely manner and at competitive rates.
With licensed HVAC contractors, homeowners can trust that their AC repairs are being completed in accordance with industry best practices and standards.
#7 — Homeowners Can Rely on Reputability with a Licensed Contractor
Working with a licensed contractor means you can have confidence that your work has been done correctly and to code. Licensed companies provide reliable services — including emergency repair jobs — as well as warranties on any repairs they complete.
This gives homeowners peace of mind in knowing that they have chosen a reputable contractor who will perform the job right the first time. Homeowners can also be assured that their AC repairs are completed using the proper techniques and materials for optimal performance, added safety, and improved energy efficiency.
Ultimately, working with a licensed HVAC contractor for AC repairs is the best choice for homeowners who need reliable service and quality results. With so many benefits, it makes sense to put your trust in an experienced professional who has the knowledge and expertise necessary to provide you with great service.
Homeowners can rest assured knowing they are receiving the highest quality workmanship possible when they employ a licensed HVAC contractor for their AC repair needs.
7 Reasons to Work with a Licensed HVAC Contractor for AC Repairs — Conclusion
Homeowners should always work with a licensed HVAC contractor for any AC repairs. Professional contractors have the experience and knowledge to repair air conditioners quickly and safely, ensuring that your home stays cool during the summer months.
They also offer warranties on their services, so you can rest assured knowing that if something goes wrong after they've finished working on it, they'll be able to come back out and fix it at no extra cost.
Working with an experienced HVAC contractor is the best way to ensure your AC unit will operate efficiently all year long. Don't wait until temperatures start rising before looking into having your system serviced or repaired; contact a reliable HVAC contractor today!
Other Posts You Might Enjoy:
Burnaby HVAC Company Has Contractors That Can Help
9 HVAC Maintenance Homeowners Should Follow
4 Reasons To Hire Professional Painting Contractors San Diego
Share This Story, Choose Your Platform!