An essential component of your home that needs careful attention for safety and security is the garage, which serves as more than just a place to keep your car. By building a secure home garage, you can protect not only your car but also your family, and your belongings. This blog will go through the essential measures you need to take to plan a garage that prioritizes safety and gives you peace of mind.
How To Secure Your Home Garage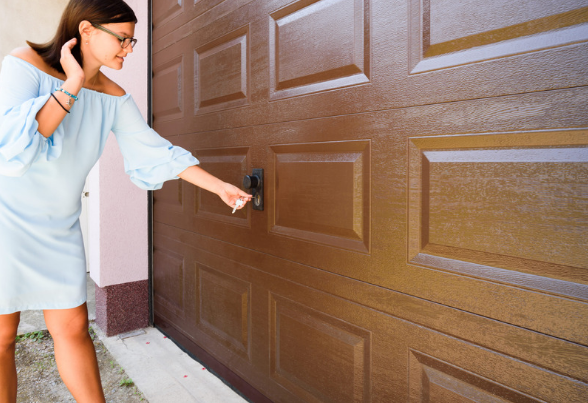 Proper lighting is one of the key components of a secure home garage. Install efficient overhead lighting that is bright to efficiently illuminate the entire area. This will increase visibility and serve to keep possible intruders away. To increase security, think about installing motion-sensor lighting close to windows and entrances. To make it simpler to find your way to and from the garage. You want to make sure the lighting system also has exterior lights that light up the surrounding area.
Strong Windows and Doors: 
Choosing strong windows and doors is essential for garage security. Select doors of the highest quality that are strengthened with dependable locking mechanisms and built of long-lasting materials like solid wood or steel. Small, high-up windows constructed of impact-resistant glass or polycarbonate should be the norm. An additional layer of security can be added by installing window bars or security films. To prevent unauthorized entrance, keep the doors and windows closed at all times, even when you are at home.
Putting money into a thorough security system is a great approach to protecting the things in your garage. Install a burglar alarm system that includes door/window sensors and motion detectors. For monitoring, connect the system to a reliable security firm. Install video cameras strategically placed to record every viewpoint, including the driveway and garage access. In the event of a break-in, these cameras can act as both a deterrent and a source of proof. 
A home garage should take fire safety seriously. Install a fire extinguisher in a convenient spot and ensure that everyone in the home understands how to use it. Check the garage frequently for anything that could start a fire, like damaged wiring or combustible objects. Consider installing a smoke alarm and a carbon monoxide detector to provide early warning in case of an emergency. To reduce the risk of unintentional fires, refrain from smoking and use open flames in the garage.
Adequate Car Insurance Coverage: 
In addition to building a safe and secure home garage, it's crucial to protect your car with adequate car insurance coverage. Make sure you have sufficient car insurance, including collision and comprehensive coverage. Regularly check your insurance coverage to be sure it covers the worth of your car and fulfills your demands. Having complete insurance coverage can help you recover financially in the unfortunate case of an occurrence and provide you additional peace of mind.
Periodic Maintenance and Inspections:
Periodic maintenance and inspections are required to maintain your garage is safe and secure. Check the windows, locks, garage doors, and security systems frequently for signs of wear or damage. Test security sensors, alarms, and cameras regularly to ensure they are working. Additionally, look for any cracks or uneven surfaces on the garage floor that can be a safety issue. You may discover and take immediate action to solve any possible security or safety risks by being proactive with maintenance and inspections.
Final Words
It is critical to build a safe and secure home garage for car storage to safeguard the safety of your car, your belongings, and your family. You can considerably increase the overall security of your garage by putting in place measures like sufficient lighting, strong doors and windows, a comprehensive security system, and fire safety precautions. Last but not least, prioritize your auto insurance coverage and maintain your insurance records safely. By combining these efforts, you can create a garage that provides you peace of mind, knowing that your automobile is well-protected and in a safe and secure environment.
Other posts you might enjoy:
A Guide To Garage Door Repairs On Your Kansas City Home
Replace Your Garage Door – 6 Signs You Should
Share This Story, Choose Your Platform!