Installing a furnace is a significant investment that requires careful consideration and planning. Finding the right furnace installation company ensures your heating system operates efficiently and effectively. However, with so many furnace installation companies in Las Vegas, NV, it can be overwhelming to choose the right one.
This article will highlight seven crucial things to look for when hiring a furnace installation company in Las Vegas, NV, to help you make an informed decision. From licensing and certifications to customer reviews and warranties, these factors will help you narrow your options and select a reputable and reliable furnace installation company.
7 Things to Look for Hiring a Furnace Installation Company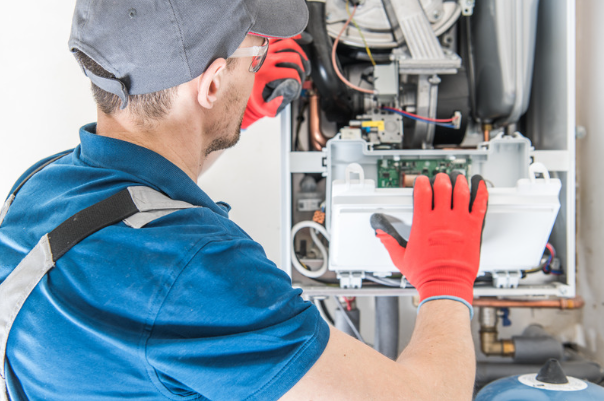 By following these guidelines, you can feel confident that your furnace installation project will be completed with professionalism and expertise.
1. Experience and Reputation with Furnace Installation
You want to work with a company with a proven track record of success and a reputation for delivering high-quality workmanship. Look for companies that have been in business for several years and have a team of experienced technicians knowledgeable about the latest furnace models and installation techniques.
To obtain a contractor's license in Nevada, the applicant must meet certain requirements set forth by the Nevada State Contractors Board. One of these requirements is that the applicant must have at least four years of experience as a foreman, supervising employee, or journeyman in the relevant trade.
It means that those seeking to become licensed contractors must have a certain level of expertise and knowledge in their respective fields before being allowed to offer their services to the public.
2. Licensing and Insurance
Ensuring the furnace installation company you choose in Las Vegas, NV, has the necessary licenses and insurance is critical. It protects you from liability and ensures that the company meets industry standards. Ensure to ask for proof of licenses and insurance before hiring a company.
A licensed company will have met the state's requirements for operating as a furnace installation business. On the other hand, insurance protects you from any accidents or damages that may occur during the installation.
Although it is not mandatory to have general liability insurance in Nevada State for contractual work, only an inexperienced contractor will work without adequate insurance in the state, according to Fairbanks Insurance Company. Therefore, delegating work to a company with proper insurance will give you peace of mind.
3. Guarantees and Warranties for Furnace Installation
A reputable company should stand behind its work and offer some form of warranty or guarantee to give customers peace of mind. Before choosing a heating installation Las Vegas, NV company, ask about their warranties and guarantees. It can include a guarantee on their workmanship and any equipment they install. Be sure to ask for specifics on what is covered and for how long.
One company that stands behind its work and offers a strong guarantee is the Cooling Company. They hold an A+ rating with the Better Business Bureau and are accredited by them, which is a testament to their commitment to quality work and customer satisfaction.
Additionally, the Cooling company offers a 12-month buy-back guarantee on any system they install. It means that if you're unsatisfied with your new cooling system within the first year, they will buy it back. It is a strong guarantee demonstrating the company's confidence in its work and the products they install.
Furnace installation companies in Las Vegas offer warranties that cover labor and parts, with some offering extended warranties. However, some offer a lifetime workmanship guarantee, giving customers confidence in their investment. Be sure to ask about the warranties and guarantees offered by a furnace installation company before hiring them to ensure that you are making an informed decision.
4. Pricing and Payment Options
The cost of installing a new furnace can vary greatly depending on the size of your home, the type of furnace you choose, and the complexity of the installation.
Getting a clear and detailed quote from the company you're considering is important before making any commitments. Ensure that the quote includes all costs associated with the installation, including any necessary permits or inspections.
Regarding payment options, some furnace installation companies may offer financing options or payment plans to help you manage the installation cost over time. Be sure to ask about these options and consider whether they would fit your budget well.
Remember that the cheapest option may not always be the best option. Choosing a furnace installation company that offers high-quality workmanship and reliable equipment is important. Investing in a quality furnace installation can save you money in the long run by reducing your energy bills and ensuring that your furnace runs efficiently for years to come.
5. Brands and Products
When selecting a furnace installation company in Las Vegas, NV, one must consider their brands and products. Look for a company that works with reputable brands and high-quality products that will last for years. In addition, the best furnace installation companies will offer various options, including energy-efficient models that can help you save money on your utility bills.
A reputable company will also guide you in selecting the right furnace for your home based on your needs and budget. Be sure to ask about warranties and maintenance plans, as these can add value and peace of mind to your investment. By choosing a company that offers quality brands and products, you can feel confident that your furnace installation project will be completed to the highest standards.
6. Customer Service and Support
Look for a company that values customer satisfaction and provides excellent customer service from start to finish. A good company will be responsive to your needs and questions, offer clear communication throughout the process, and provide timely updates on the installation progress.
Select a company that offers 24/7 emergency service and a satisfaction guarantee to ensure customers are satisfied with the work. According to Kustomer, by making them available 24/7, companies can demonstrate their commitment to their customers and show they are always ready and willing to help. Great customer service also helps in retaining customers.
Choosing a company that provides excellent customer service and support can make all the difference in your furnace installation experience, giving you peace of mind and confidence in your investment.
7. Ask for References and Check Them
Contacting past customers can provide insight into the company's workmanship, professionalism, and customer service. Ask the company for a list of references, and take the time to follow up with them. Ask about their experience with the company, whether they were satisfied with the work, and if they would recommend the company to others.
A good installation company has many satisfied customers who have provided positive feedback on their installation services. Checking references can help you make an informed decision about your chosen company, ensuring that you work with a reputable and reliable business.
Remember to Do Some Research
Choosing the right furnace installation company in Las Vegas, NV, is an important decision that requires careful consideration. Several reputable and reliable Las Vegas furnace installation companies meet all these important criteria.
Remember to research, compare options, and ask questions to ensure you are making an informed decision. Then, by following the guidelines and choosing a company that meets your needs and budget, you can enjoy a warm and comfortable home for years.
Other Posts You Might Enjoy:
All About Furnace Replacement: Cost And When To Do It
Types Of Furnaces And How They Work
5 Things To Do Before Your Furnace Installation
Share This Story, Choose Your Platform!