Summer is such an important time for kids. They learn and laugh and grow. Crafts are a great way for kids to connect with you, with each other, and with the earth. Here are some fun summer crafts that kids of all ages can make. Whether you just have one kid or five, whether you are hosting a party or playdate, or even if you're just looking for something fun to do with them -these summer crafts will do the trick!
Simple Summer Crafts for Kids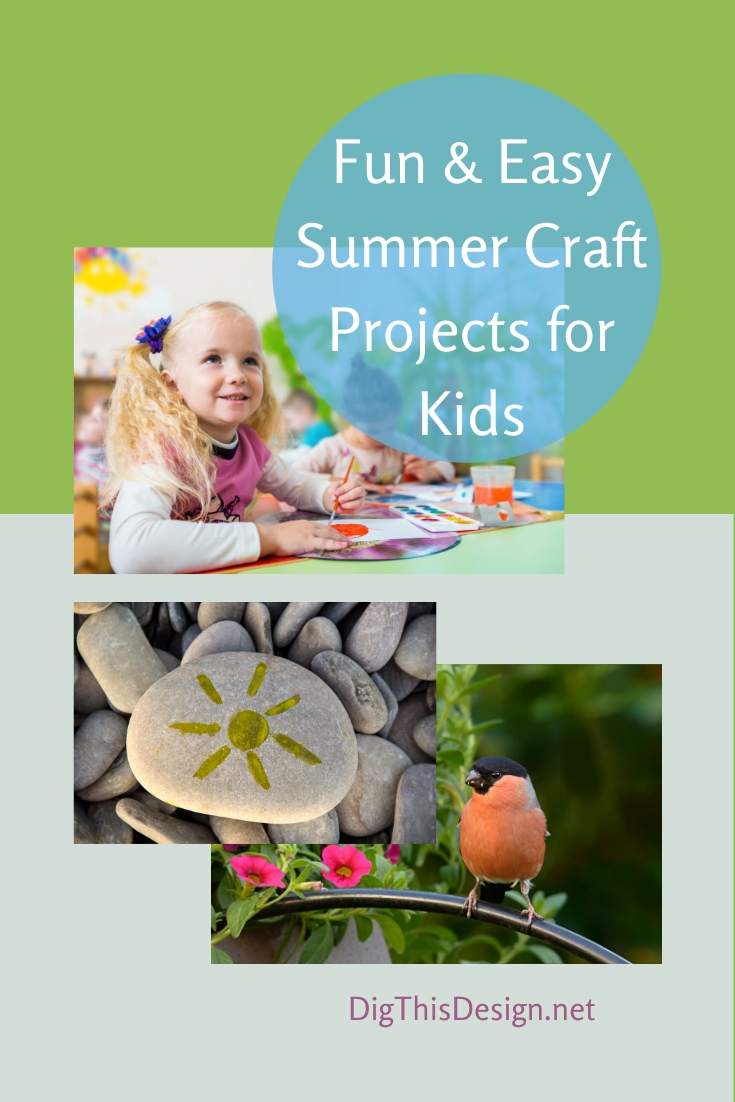 DIY Mason Jar Aquarium
If your kids are into sea creatures and the ocean, why not make a realistic aquarium? They can do this by adding various plants, rocks, and figurines to a mason jar full of blue water. This craft is super fun and easy to do, and once finished, kids can place their own makeshift aquarium in their rooms to enjoy. Here are the full instructions on how to make this craft.
Sponge Sailboat Craft For Kids
Temperatures are rising, so if you are looking for a fun activity to cool off with, this sponge sailboat craft is perfect. Not only are these fun to make, but they are even more fun to play with. Your kids can play with them in a tub of water in your backyard, or they can even have a sailboat race in a stream or beach nearby (with adult supervision of course). You can find the full list of instructions here.
Painted Treasure Rocks
Is there anyone that didn't love collecting pretty rocks as a kid? Kids love rocks, and most of them love painting too. When you combine these two things, they can create beautifully painted treasure rocks that they will cherish and love. Before starting this craft, have fun with your kids and go on a treasure hunt to find the smoothest rocks, because those will be the easiest to paint on. Once you find some, wash and dry thoroughly dry them. Then you will need an assortment of acrylic paint and a paintbrush or two. Once you have everything ready, start painting the rocks! Kids might have to do a couple of layers for the colors to really shine through. There are endless options of colors, patterns, and designs that they can create.
Handmade Bird Feeders
This is a great summer craft that will connect kids with nature. It's easy to do, and your kids will be delighted when they can watch real birds come and eat from their handmade feeders! You can check out the full list of materials and instructions here.
Bubble Snakes
Is there a child out there who doesn't love bubbles? I can't think of any. This is a very easy craft to do, but kids will have so much fun during the process, and especially after it's done! They will end up with the coolest, longest string of bubbles. The two main materials you will need is a missed-matched sock and a water bottle. This is a great outdoor activity for those beautiful summer days. You can find out how to make bubble snakes with your kids here.
Images Courtesy of Canva.
Other Posts You Might Enjoy
Kids Rooms That Express Their Inner Pirate
5 Tips To Organize Your Kids Closet
Pretty & Fun Play Scapes To Get Your Kids Playing Outdoors
Share This Story, Choose Your Platform!