Reviewing blueprints can be an overwhelming experience to someone planning a new home or remodeling an old one. It's the little things that get missed that create the biggest eyesores when it's all said and done. This guide is meant to be a checklist of the things most people miss when reviewing house plan.
The House Plans Details You Don't Want to Miss!
Clearance for door & window moldings
I can walk into a room and have my eye quickly drawn to a molding that has been cut down to accommodate a big FAT mistake. It screams at me that someone did not allow enough clearance for the full molding to continue. This can, and should be, avoided by catching it in the planning stage. The following tips will help you find these errors in the planning stages:
Consider the depth of your casing, which you will need to take into consideration where a drawer pulls out. So many times this is discovered after the vanity is installed and you go to open the drawer and it hits the door casing. You will need a filler the depth of the casing and at least 1/8″ to clear the molding.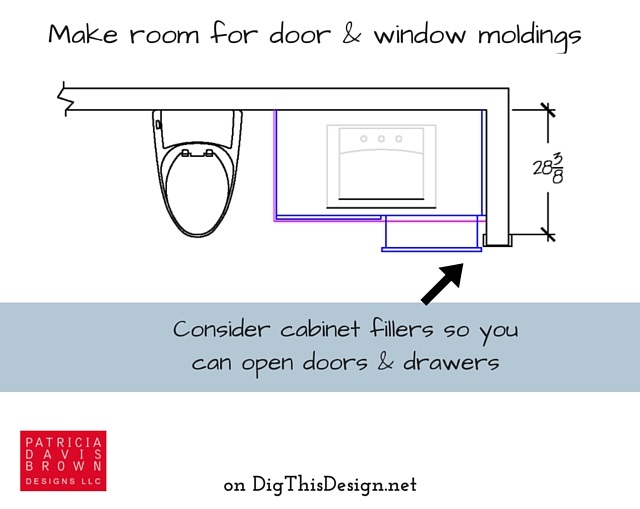 Doorways and windows should not be too close to a wall that does not allow enough room for finished casing. So, check all door openings into rooms for this oversight.
The placement of the windows & how they impact the room
This is so important to the finished interiors of a project! Can you imagine a dining room with an off centered window treatment? This is what I am talking about when I say it's the little details that make the biggest impact, they freaking matter! Another example would be a master bedroom that has two narrow windows with the bed between them. If one of those windows had a different reveal and was not equal distant from the corner than the other one it would be like a crooked picture, right?
Give a lot of attention to a kitchen window, it is important because it is a focal point to a kitchen design. A kitchen window will need to have equal reveals on both sides of the window to cabinetry giving it a balanced look. Always check the height off of the finished floor to bottom of the sill and make sure it is above the countertop and allows for GFCI electrical outlets and switches, a minimum of 42-inches off the finished floor. You really want to look at the placement of the windows from the interior of each room to see how it will impact the interior room design, not only from an exterior architectural point of view.
Make sure chandeliers are centered over the dining table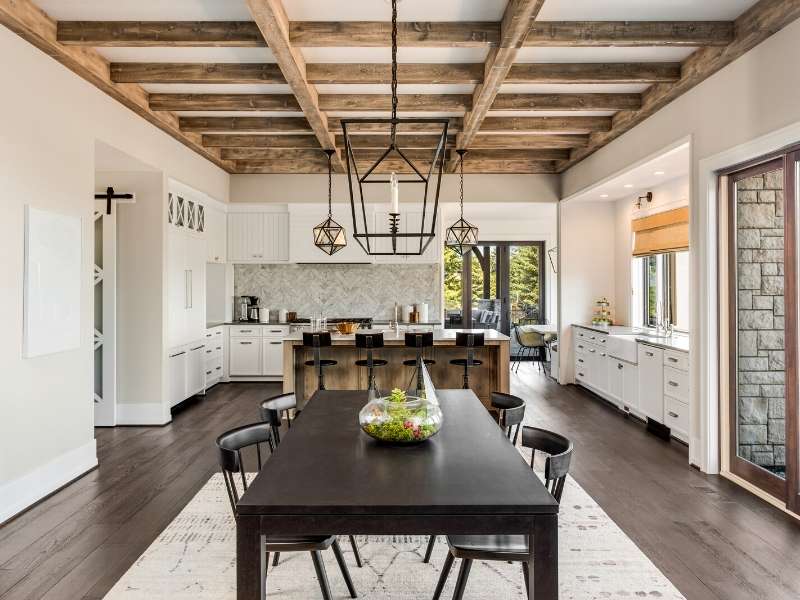 When I see a chandelier not centered over the table I know no one looked over the interior plan. Sometimes you have a dining room with a centered dining room window and when the homeowner puts a hutch or a buffet in the room it off centers the table in the room. This is a design flaw that could be fixed at the planning stage by planning a niche with a header to fit the furniture piece into the room, without affecting the balance. This will allow you to center your table and your chandelier to your window for a balanced dining room. If you find this problem at the finishing stage, your only option is to eliminate the chandelier and go with recessed can lighting.
Electrical outlets placed correctly for furniture layouts
Making sure floor outlets accommodate your furniture plan is a must. You do not want to have a family room or living room without floor outlets. If you do it will result in ugly electrical cords showing and that is something that can be avoided with a little planning upfront.
Location of exhaust for kitchen hood
This is very important because typically if no one has checked this it could be off-center to where the hood is supposed to be and create a giant problem when it comes time to install. You might find yourself having to opening up walls or tearing up the floor in a downdraft situation, to relocate the vent pipe. If you have tile backsplash and cabinetry already installed, this mistake becomes very costly. It's a shame because all it takes to avoid this is planning ahead.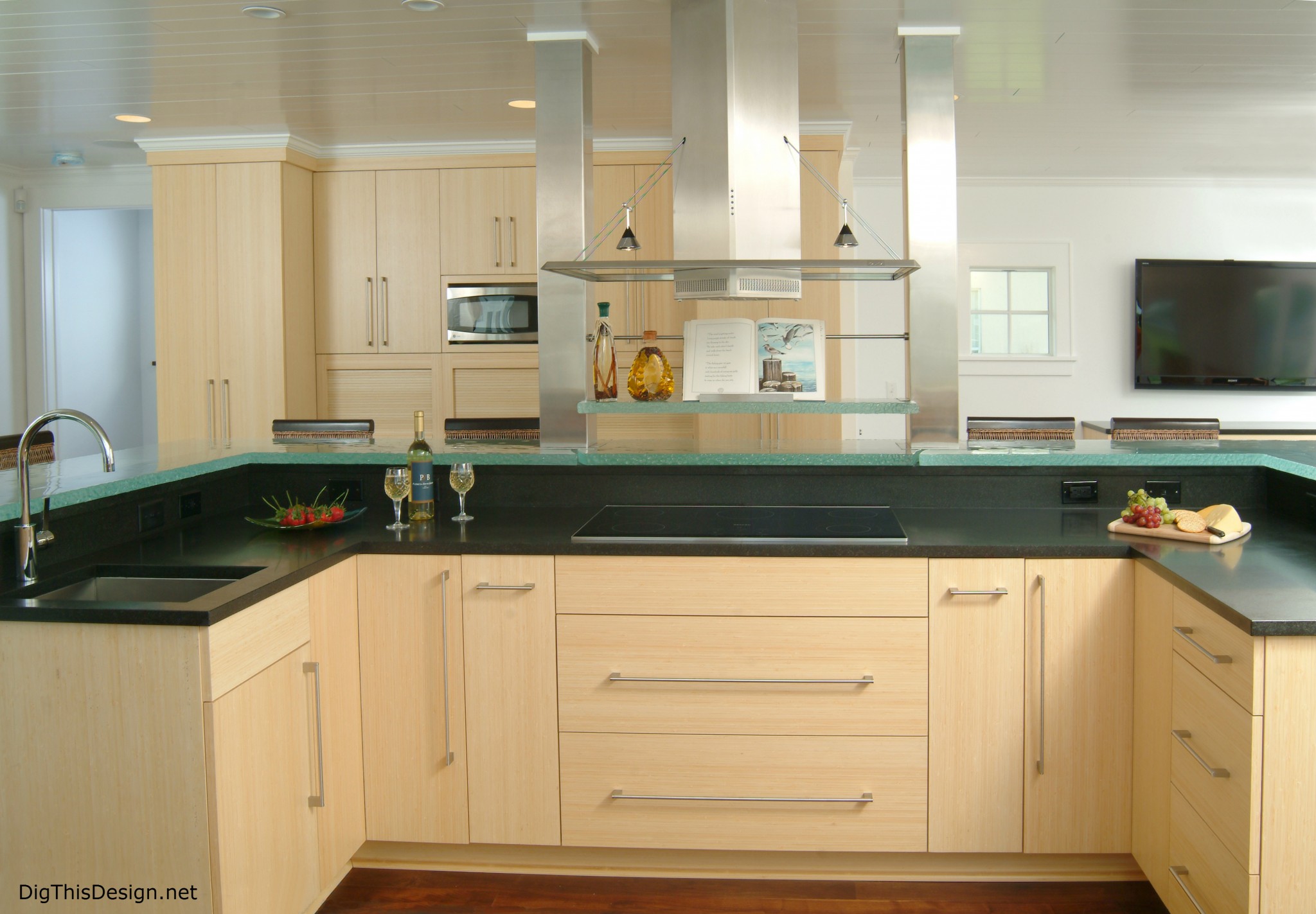 Make sure there is adequate lighting in kitchens & baths
I am a maniac about having enough lighting in the most important rooms of the house, the kitchen and the master bathroom. You will curse they day you did not adequately light these rooms. You want to make sure you have a layered lighting plan. You will have three zones of lighting, general, task, and ambient. This is where the saying by Benjamin Franklin, "Fail to plan, plan to fail," fits. I would also recommend having dimmers on all zones giving the user control of their lighting levels.
Is there a detailed kitchen plan?
Kitchens take a lot of planning and you want to be able to see the details. You should have a separate 1/2″ scale plan of just the kitchen and if you do not, then the details have not been planned. Typically the architectural drawing comes with a kitchen generically plotted out. If a kitchen designer or a professional has not sat down with you and discussed this then it is left in the hands of a contractor and I would not recommend that. A kitchen designer is a specialist in designing kitchens and I highly recommend having this person on the planning team. For example, a kitchen with an island has its own bag of considerations, I've written a guide on how to calculate a kitchen island for those of you wanting to tackle the project.
Symbols on house plans and what they mean
Below are some symbols that may help you read your plans better.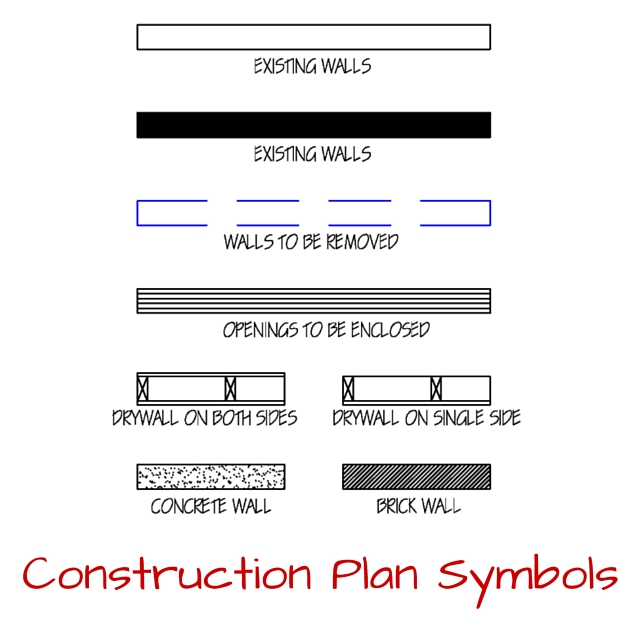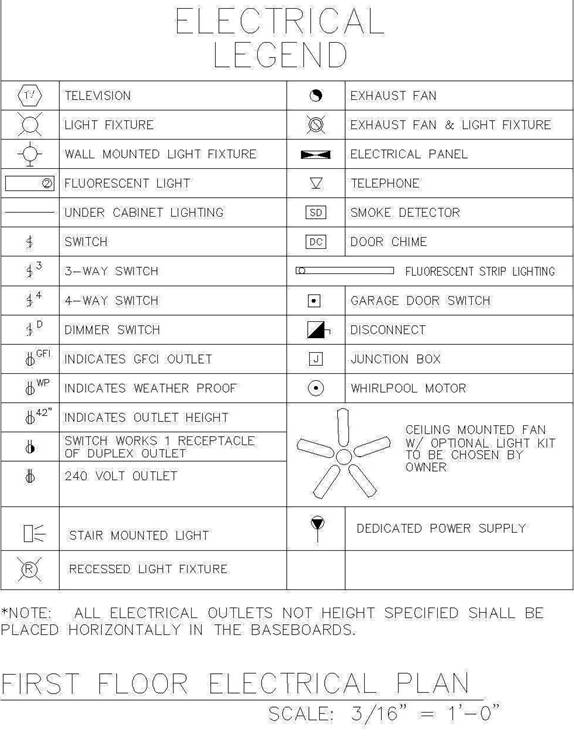 I understand how stressful an interior design project can be. You may need someone to guide you, help to explain all those choices, and point you in the right direction. I'm available for consultation via Skype for your interior design project, no matter the size. Our virtual session will include a document detailing everything discussed. Feel free to contact me prior to setting up a consultation.
Interior design consultation
Share This Story, Choose Your Platform!