Home Upgrades are very common for homeowners because they want their homes to provide them with the foundations of comfort, safety, and happiness. Unfortunately, many families make the mistake of simply adding modern trends that will need further modification in just two or three years. Changing your approach to accommodate long-term rewards could be the smartest decision you'll ever make. What are the best projects for sustained success in the home? Let's take a closer look.
7 Home Upgrades To Improve Your House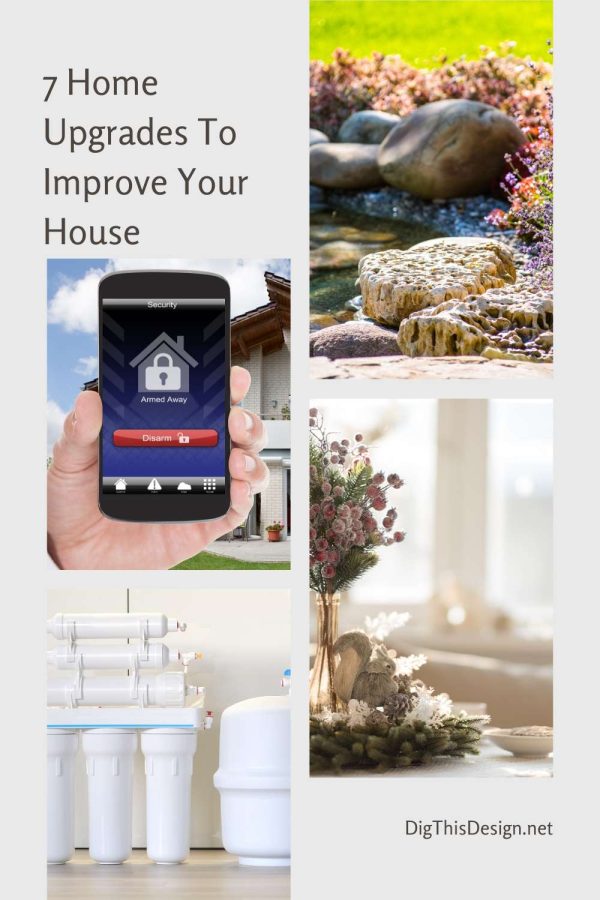 1. Revamp Your Landscaping
If you are lucky enough to have a backyard, then utilizing it to its full potential should be a priority. Not only does a great backyard offer a whole new dimension to the home, but it's also an area that requires very little future modernization. Creating a unique garden style can be achieved on a relatively small budget. Moreover, the work doesn't have to impact your daily activities either. Even if you complete the job slowly, it's well worth doing. Just remember that artificial lawns and similar hacks will cut down on the maintenance. In turn, this should ensure that the upgrade offers far greater longevity. Apart from the benefits to your family, this work will likely increase your property value as well.
2. Improve Insulation
First and foremost, the home should make you feel comfortable. Before making luxury additions, you should ensure that the essential elements are in the best condition possible. Perhaps the most obvious aspect to consider is the insulation and ventilation properties of the house. Bolstering the insulation of your home should start with improved roofing. After all, if this aspect is lacking, it will leave everything underneath in a vulnerable position. Follow this up with upgrading your windows to a double glazed version, and you will lose far less warmth. The home will look better, feel better, and require less money to heat. As for the heating and ventilation aspects, you might want to consider ceiling fans and other products to help circulate the air. Get this right, and the rewards will be felt day after day, year after year.
3. Embrace More Light
Every home upgrade should try to make the room come alive. The easiest and most effective way to achieve this goal is to improve your lighting solutions. This is another reason why new windows can be useful, even if you need to use window films to maintain privacy. Another fantastic way to embrace more light is to simply paint the walls in a lighter color. Along with reflecting the light to produce a larger appearance, the fresh vibes will work wonders too. You might need to paint a few new coats once every few years to keep it shining, but that long-term effort is minimal. Additional lighting can be provided by decorative lighting fixtures. Install a dimmer switch for even greater control, and you'll be able to set the right mood time and time again. Meanwhile, switching to LED bulbs can enhance atmospheres and reduce your monthly costs.
4. Upgrade Water Facilities
Water is the most important element in anybody's life, and it plays a crucial role in all of our daily lives. From drinking water to washing clothes, H2O is vital in almost everything we do. Therefore, if your home facilities are lacking, the negative impacts will be felt every single day. Improving your water quality with a whole house water filter system will bring many rewards. Removing chemicals will enhance the flavor and nutritional benefits of those drinking liquids. Moreover, better water can aid the performance of washing machines, dishwashers, and other key items. Essentially, it's good for your internal plumbing, as well as the buildings. Home upgrades for water facilities can also take the form of bolstering the shower pressure and other systems. Either way, those improvements will benefit you for years.
5. Convert The Attic
There's nothing worse than wasted space, especially if you wish you had a bigger home. Therefore, finding ways to increase the opportunities should always rank highly on the agenda. Reinventing dormant rooms is one of the best ways to combat this issue, and the attic is a prime candidate. The possibilities will be dictated largely by the type of attic you have, as well as space. Nonetheless, creating an office space is a particularly popular option thanks to the growing need for home workspaces. However, there's also the option of building new bedrooms or a place to relax as a family. Unused guest rooms and garages are two other spaces that can provide ample opportunity for sustained progress too. If it gives the house more purpose, it will almost certainly signal a positive job.
6. Go Green
Some of the projects mentioned above offer eco-friendly benefits as a byproduct. However, you should actively aim to live a greener life. Not only will it aid your health, but it will aid your pocket too. At the top end of the scale, you can look at solar roof panels. You'll see a return on your investment when it comes to selling. In the meantime, you'll be reducing your energy bills on a monthly basis. Smaller projects like new energy-efficient toilets can have a positive influence too. The key is to do your research and find out which upgrades work for you. Nonetheless, an eco-friendly home will often save you money and can leave the family less vulnerable to minor illnesses. Given that it reduces your carbon footprint too, you have no excuse to ignore those benefits any longer.
7. Increase Home Safety Features
Your property will never feel fully comfortable unless it offers a sense of security. While insurances and neighborhood activities can help the cause, only you can take responsibility. Adding home surveillance to your property will provide peace of mind like no other. Nonetheless, you should still go the extra mile to ensure doors are windows are secured. Motion detecting lights and similar additions can go a long way to helping your cause. Ultimately, a safe home is a happy home, and protecting yours from outside threats is essential. For financial and emotional reasons, these improvements should be on your list.
These 7 home upgrades can really benefit your everyday life. They will make a huge difference in your comfort, happiness, and safety.
Images Courtesy of Canva.
Other Posts You Might Enjoy
How To Afford To Upgrade Your Home With A Hot Tub
Upgrade Your Home with Wood Floors
Home Improvement Tips to Safeguard Your Home This Winter
Share This Story, Choose Your Platform!