Whilst some people prefer to buy a home where all it needs is a lick of paint, others enjoy the challenge of purchasing a 'project'. This type of home needs a lot more than a lick of paint. In most cases, it will need extensive work, both structural and cosmetic. It may even need rebuilding from the ground up. Of course, a project of this scale is not for the faint-hearted. However, if your extensive project is successful, you will end up with a home that meets your exact specifications. Unfortunately, what many amateur property developers don't take into account are the hidden costs of home renovation.
Reasons Why Home Renovations End Up Costing More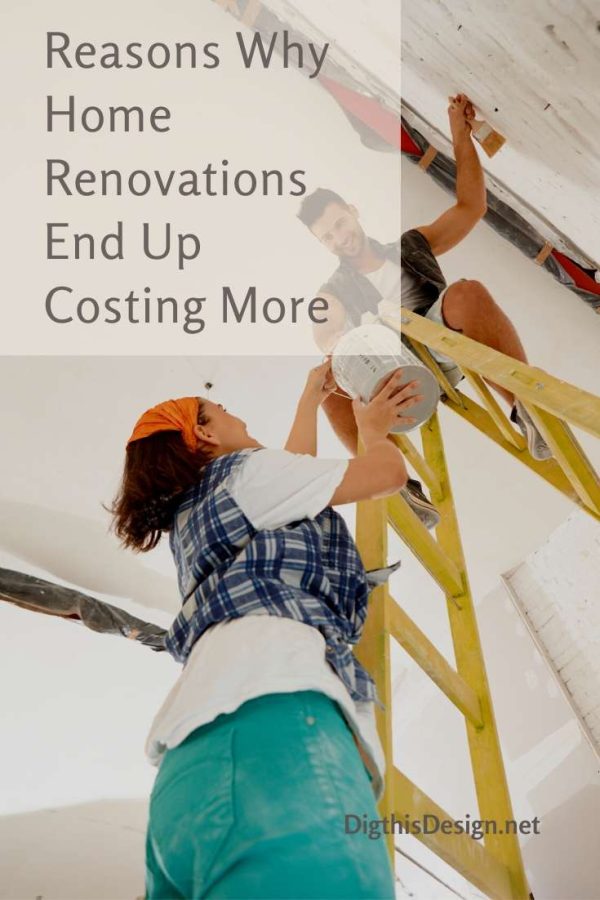 The Cost of Renovation Projects
Home renovations are expensive. Once you start tearing walls down, installing new kitchens and bathrooms, and dealing with hidden issues you were unaware of, the costs will soon begin to spiral. In any home, there are routine maintenance costs to budget for. For example, you might need to call out Salt Lake City plumbers once to twice a year to fix leaks or service a boiler. This type of expense is a normal part of owning a home, so hardly unexpected.
Renovating a property is a bit different because, more often than not, you don't know what you are dealing with. Some issues might be obvious, such as missing shingles, rotten windows, and a dated kitchen. This type of problem is easy to spot and not too expensive to fix. You can budget for the repairs and unless you fall in love with a designer kitchen, you won't blow your budget.
Hidden Problems
Unfortunately, it is easy to fall victim to more expensive, less obvious problems. Time and again, optimistic property developers fall in love with a 'project' and invest all of their hard-earned savings in the hope of transforming a wreck of a property into a much-loved family home. They take possession of the property, only to discover that the foundations are collapsing, it has a serious damp problem, or the septic tank needs replacing.
Buyer Beware
You could argue that undertaking a comprehensive survey prior to purchase would have brought these issues to the attention of the buyer. Unfortunately, in many cases, a survey only hints at potential problems. Surveyors are professionals and their job is to highlight any potential issues with a property but they are also keen to cover their back, so they tend to adopt a 'middle of the road' approach. In other words, they neither confirm nor deny there is an actual problem.
Many problems are also out of sight, which means it is difficult to detect they are there until other work begins. For example, you might have big plans to build an extension onto your property, but when excavation work begins, a sinkhole opens up. Clearly, this is a major problem that can't be fixed with a few tons of concrete, but contractors are on site, so what do you do?
Blowing the Budget With a Home Renovation
This is exactly the type of problem we are talking about. One small project soon snowballs and the budget is blown. You can't always avoid problems like this, but you can go into a renovation project with your eyes wide open. Renovation costs have a nasty habit of increasing as time goes on. It is sensible to start with a 10% contingency fund when you start a renovation project. Theoretically, this should protect you from unseen problems. However, it might not. If you have no way of securing extra cash, it may be wise not to embark on an ambitious project.
It is also sensible to pay professionals to inspect the property before you contract to buy. As we have already mentioned, this is not a 'get out of jail free' card. However, it might serve to highlight issues you were unaware of when you first viewed the property. Professional builders/surveyors are more likely to spot signs of dry rot or structural problems than an amateur property developer. They can also advise you how much it is likely to cost you to fix the problems.
A home renovation project is a great way to put your mark on a property, but don't bite off more than you can chew. Failing to calculate the budget in advance could lead to an unfinished project later on down the line when you have run out of funds to complete it. And this is something that no one wants to deal with.
Images Courtesy of Canva.
Others Posts You Might Enjoy
Essential Home Renovation Checklist
13 Free Resources for the Home Improvement DIY-er
Winter Home Improvements: 5 Easy Tips
Share This Story, Choose Your Platform!