Winter home improvements aren't always the first thing you think about doing during the cold winter season, but they should be. Whether you're a new homeowner with a list of jobs to get through, currently undergoing a renovation, or wanting to start a change, there is a range of tasks you can get to before spring and summer are upon us once more. These jobs could make all the difference to your home this winter, and prepare you for the start of spring. If you're not sure what you should be prioritizing right now, take a look at these five suggestions that will help you to decide:
Winter Home Improvements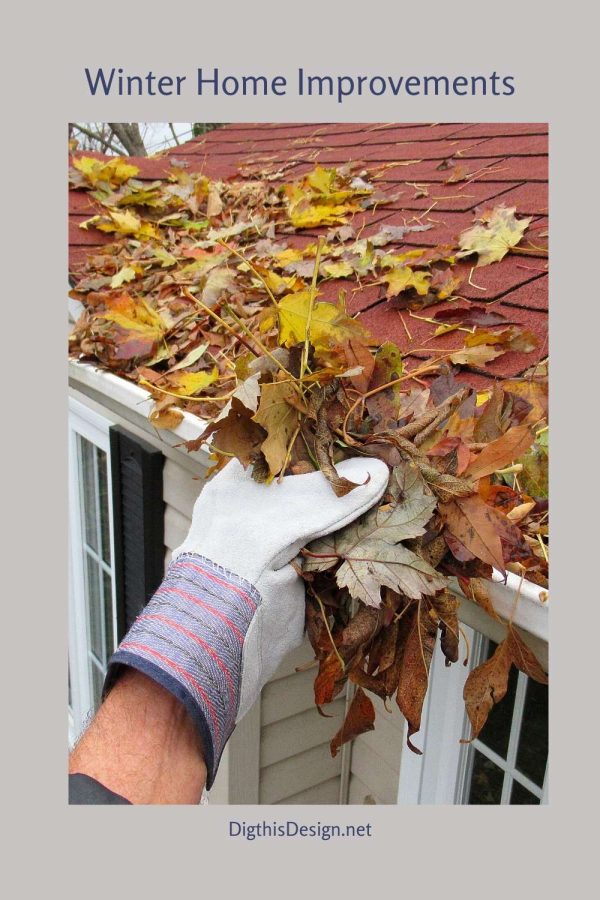 Declutter
The spring season is known for decluttering, but there are winter home improvements you can do during cold winter days, trapped inside, that will prepare you for the upcoming spring cleaning. Start going through all of your drawers. I like to start in the bathrooms with a trash bag at my side. I find that throughout the year a lot of things get thrown into my vanity drawers that shouldn't be there or should be tossed in the trash. After, you have gone through all of your drawers think about what you need to have at your fingertips that would make your bathroom more functional. There are a lot of great drawer organizers online that will help you organize the little stuff like cotton balls, Q-tips, and cosmetics.
You can save money by making them yourself by repurposing boxes, decorated with wrapping paper.
After you have tackled the bathroom drawers move onto the kitchen. Your kitchen and your bathrooms need to be organized in order to function properly. You will just feel better after you have completed organizing all of your drawers.
Clean Up Your Attic
There is no better time to get up in that attic and start clearing out unused stuff that keeps accumulating year after year. The best tip I can give you is to remove everything out of the attic all at once so you can really see what's there. While the attic is empty and you have a good idea of what will be going back you can shop for attic storage solutions in order to make the most out of your storage space. Making space in the attic during winter makes storing winter things after the winter season so much easier.
Buy Patio Furniture
It might seem like a strange time to do it, but it's actually the smartest time. In winter, upgrade your outdoor furniture ahead of spring. The prices will be lower, as other shoppers aren't interested in sprucing up their outside space until spring. You also might find a better selection of stuff as new stocks come in. Whether you need a patio furniture set or a new barbecue, now is the time to pick it up. You might even find yourself enjoying it earlier than expected as the months start to get milder.
Install Air Conditioning
When the weather kicks up a notch in spring and summer, you'll be glad you made this move early. HVAC contractors are the busiest during spring and summer. If you negotiate a new air condition system or an upgrade during winter you will probably save money. By installing your Infiniti Air air conditioning during the colder months, you might even save on costs. Plus, if an unexpected heat wave hits in early March, you're completely prepared to keep your home fresh.
Gardening
Wintertime is a great time to prepare your garden for the upcoming spring season. You will need to cultivate your soil leaving a tuft of soil on the surface which will be broken by rime frost, making it a great base for spring planting. You will want to remove any dead stalks or leaves in order to prevent any disease in your garden. For more winter garden tips click here.
Images Courtesy of Canva.
Share This Story, Choose Your Platform!