Home remodeling is something most of us dream about – buying a wreck of a house and transforming it into an all-singing, all-dancing dream pad, complete with a green roof, solar panels, games basement, and a walk-in dressing room.
In our imagination, you see the wreck, and then suddenly the sun comes up on a new day and it's been transformed into that dream dwelling, without the messy, dusty, shouty bits in between. However, you can make the journey more bearable by being prepared before you start. Here's how.
How to Survive Home Remodeling Guide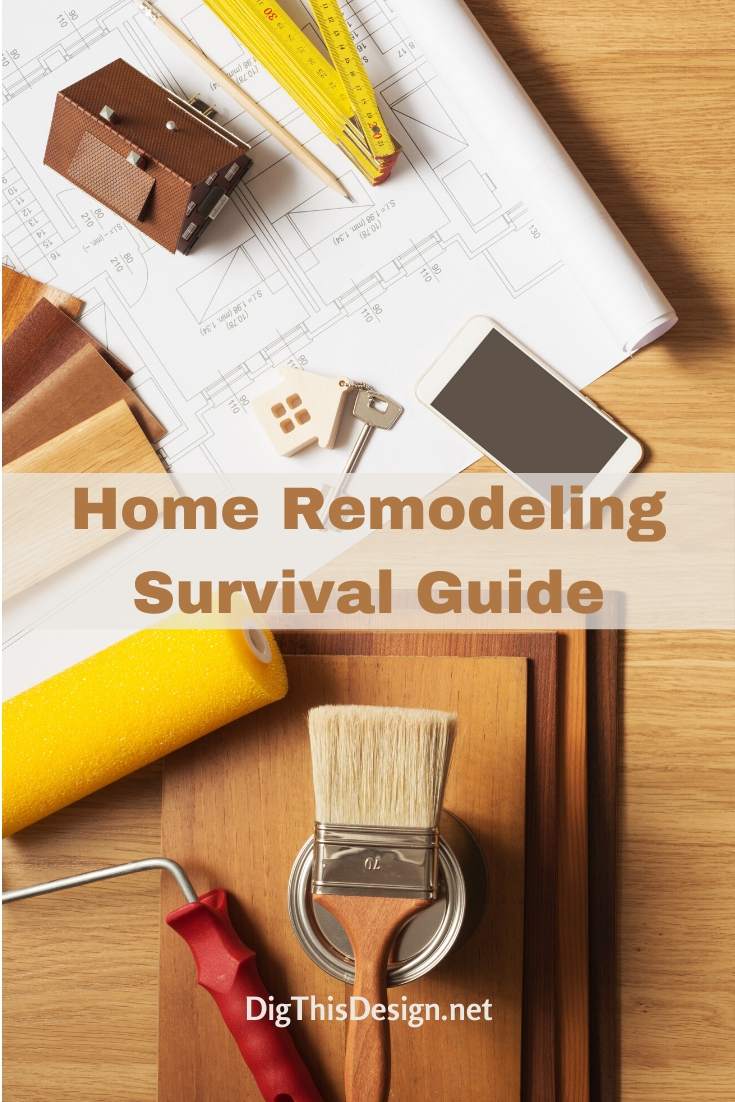 Research the Property
You need to find out how long it's been on the market, and if it's been languishing for a while, you could knock the price down. You also need to find out if there are any planning restrictions or any upcoming developments in the immediate area that could affect your designs.
Look at the Property with Eyes Wide Open
With older properties, especially abandoned ones, you can expect all sorts! Missing floorboards, missing ceilings, lead windows, ancient wiring… You should visit the place a few times, with your electrician, your building contractor and any other tradesmen so that you all have a realistic idea of what's going to be involved and how much it's going to cost.
Know Your Budget
The only way you can truly know your budget is to develop a plan first. Know that if you fail to plan you plan to fail, as the old saying goes. Work with a professional to create your new remodeling design, this puts everyone on the same page and is part of your contract with the trades. If they don't follow the plan then it's on them not you. Having a plan will allow you to cost out your project first to make sure you can afford it. Once you know what your budget is now the ball is in your court. The plan will eliminate costly change orders and help you to maintain the budget that was set.
Do you need a project manager?
If you're planning a huge project or several smaller ones, then you'll need a project manager, yes. Your PM will hire the right people, keep everything as near to schedule and as close to your specifications as possible. If it's a smaller project – an extension or a less-complex renovation of a smaller property – you can probably be your own PM. Just make sure you're a spreadsheet wizard and like to organize quotes!
Make sure you hire reliable, reputable tradesmen
Word-of-mouth is the best way to find good tradespeople. If you talk to a friend who had an extension done the previous year and she says the workmen were great with the kids, made the occasional coffee, tidied up after themselves and did an amazing job, get on the phone now! It's important that you feel comfortable with your builders, as they'll be in and around your house for a long time! Whoever you engage, though, you must get your payments and payment schedules pinned down and signed contracts to keep everyone on the same page.
Get insurance for your renovation
Many people overlook renovation insurance before they start a project, but it's important. Your renovation works are probably not covered by your existing insurance and if something goes wrong, or there's a huge delay, you can be left seriously out of pocket. There are specialist renovation insurance brokers who can advise you on the best policies, and knowing you have this cover gives you additional peace of mind during what can be a stressful time.
Images Courtesy of Canva.
Other posts you might enjoy:
6 Remodeling Mistakes You're Making
Home Remodeling: Steps to Getting Started
Home Remodeling Adds Value to Your Life!
Share This Story, Choose Your Platform!