Does your work schedule interfere with your house cleaning? While most homeowners leave these chores to perform over the weekend, no person is enthusiastic about spending their time vacuuming the carpets, mopping the floors, doing the dishes, dusting, etc. If you're one of these people, you may want to look into a cleaning service for your home!
Instead of doing these chores in haste and leaving surfaces not properly disinfected, you should consider hiring a cleaning service. There is a variety of professional home cleaning services, such as Dusty Maids Cleaning, keeping properties pristine. If this intrigues you, we invite you to continue reading to learn some interesting facts about the benefits of hiring a professional Houston cleaning service.
5 Healthy Reasons to Hire a Houston Maid Service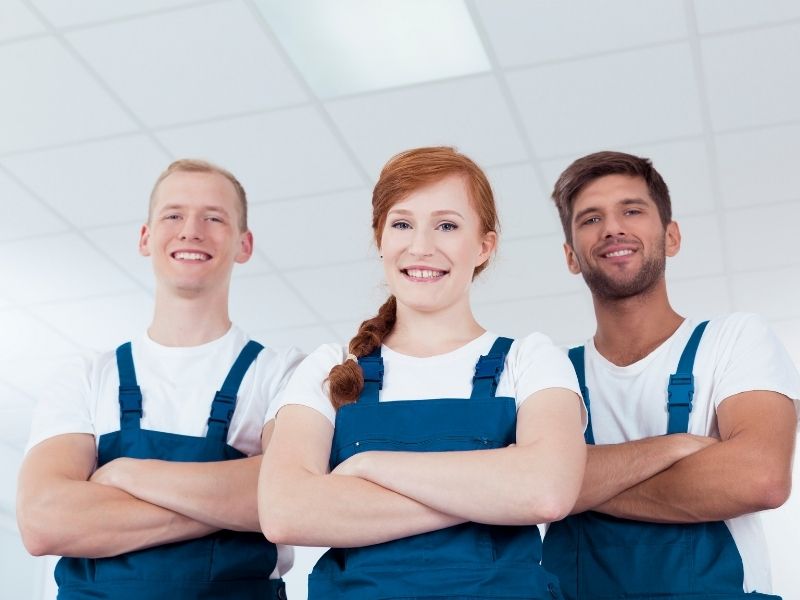 1. Lowers pollen and allergies.
One of the most prominent benefits of hiring a professional cleaning service in the city of Houston is getting rid of dust allergies. A large number of household residents show symptoms of such allergies, as dust is an incredibly common allergen. These symptoms include a runny nose, itchy eyes, nasal congestion, cough, postnasal drip, itchy throat, etc.
Nevertheless, by having your home clean by a cleaning service, you will no longer be affected by the harmful effects of dust. Professional cleaners don't use regular vacuum cleaners, but HEPA (High-Efficiency Particulate Air) filter vacuums, which eliminate almost 98 % of airborne dust particles. By cleaning with such vacuums, they remove dust not just from floors and carpets but also from the air. During the cleaning session, homeowners are advised to stay outdoors while professional cleaners eliminate the dust.
2. Deep cleaning benefits.
Another health benefit of having a service clean your home in Houston is the elimination of all harmful bacteria. These professionals are able to deep clean your kitchen, bathroom, and other dirty areas by using various kinds of tools like mops, sponges, dusters, and vacuums. Additionally, the cleaning supplies they use are ideal for the disinfection of contaminants from household environments.
Deep cleaning services are necessary for making bathrooms, kitchens, and other rooms in the house pristine. They involve washing mirrors, cleaning bathtubs and tiles, scrubbing bathroom floors, wiping woodwork, dusting furniture, cleaning window sills, etc. There is supposed to be no fingerprint and cobweb left after the disinfection process is over. Click here to learn how to deep clean a living room.
3. Eliminate mold wherever possible.
Professional cleaners are capable of using their deep cleaning services for the purpose of mold removal. Due to the high levels of moisture, bathrooms provide thriving conditions for the growth of mold, viruses, and other fungi. Nevertheless, normal cleaning is usually not enough for homeowners to disinfect the areas to perfection.
Unlike homeowners, professional cleaning services are dedicated to the task of eliminating all bathroom bacteria. It's a time-consuming, burdensome task, but cleaners make it less painstaking with their equipment and cleaning supplies. When fighting mold and other germs, they use eco-friendly or DIY disinfectants, such as a combination of water and white vinegar. Given children are most susceptible to infections, maids ensure homes are germ-free at all times to protect the health of all residents.
4. Keeps the kitchen and bathroom germ-free.
The majority of homeowners detest the task of sanitizing bathrooms and kitchens, as these areas are unquestionably the dirtiest in the house. A myriad of viruses, pathogens, and other organisms live on the surface of sinks, toilets, and bathtubs. Therefore, professional cleaning services pay special attention to disinfecting these parts of the house and make sure to access all hard-to-reach spots.
When cleaning bathrooms, professional cleaners wipe down the sinks and faucets, disinfect the bathtub and toilets, as well as scrub the tiles. In contrast, when sanitizing kitchens, maids work on the stove, clean the cabinets, wipe down the countertops, clean the dishwasher, mop the floors, etc. The following link, https://www.today.com/food/5-germiest-places-your-kitchen-how-clean-them-t106971, reveals the top five places in the kitchen with germs.
5. You experience less fatigue and stress.
Most homeowners find it impossible to balance their home and work life without feeling overwhelmed. Coming home to a house/apartment that should be vacuumed, dusted, or mopped is a nightmare for exhausted individuals.
Instead of overextending yourself, why not hire a professional cleaning service? Keep in mind that stress and fatigue are the worst enemies of the human body. By allowing a professional cleaning service to take charge of maintaining cleanliness, you'll save your body from stress.
In conclusion.
By hiring a professional cleaning service, you will no longer worry about allergies, mold, and viruses! If you have any questions or suggestions, we always love to hear from you in the comments below. Also below are links to more fantastic articles about ALL things DESIGN for your home or business.
Images Courtesy of Canva.
Other Posts You Might Enjoy:
4 Ways to Keep a Clean House During Renovations
Your Guide to Eliminating 7 Common Household Pests
7 Important Tips for Selling a House with Tenants
Share This Story, Choose Your Platform!