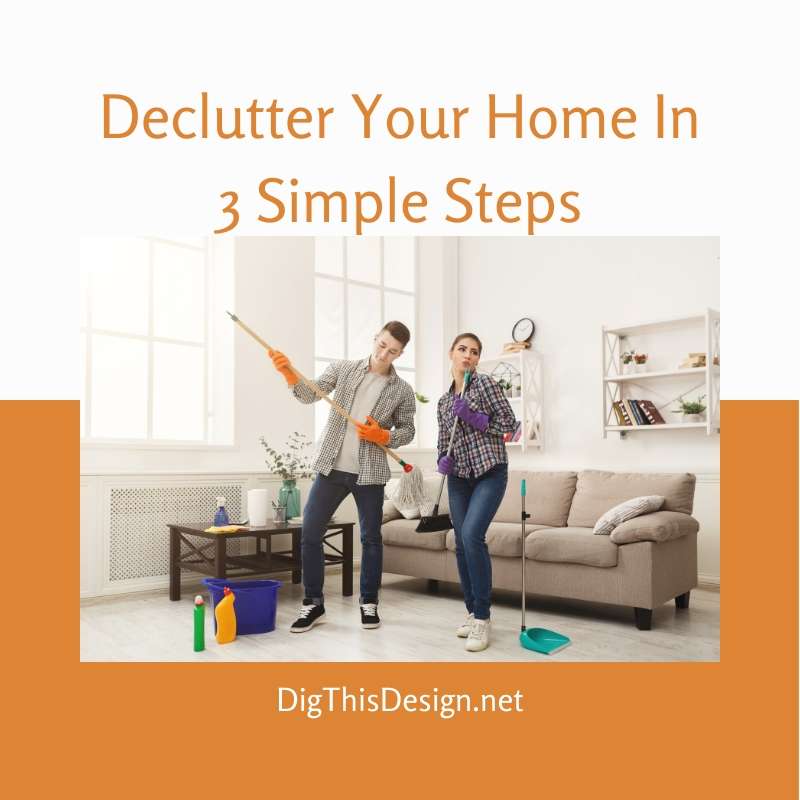 Are you hoping to declutter your life once and for all? Most people in this day and age know how easy it is to accumulate possessions. From accessories to furniture, junk, to stuff you think you might need one day, it's very easy to end up with a cluttered home – and life. If your space is desperately cluttered, it might seem extremely overwhelming. It's times like these that we don't quite know where to start, and it seems easier to continue putting it off. Luckily, it's actually quite easy to declutter your home. With three simple and straightforward steps, you can be on the path to a cleaner, healthier home environment.
3 Simple Steps to Declutter Your Home
Set Aside the Time To Declutter
The most common mistake people make when they declutter their space is not setting aside the time. If you want to make a legitimate change, you need to set the stage for success. We recommend devoting at least five dedicated minutes to one specific task at a time. How will five minutes change anything, you ask? Simple. By working on one task for five dedicated minutes, you can, in theory, accomplish 12 tasks in a single hour. That's the heart of transformation.
If your refrigerator is the bane of your existence, take five minutes to transform a couple of shelves. After five minutes, if there is more work to be done, you can either continue or move onto the next task. This is an easy way to prevent boredom during the decluttering process. And, at the end of the day, the five-minute rule maximizes efficiency, too.
Make a List (and Definitely Check it)
We're big advocates of making lists – especially when it comes to the areas of your home that you need to declutter. It might not sound like a productive or creative place to start, but it's a clear starting point. Without a clear focus, it's easy to burn energy and waste time. By creating a detailed list of all tasks, you set yourself up for success.
For example, you want to consider all elements of the project. From the initial cleanout to the final disposal, you want to have a plan in place. If you end up with a lot of trash in the end, it might be worth investing in something like Shamrock Environmental dumpster rental services. This system saves a lot of time (and stress) by helping you tackle the dirty work.
Don't Hesitate to Take Out the Trash
The biggest issue people have when they try to declutter is parting with their possessions. We highly recommend that you take out the trash – literally. If you follow the 5-minute rule above, this is a great way to put it to work. Take five minutes to tackle an area and fill it up with as much trash or donations as possible. When those five minutes are up, tie it off, and take it outside.
If you give yourself too much time to consider what's in the bag, you might convince yourself it needs to stay. Remember, the goal of any decluttering project is to clean and simplify your space. The more we hold on to, the less freedom from things we'll have. Finally, a great tip to finding what should stay versus go is to hold the item in your hands. Consider it carefully. When was the last time you used it? Does it have legitimate sentimental value? If the answer is no, or you can't remember, get rid of it. When you declutter, you change your outlook on life, so don't be afraid to be bold!
Images Courtesy of Canva.
Other Posts You Might Enjoy:
Library Organization and Layout Tips
Organization Tips for Your Storage Spaces
Create Space Through Organization
Organize Your Accessories with These Simple Tips
https://digthisdesign.net/wp-content/uploads/2018/02/Declutter-Your-Home-With-3-Steps.jpg
800
800
Melissa Moore
http://development.digthisdesign.net/wp-content/uploads/2016/11/OLD_DigThisDesign_logo.jpg
Melissa Moore
2018-02-28 01:00:46
2021-01-16 11:14:02
Declutter Your Home With 3 Simple Steps