Relocating your family across borders is no easy feat. There are so many aspects of life that are disrupted for you, your spouse, and your children. However, it's also an incredibly rewarding experience and one of life's greatest adventures when you get it right. Today, we discuss the challenges of an international move for families. In fact, we go into what you can do to keep the move stress-free, and even make it enjoyable.
How To Keep Your Family Thriving During An International Move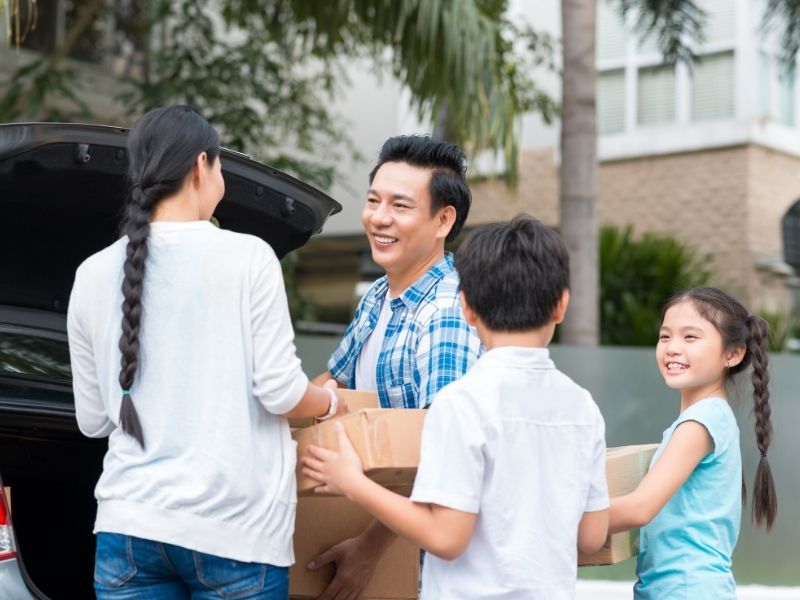 The challenges.
Here are a few of the lifestyle changes you may be worrying about if you have an upcoming international move or are considering one.
Communicating in the local language.
Understanding a new culture.
Finding work for both you and your spouse.
Getting good school placements.
Finding suitable accommodation.
Getting around your new city.
Finding the best moving company to take care of your belongings.
Setting up utilities, insurance, taxes, telecommunications, and other admin tasks.
Visas and immigration.
Navigating a different healthcare system.
Moving family pets.
That's a long list. So, what can you do to make all these things come together and work out perfectly?
Here are some tips from a relocation company in the UAE.
1. Enlist the help of an international relocations company.
A good international mover won't limit their assistance to just moving your belongings. They can help with every item on the list above if you wish. Why not take advantage of their in-depth knowledge of not just the moving process, but your destination, too. Choose the right company and they will prove incredibly useful for every aspect of your move.
Here are the services that a reputable relocations company will offer.
• Moving services.
Your belongings will be taken care of every step of the way with furniture moving services. You can avail of both packing and unpacking services to cover both ends of your move, leaving you with free time to say your goodbyes at one end and set up your new home at the other.
The company will look after every aspect of moving your possessions, including security, customs, and insurance, as well as logistics.
• Visa, immigration and documentation services.
International relocation services help you with all paperwork and documentation required for you, your family, and your belongings. Making sure you have all the right legal and travel documents to travel and work abroad is often one of the biggest stress points for individuals.
Moreover, you may be moving somewhere that requires an exhausting amount of paperwork and inexplicable rules. Making sure you are compliant is exhausting, however, using a professional service takes the hassle away.
• Destination services.
A good company will offer assistance to you with the following from friendly, experienced, and hands-on professionals based at your destination:
Temporary accommodation if needed.
Home searches.
School placements.
Orientation and settling in.
Set up of utilities and other services.
Language and cultural training.
How do you find the best company to help you? Allow yourself plenty of time to get quotes, weigh up the pros and cons of each company. Additionally, don't be afraid to ask plenty of questions to get a measure of how helpful they are.
2. Know that thorough research pays off.
Even when you use a professional international relocation service, you can still benefit from doing as much research as possible before you make your move. Here are some ideas for activities you can do before you leave that will help you feel more prepared.
Take language classes if possible or use online or audio lessons.
Read guidebooks to help orient yourself.
Read up on cultural dos and don'ts.
Join online forums for expats in your new city and make some connections with people.
Contact colleagues in your new office.
Research emergency services like local hospitals.
Taking the time to prepare will help soothe the entire family's nerves.
3. Work on reducing your possessions.
Decluttering your possessions is often good for the soul, but it'll also help reduce costs too. Take time to sell or donate items you are certain you don't need anymore. This will boost the feeling that you are making a fresh start and a positive step into your family's future.
Sometimes it's not cost-effective to move certain items that may be bought inexpensively at your destination. Conversely, some items you may expect to buy for very little in your current home could be prohibitively expensive at your destination. So, check big-ticket items before you discard them.
A good example would be your car. Is it wiser to take it or buy a vehicle when you arrive? An international relocation company offers advice on matters like this.  
4. Take time to settle the family in.
If you have children, their happiness through the move is going to be important to you. The biggest step you can take to making this a positive step for them is to have plenty of time to help them through it.
When you arrive, it would be ideal to have time to do the following.
Explore your new area as a family.
Set up your new home, including your children's rooms, to feel comforting and homely.
Visit your children' new schools with them.
Help them pick up their hobbies where they left off.
Arrange playdates with other expat children or local families.
5. Make time for the things you all enjoy.
What do you like to do in your free time? Spend time with friends, visit museums, go hiking or eat out? Whatever it is, make plenty of time for it in your first few months at your new destination. Prioritize making connections with new people with a view of making friends. Also, visit the places you are most interested in seeing.
Prioritizing the good things in life will mean you and your family have a great quality of life from the get-go. In fact, you'll barely have time to miss your old home this way, too.
Finally, if all else fails remember why you decided to make this move in the first place and always focus on the positives. This is the start of an unforgettable chapter in your life. 
In conclusion.
We wish you the best with your international move. If you have any questions or suggestions, we always love to hear from you in the comments below. Also below are links to more enjoyable articles about ALL things DESIGN for your home or business.
Author Bio
Sushma Salian is the Business Head, Asset Mobility of Writer Relocations, India's premier mobility services company that handles all types of moves: International & Domestic Relocations, Office Relocations, Commercial Move Management Services, Hospitality Logistics, Fine Arts Logistics, Orientation Services, and Storage Solutions. Headquartered in Mumbai, Writer Relocations has a presence in 7 countries and operates in more than 190 countries.
Images Courtesy of Canva.
Other Posts You Might Enjoy:
A Homeowner's Guide To Planning And Preparing A Successful Move
Make Your Move Simpler By Using Technology
7 Smart Tips For a Stressfree Move
Share This Story, Choose Your Platform!