Owning a commercial building is a big responsibility and should be taken seriously. It's your job to make sure the people inside of your structure are safe and sound at all times. This requires you to be aware of any issues and on the premises consistently to make sure it's all running smoothly.
While there are some projects you can do yourself, many of them will require the help of outside contractors and professional companies. Be smart and understand when it's best to invest the money in doing an update the right way the first time. See four commercial building projects you shouldn't DIY.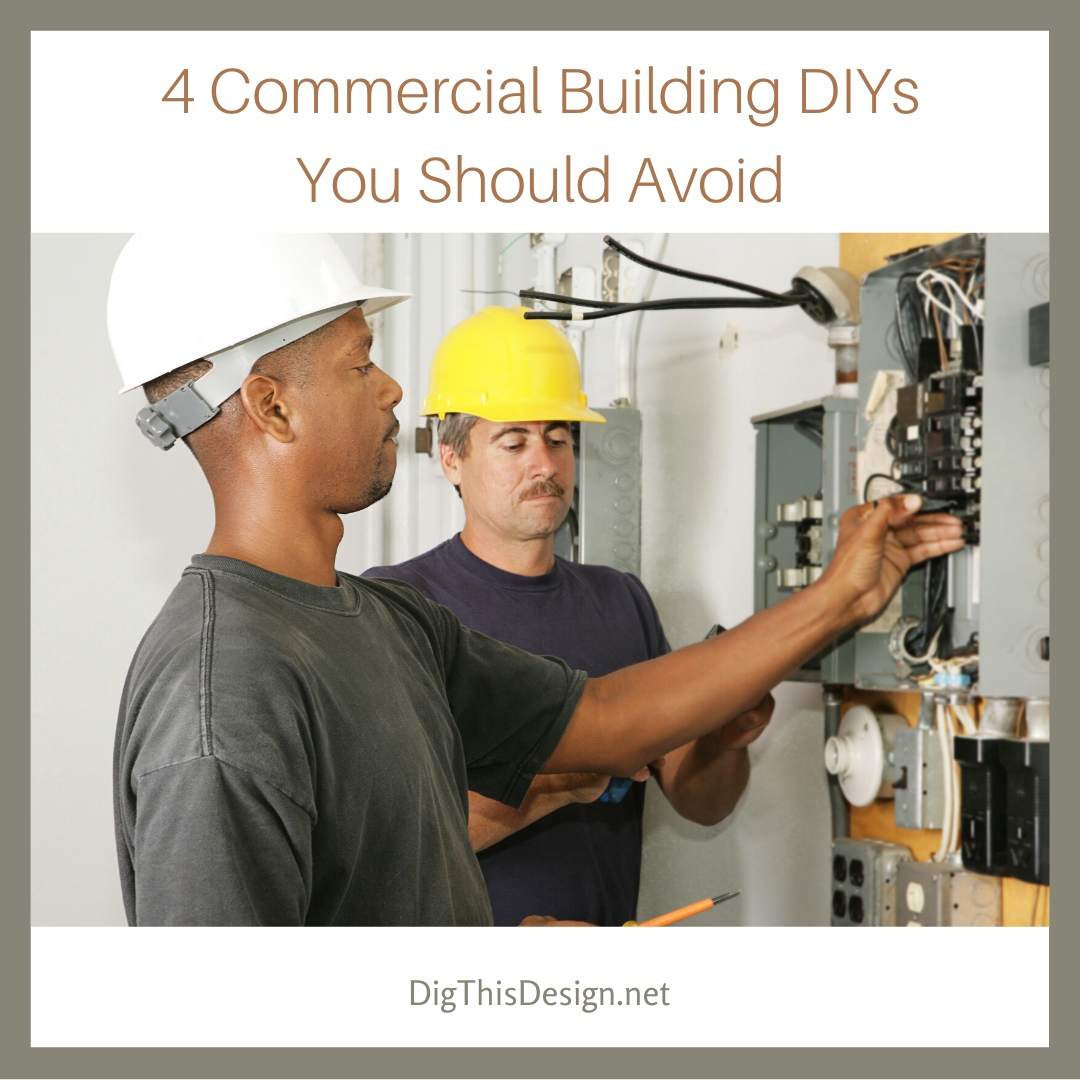 Commercial Building Electrical & Wiring
If you receive a report of the electrical or wiring components being out of whack, take a look, but don't attempt to fix it yourself. This is dangerous and you need to make sure you know what you're doing so you don't get hurt. There are a lot of various factors that come into play and one wrong move could cause a serious situation. Make sure you have a good electrician on your speed dial in case of an emergency. Did you know that doing electric yourself could void your insurance if there was a fire and you could be held responsible for any damage?
Commercial Building Roof Maintenance
You may think that a few loose shingles are no big deal, but the building is likely tall and the roof probably covers a lot of space. Call a professional roofing company that specializes in fixing industrial and commercial buildings. They have the right equipment and are trained to get up on the roof and fix the problem or replace it altogether. Know what questions to ask and make sure you get an estimate before they start the work. Roofs are a critical component of your building and you want to make sure it's done right. Below is a list of questions you need to ask:
Are you licensed?
Do you have workman's comp insurance?
Go you carry general liability insurance?
Will you remove my old roof?
Are you going to install drip edge or edge metal when you install the new roof?
Will you use ladder stabilizers or standoffs to protect my gutters when you install my roof?
Do you bring a container for refuse material?
Where will you place the container for refuse?
What will you do in the case of bad weather during the job?
Do you have a local phone number and address?
What is the warranty agreement?
How will you protect my landscape during the project?
Commercial Building Floors & Carpets
Ripping out a carpet or replacing flooring may seem like no big deal, but in fact, it's a large project. Leave this one up to the pros who know what they're doing and can work quickly and efficiently. Focus on picking out the type of floor you want and how much it's going to cost you. You'll be glad you went with a contractor when you see the final product. You'd be working long hours and wouldn't have anyone to help you should anything go wrong.
Commercial Building Plumping
Your tenants need the plumbing to be working correctly. Don't attempt to fix these types of issues on your own or you may end up with water trouble. There's no point in making matters worse by trying to fix it yourself. Hire a plumber to come in and evaluate and take care of the problem for you. What may look like a simple repair could turn out to be a much large project than what you originally thought.
Conclusion
Now you know what updates to leave to the professionals and why you shouldn't get too involved in the work. Evaluate the situation so you understand what's going on and then make the call.
Images Courtesy of Canva.
Other posts you might enjoy:
5 Design Tips for Improving Office Space
LED lighting – How to Get the Right Color Temperature
Why is Post Construction Cleaning So Important?
Share This Story, Choose Your Platform!