It's exciting to start a restaurant or catering business, but also overwhelming. In a short time, there is a lot to do and many things to buy. Of course, equipment for your kitchen is one of the largest expenditures. In fact, you must use commercial restaurant equipment depending on what you are serving and the type of business you run.
Although it's easy to order equipment in bulk, it costs you less if you learn a few tactics before buying. If this is of interest to you, we invite you to continue reading to learn eleven shopping tactics for commercial restaurant equipment.
Your Guide to Commercial Restaurant Equipment Shopping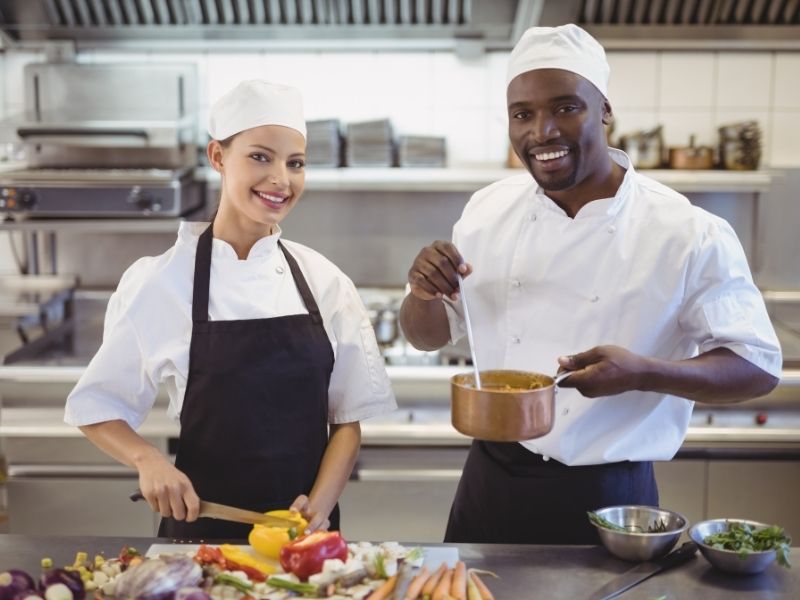 1. Take measurements of your space, then measure again.
Although it may seem obvious, you must ensure that your equipment fits in the right space. It doesn't make sense to reconfigure the kitchen, or worse, return equipment because you didn't measure correctly. In fact, this is an opportunity to use the carpenter's old saying, "Measure twice, cut once."
2. It the "new" equipment essential for your purposes?
It is tempting to purchase new equipment or to upgrade your existing equipment. However, it is a good idea to inspect your equipment and the equipment you will be ordering to ensure that there are no duplicates.
Many pieces of kitchen equipment perform multiple functions. This might include a steamer and commercial convection oven or prep station with extra shelving. So you review your new menu if you are a new restaurant owner? Are you able to use the equipment that you order for your food preparations or just for fun?
3. Take into account the cost of usage.
As with consumer appliances, you should consider the cost of running this equipment in terms of electricity or natural gas.
4. Check your local health and building codes.
Depending on your restaurant location, health, fire, and building codes may differ. These codes may affect the distance between pieces of equipment, their location relative to exits and public areas, and the equipment size requirements for staff. These codes should be reviewed carefully before you order.
Better yet, have a local inspector inspect your plans to ensure that they comply with all local codes. In fact, this might save money in the long run. Unfortunately, there might be fines that may lead to redesigning your kitchen. In extreme cases, your restaurant may even close. It's also important to remember that installing residential-grade equipment in commercial kitchens is against almost all health codes.
5. Do you require a warranty?
Manufacturers offer warranties on large kitchen equipment for an additional fee. The purpose of the warranties is to cover repairs or replacements if the equipment fails to work properly. Although warranties can save you a lot of money down the line, it is important to carefully read the fine print before signing any agreement. It also pays to compare warranties from different manufacturers for similar equipment.
6. You must have enough power and outlets to charge your equipment.
Large pieces of kitchen equipment often require dedicated outlets. Even smaller items require dedicated outlets. To avoid problems after equipment arrives, plan the power sources in your layout.
7. Do you buy new or used equipment?
Although used equipment from an auction house, or a closed restaurant can be a great way to save money, it is important to carefully examine the condition and age of any equipment that you are considering.
While non-electrical and mechanical pieces like a prep station can be a great buy, older kitchen equipment is more costly to run and is most likely not under a warranty. Therefore, you could lose all your savings by having to repair an essential piece of equipment like the ice maker. Conversely, new equipment lasts longer than older equipment.
8. Are there green rebates available in your area
Numerous utility companies offer discounts on utility bills to restaurants in the United States.
9. Sometimes simpler is better.
Although all the latest electronic control panels and bells and whistles are fascinating, it is often a better choice to purchase equipment that has fewer mechanical and electronic parts. The equipment's function is not affected by the electronic components. However, they can lead to expensive repairs if they stop working properly.
10. Lookout for water-saving options.
Many people, outside the restaurant industry, are shocked to discover that water is the biggest utility bill in most restaurants. Water is used to make ice, wash dishes, clean, and for many other purposes. You could save hundreds of dollars a year if you find equipment that uses water efficiently, such as an ice maker.
11. Style
It's worth taking a moment to think about the design and appearance of your new restaurant equipment. Follow these tips and tactics for the success of your new restaurant and so that it reflects your brand, your image, and your personality.
In conclusion.
If you have any questions or suggestions, we always love to hear from you in the comments below. Also below are links to more interesting articles about ALL things DESIGN for your home or business.
Images Courtesy of Canva.
Other Posts You Might Enjoy:
9 Essential Things You Need For Your Home Bar
2 Reasons to Insist on Professional Kitchen Equipment for Your Remodel
Dressing Up to Go to a Casino • How to Pick a Perfect Outfit
Rising with the Sun: 10 Charming Things About Living a Farm Life
https://digthisdesign.net/wp-content/uploads/2022/10/11-Commercial-Restaurant-Equipment-Shopping-Tips.jpg
788
940
Susan Daniels
http://development.digthisdesign.net/wp-content/uploads/2016/11/OLD_DigThisDesign_logo.jpg
Susan Daniels
2021-10-12 11:29:00
2021-10-12 12:55:11
11 Commercial Restaurant Equipment Shopping Tips