Transform your living space and embrace the great outdoors with our comprehensive guide to enhancing your home through outdoor space renovation. Whether you have a spacious backyard, a cozy balcony, or a compact courtyard, we'll show you how to unlock the full potential of your outdoor areas. From design inspiration to practical tips, embark on a journey to create a personalized sanctuary where nature meets your unique style, making every moment spent outdoors an enriching and enjoyable experience.
What Are the Benefits of Outdoor Space Renovation?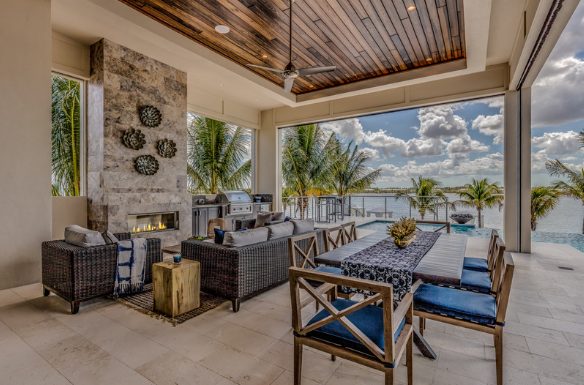 In this guide, we will offer tips to enhance your outdoor living spaces.
Why Extend Your Home Outdoors?
Extending your home to the outdoors is a fantastic way to unlock the full potential of your property. With outdoor space renovation, you can seamlessly blend your indoor and outdoor areas, creating a harmonious living environment. Whether it's a stylish patio, a lush garden retreat, or a functional outdoor kitchen, you and your family will enjoy the fresh air, nature's beauty, and the added living space for relaxation and entertainment.
Space for Kids to Play
Designing an outdoor play space for your children is an investment in their physical and emotional well-being. It offers them a world of benefits beyond just fresh air and sunshine. In an age where screens often dominate children's attention, an outdoor play area encourages them to engage in active, imaginative, and social play. It promotes physical fitness, helping them develop strength, coordination, and motor skills. Moreover, an outdoor play space fosters a deep connection with nature, sparking curiosity and a love for the environment. It's a space where friendships are formed, creativity flourishes, and lifelong memories are made. So, when you create a designated area for your kids to play outdoors, you're not just extending your home; you're providing them with a world of opportunities to grow, learn, and thrive.
More Room for Entertaining Guests
Creating a beautiful outdoor space attached to your home provides you with another option when hosting guests. When the weather is pleasant, you can dine outside or throw a garden party with your friends and family. A garden renovation can help you breathe new life into your outdoor space so that you want to show it off to everyone you know. So, it becomes an inviting and versatile setting for entertaining and creating unforgettable moments with loved ones.
Tips to Help You Renovate Your Outdoor Living Space
Plan with Purpose: Define the primary purpose of your outdoor space. Is it for dining, entertaining, gardening, or relaxation? Having a clear vision will guide your design choices.
Landscaping Harmony: Blend your outdoor space seamlessly with the natural surroundings. Incorporate plants, trees, and shrubs that complement the environment.
Quality Furniture:  

People spend a lot of time choosing the right furniture for inside their homes, but they don't usually put as much thought into

their patio furniture

. Invest in durable, comfortable outdoor furniture that can withstand the elements and provide a cozy setting for gatherings.

Lighting Matters: Install outdoor lighting to create ambiance and extend your enjoyment into the evening.
Hardscaping Features: Consider adding features like a patio, deck, or pergola to define different areas within your outdoor space.

Companies like

Quorn Stone

offer a range of beautiful and practical paving options.

Personal Touch: Infuse your personality into the design with colors, decor, and personal touches that make the space uniquely yours.
In conclusion, the journey of enhancing your home with outdoor space renovation is one filled with endless possibilities and benefits. Whether you're seeking a serene escape for relaxation, a vibrant setting for social gatherings, or a combination of both, the transformation of your outdoor area is an investment that yields invaluable returns. From thoughtful planning to meticulous design choices, your outdoor space can become an extension of your home, seamlessly blending the comforts of indoors with the beauty of the outdoors. By following our tips and infusing your unique style, you'll not only create a welcoming haven for yourself and your loved ones but also elevate your property's overall value. So, embark on this exciting endeavor, and let your outdoor space become a reflection of your lifestyle, a source of joy, and a sanctuary where cherished memories are made.
Other posts you might enjoy:
Outdoor Living Design Tips for the DIY Homeowner
Wooden Outdoor Furniture Care: A Comprehensive Guide
Share This Story, Choose Your Platform!