As the seasons change and the weather warms up, outdoor patio spaces become a hot spot for socializing, relaxation, and entertainment. Gone are the days of simple lawn chairs and a barbecue grill; today's outdoor patios have evolved into stylish and functional extensions of our living spaces. In this blog post, we'll explore the latest trends in outdoor patio spaces that are transforming them into inviting and luxurious retreats.
5 Trending Design Tips for Outdoor Patio Spaces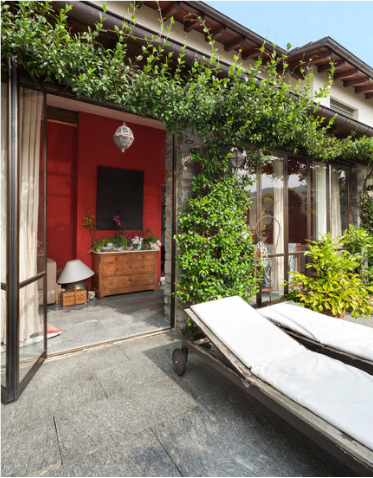 Outdoor Living Rooms
One of the hottest trends in outdoor patio spaces is the concept of creating outdoor living rooms. This involves incorporating comfortable seating arrangements, such as plush sofas, lounge chairs, and ottomans, to mimic the cozy feel of indoor living rooms. Outdoor rugs, throw pillows, and side tables are added to complete the look. With this trend, homeowners can now enjoy the comfort and ambiance of their living room while basking in the beauty of nature.
Natural and Organic Materials
Another popular trend that continues to gain momentum is the use of natural and organic materials in patio design. Homeowners are opting for sustainable options like bamboo, teak, and reclaimed wood for furniture and decking. Stone and pebble accents are also in high demand for creating pathways and borders. These materials not only add a touch of elegance but also promote an eco-friendly and harmonious connection with the surrounding environment.
Fire Features
Fire features have become a must-have element in outdoor patio spaces, providing both warmth and a captivating focal point. Fire pits, fireplaces, and even fire tables are being incorporated into patio designs, offering a cozy ambiance for cool evenings and a gathering spot for friends and family. The incorporation of fire features allows homeowners to extend their patio enjoyment throughout the year, even during colder months.
Outdoor Kitchens and Bars
The trend of outdoor kitchens and bars has taken patio entertaining to the next level. Homeowners are now creating fully functional cooking and dining areas in their outdoor spaces. These outdoor kitchens often feature built-in grills, pizza ovens, refrigerators, sinks, and ample counter space for food preparation. Alongside the kitchen, outdoor bars complete with a wine fridge, beer taps, and bar seating are becoming a popular addition. These amenities make hosting outdoor parties and barbecues a breeze, as everything needed is conveniently located in one space.
Integrated Lighting
Proper lighting is crucial for creating an inviting atmosphere in outdoor patio spaces. Integrated lighting systems that utilize a combination of functional and decorative lighting fixtures are on-trend. String lights, lanterns, and LED strips are used to highlight key areas, such as seating areas, pathways, and architectural features. The right lighting can transform a patio space, providing a warm and magical ambiance that extends well into the night.
Conclusion
The world of outdoor patio spaces is rapidly evolving, with homeowners seeking to create inviting, comfortable, and stylish retreats in their own backyard. The trends mentioned above, from outdoor living rooms to natural materials and fire features, reflect the desire to seamlessly blend indoor and outdoor living. With the addition of outdoor kitchens and bars, homeowners can now enjoy the convenience of cooking and entertaining in their outdoor spaces. Finally, integrated lighting systems add a touch of enchantment, ensuring that the patio remains a welcoming haven long after the sun sets.
Whether you have a small balcony or a sprawling backyard, incorporating these trending elements into your outdoor patio space will elevate it to new heights. Embrace the fusion of style and functionality, and create a space that truly reflects your personality and allows you to savor the beauty of the great outdoors.
Other posts you might enjoy:
Outdoor Patio Ideas for Party-Perfect Entertaining
Outdoor Bar Ideas – Time to Take the Party to the Patio
Share This Story, Choose Your Platform!