Finding the space to store things where they are easily accessible can be a challenge.  Do your Holiday decorations hang out in boxes stacked on top of one another?  Every year, do you need to move your Christmas decorations out of the way so you can get to your fall decor?  Are your towels coming unfolded in your linen closet?  Do you have to throw away your favorite Bath and Body products because you forget they're stored in the very depths of your vanity?  Is there a narrow path through your child's bedroom just wide enough to get in and out of bed?  Can you park your car in your garage?
Seriously, people.  We have an epidemic of clutter!  Check out these AWESOME storage ideas that will actually free up space, make items accessible, and reduce waste.
Access Your Accessories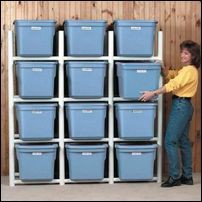 This is a great idea for inexpensive shelving to use for your holiday decor.  Long gone are the days of rearranging your storage unit every time you need to find something.  Simply label your bins and place them on this pvc shelving where they are easily accessible.
Find Your Child
Did you lose Timmy again?  Chances are he's hiding in the clutter of his playroom.  Check out this cool pulley system that will have toys stored neatly overhead – ready to be played with at a moments notice.
Park in Your Garage
What a novel idea!  Parking in the garage?  There is a TON of wall space in every garage for neat and efficient storage.  Make the best use of your space by mounting supplies you use most often on the walls of your garage.  This includes cleaning supplies, gardening supplies, bikes, toys…  you name it!
Reach Your Cleaning Supplies
LOVED this idea for under the sink.  How many times do we pull out cleaning supplies from under the sink while knocking over everything within an inch of our reach?  A rod to hang bottles?  Brilliant!
Find Your Makeup Before it Expires
Linen closets and vanities tend to attract all sorts of various items.  You know the ones…  hair ties, lotions, band aids, blankets, oh… I could go on forever.  This is a very efficient way to organize your linen closet.  If you're extremely daring, you can even go so far as to say if it doesn't fit in any of these categories, then you don't need it.
https://digthisdesign.net/wp-content/uploads/2012/09/Stoarge-Dream-Garage.jpg
458
550
Patricia Davis Brown
http://development.digthisdesign.net/wp-content/uploads/2016/11/OLD_DigThisDesign_logo.jpg
Patricia Davis Brown
2012-09-14 14:26:08
2017-02-27 03:13:09
Organization Tips for Your Storage Spaces