If your garage has become a cluttered mess or simply feels outdated and drab, don't fret. You don't have to break the bank to give it a fresh, inviting garage makeover. A garage is more than just a place to park your car; it's an extension of your home and should reflect your style and needs. 
Garage Makeover Ideas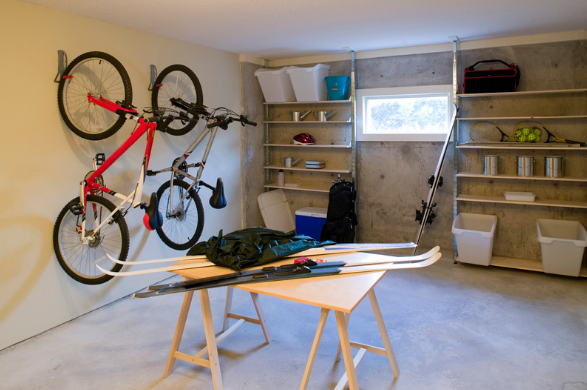 Whether you're looking to create a stylish workshop, a functional storage space, or a cozy retreat, here are some budget-friendly garage makeover ideas to transform your space:
Revamp Your Flooring
The floor is the largest surface area in your garage, and it often bears the brunt of oil spills, tire marks, and general wear and tear. A fresh floor can completely change the look and feel of the space and should be considered for your garage makeover. One of the most popular and durable options is epoxy flooring. It not only adds a sleek look to your garage but also makes it resistant to stains and damage. 
If you're looking for local professionals for this job, check out Epoxy Flooring Jacksonville, FL  to ensure you get a fantastic return on your investment. 
Utilize Vertical Space With Pegboards
Pegboards are a classic and affordable solution to organize tools, gardening supplies, or craft items. Customize them with hooks, shelves, and bins. The best part is that pegboards can be easily repainted or rearranged as your needs change.
DIY Storage Solutions for Your Garage Makeover
Instead of splurging on expensive storage units for your garage makeover, think outside the box. Repurpose old furniture pieces, like bookshelves or cabinets, to store items in your garage. A fresh coat of paint and some new hardware can make an old piece look new again. Additionally, consider using clear storage bins. They're cheap and allow you to quickly identify their contents.
Brighten It Up With Paint
A fresh coat of paint can work wonders. Go for light colors to make your garage look bigger and brighter. If you're feeling creative, add an accent wall or some stenciled designs. Remember to use paints designed for garages as they're more durable and resistant to moisture and temperature changes.
Install Efficient Lighting
Good lighting is essential, especially if you're using the garage as a workshop or hobby space. Swap out old bulbs for LED lights, which are energy-efficient and provide bright illumination. Consider adding task lighting over workbenches or storage areas. A garage makeover isn't complete without proper lighting.
Create A Functional Workbench
If you love DIY projects, a workbench is a must-have. Instead of buying an expensive one, build your own using reclaimed wood or old furniture. Customize it with drawers, shelves, and hooks to keep your tools and materials organized.
Incorporate Greenery
Adding plants to your garage can make the space feel lively and inviting. Opt for low-maintenance plants that thrive in lower light conditions. Not only do they improve the aesthetics, but plants also help purify the air.
Upgrade Your Garage Door
If your garage door looks worn out, consider giving it a makeover. Instead of replacing it, paint it a new color, add some hardware, or install faux windows. These small touches can give your garage a brand-new look without the hefty price tag.
Create A Cozy Nook
If you have some extra space in your garage, consider creating a cozy nook where you can relax, read, or even nap. Throw in a comfortable chair, a rug, a cushion, and a small table. This can become your secret escape spot when you need a break from the hustle and bustle of the main house.
Conclusion
Your garage holds endless potential. With a little creativity and some budget-friendly ideas, you can transform it from a dingy, cluttered space into a functional and stylish extension of your home. Remember, it's not about how much money you spend, but how you use what you have. So, roll up your sleeves, let your imagination run wild, and give your garage the makeover it deserves!
Other posts you might enjoy:
Garage Door Safety – Safeguarding Your Family and Possessions
8 Easy Garage Organization Tips
Share This Story, Choose Your Platform!