A garage, for many homeowners, is more than just a space to park the car. It's an extension of the home, a place for hobbies, storage, and sometimes even a retreat from the daily grind. As such, giving it a facelift can be as rewarding as any other home improvement project. Here are some garage organization tips to enhance the functionality and aesthetics of your garage.
8 Garage Organization Tips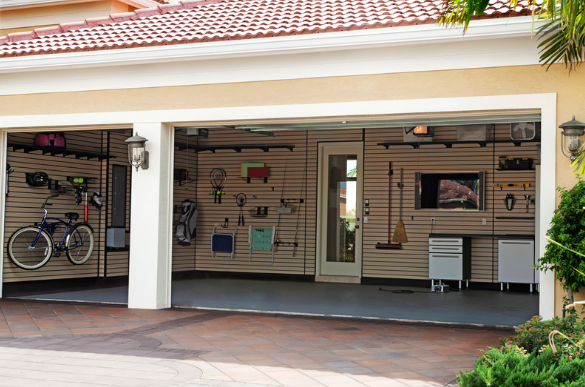 Maximize Storage Through Modular Systems
A cluttered garage can be frustrating and counterproductive. Introducing modular storage systems can make a world of difference. These systems, which include shelves, bins, and racks, can be customized to fit your space and needs. You can achieve a clean and streamlined environment by elevating items off the floor and organizing them efficiently.
Brighten the Ambiance with Superior Lighting
A well-lit garage is paramount if you use the space for detailed tasks like woodworking or car repairs. Swap out older bulbs for LED lighting that bathes the room in a bright glow. If you're environmentally conscious, LED options are an excellent choice.
Invest in Durable Flooring Solutions
The floor is one of the most wear-prone areas of a garage. If it's time for an upgrade, consider epoxy flooring. Recognized for its robustness and aesthetic appeal, epoxy flooring in Cincinnati Ohio offers homeowners a solution resistant to stains, chipping, and abrasions, ensuring that your garage floor remains impeccable for years.
Maintain a Comfortable Climate
Climate control is essential if you expect to use your garage throughout the year. Insulating your garage door and walls can keep out extreme temperatures, making the interior more comfortable. For added convenience, you can integrate a portable heater for colder months and a fan for when it gets warmer.
Set Up a Dedicated Workstation
Creating a dedicated workstation can enhance the garage experience for those who enjoy hands-on projects. A sturdy table, ample storage for tools, and a comfortable chair can set the stage for countless hours of productive work. Consider hanging a pegboard for easy tool access and organization to elevate this space further.
Infuse Personality with Thoughtful Decor
Your garage should resonate with your unique style. By adding decor elements– framed artwork, themed calendars, or even a plant or two – you can create an ambiance that's truly your own. This personal touch makes the space cozier and encourages more frequent use.
Enhance Safety and Security
A garage houses valuable items, from vehicles to tools, making security paramount. Modern security solutions, from surveillance cameras to advanced locking mechanisms, can ensure the safety of your belongings. Additionally, smoke detectors and fire extinguishers are wise additions for enhanced safety.
Regular Maintenance is Key
To keep your garage in top shape, routine maintenance is necessary. This includes cleaning the floors, checking for pests, and ensuring all electrical connections are safe. A well-maintained garage is not just about aesthetics; it's about ensuring longevity and safety for all its users.
The Journey to a Garage Oasis
Elevating the look and feel of your garage is a worthwhile endeavor beyond mere aesthetics. It's about creating a space that aligns with your needs and passions.
Other posts you might enjoy:
Epoxy Garage Floor System – Pros & Cons
Organizing Your Garage With Storage Solutions
Share This Story, Choose Your Platform!