Epoxy garage floor systems are trending. The US concrete floor coating market was estimated at a sky-high $313 million in 2021. For the period between 2022 and 2030, the worth is going to be even bigger as the compound annual growth rate (CAGR) will be around 4.9%.
All those impressive figures come as a direct consequence of epoxy floor system advantages, as more and more car owners like the idea of a nice decorative epoxy floor for their car's home. Nevertheless, there are some cases when you should think twice about its installation.
The Pros & Cons of Epoxy Garage Floor System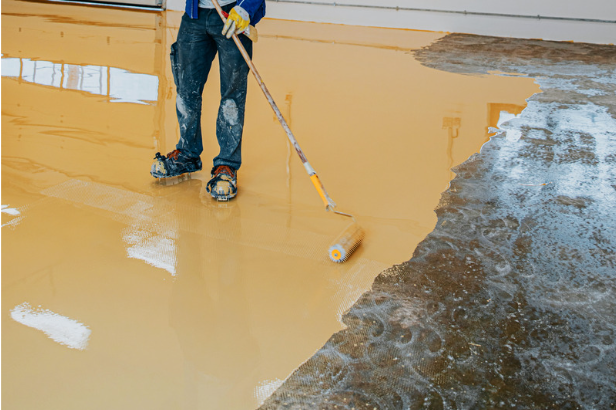 Epoxy Garage Floor System Pros
Let's start with the most obvious one. Epoxy garage floors can look amazing! You can go for a solid color of your choice or choose flakes across the whole floor. The color can go from matte to extremely shiny. Adding colored microchips or metallic pigments adds depth to the floor that camouflages any imperfections.
It's Affordable
Epoxy Garage Flooring won't cost you an arm and a leg. The price is almost negligible compared to what you can achieve with this garage flooring. You can install it directly onto the concrete and the maintenance costs are lower compared to other flooring options. 
Easy to Maintain
All you need is a mop and a general-purpose cleaner. The thick resin layer is extremely easy to maintain. Resin is resistant to water, chemicals and heat. Oil or any other spills are not an issue either as you can remove them without damaging the surface.
Resistance and Strength
Garage epoxy floor systems or residential applications are just the tips of the iceberg when it comes to epoxy flooring. Due to its low maintenance and durability qualities, it's used in commercial applications as well. Epoxy flooring mixture has such a strong chemical bond that is resistant to heavy machinery or frequent foot traffic.
Great Protector
Epoxy acts as an excellent concrete protector. When you cover the garage's concrete floor with epoxy, you can forget about concrete cracks, moisture issues, grout accumulation, or oil stains. The garage concrete floor is going to remain in mint condition.
Epoxy Garage Flooring Cons
While the benefits of garage epoxy flooring are nothing short of impressive, there are a couple of downsides you should bear in mind before you decide to transform your garage floor.
Not a DIY Project
As much as epoxy floor maintenance is easy, its installation can pose a real challenge. If you're not the kind of person that pays respect to every single step in DIY projects, this type of flooring is not for you. Here's why:
Epoxy can take from several days to a month to harden. If you're already living in a house, come to terms that your vehicles may have to be parked outside the garage for quite some time. 

Moisture issues — when you complete all instructions right, you shouldn't have any problems with the epoxy application bulging. To do that, you can only apply epoxy when the humidity level is low enough. Otherwise, you'll end up with moisture trapped in the floor and you'll have to pay for retouching or reinstallation.

Toxic odors — once epoxy hardens, you'll have no more odor issues. However, while the epoxy is thickening, your garage is going to have a strong ammonia smell. This can be quite irritating for the lungs and eyes.
Overall, installing epoxy is demanding and requires a lot of attention to detail.
Even harder to remove
In the unlikely case you'd like to replace your epoxy flooring, you'd have to pay quite a hefty sum. Depending on the service provider, this can set you back between $1 and $2.50 per square foot. 
The process can be quite complicated, so that's why homeowners who decide to install epoxy flooring in their garage have usually thought the process through. After all, with proper maintenance, garage epoxy floors are extremely durable and can last for about 10 years.
All things considered, using epoxy for your garage flooring can be an excellent idea. It takes some effort and time to install it properly and it's not going to last forever, but the results outweigh the drawbacks. When you install epoxy flooring, you're protecting the concrete floor and at the same time adding an attractive look to your garage.
Other posts you might enjoy:
Love Sleek and Chic? Here's How to Use Epoxy Flooring in Your Home
Common Misconceptions about Epoxy Flooring
Share This Story, Choose Your Platform!