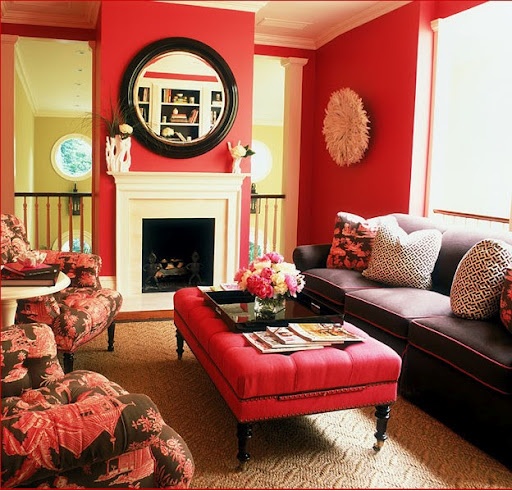 Where space is at a premium, smaller spaces are far too common. These small living or even office areas are a challenge and for the inexperienced, can be frustrating to organize or even decorate.
To get the most out of a small room, the best approach is to start with a strong foundation by splashing the room with the right color choices. However, this isn't as straightforward as it seems.It's a question that has boggled creative minds for ages and complicating it further is that picking out colors can be a highly personal venture.
Fortunately, decisions can be made simpler based on the designer's intentions: rooms typically appear larger with light colors and dark colors make smaller rooms warm and cozy. Based on the ideas for the room, also consider additional factors such as the color of existing furniture or fixed structures. With that in mind, below are a number of suggestions to explore or consider.
White, Cream, And Off-Whites
White and light hues are a popular choice for smaller rooms. Since white reflects light, it is often the color used for ceilings and gives the illusion of a high ceiling and space. Smooth out the corners and sharp lines with other light colors such as cream and off-white. Avoiding too much contrast will open up the space and will make it feel bright and airy.
White and Lime Green
I call this color palette Dream County as it reminds me of lazy summer days with mint julep in hand. When combined together, the overall effect is refreshing and clean. The citrus shade in this combo provides strong visual interest and support for white without being too loud.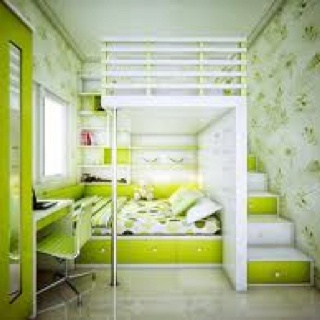 (Dig This Design On Pinterest)
Monotones
Contrary to what most people think, monotones are capable of turning a small room into a visual feast. However, pulling it off effectively requires a keen eye for detail. The method entails creating contrast by utilizing tones of the same color and then breaking the monotony with occasional accessories in bold colors. This color palette pushes the walls away and gives the room depth.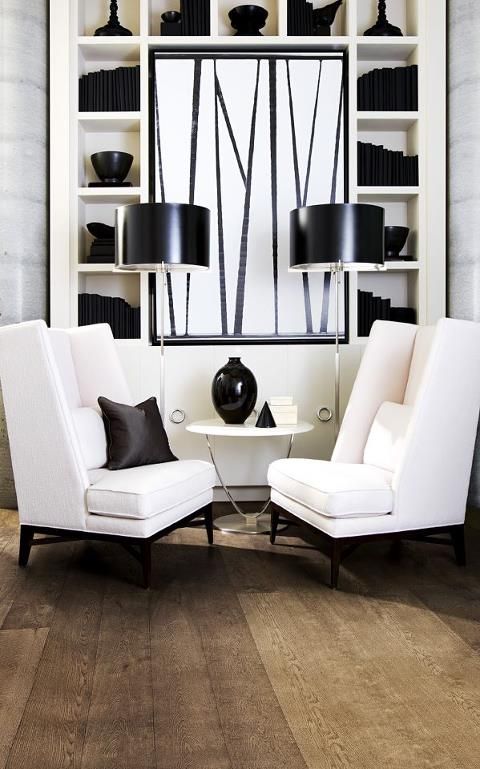 (Dig This Design On Pinterest)
 Neutrals
Beige and ivory work well with white. Combining them together makes for an unpretentious look that is at once inviting and warm. Since the colors don't call attention to themselves, this palette is recommended for busy spaces such as studio apartments.
(Dig This Design On Pinterest)
 Warm Earth Colors
Ever wondered what it would be like to bring the colors of the Mediterranean home? Then here's your chance. This warm palette can establish intimacy in small areas such as a foyer. These solid colors can be too much to handle in some areas but give smaller spaces personality.
Dark/Bold Colors and White
Smaller spaces are usually square areas with no interesting architectural elements. In this case, dark colors for a wall accent creates a fascinating contrast to a predominantly white (or perhaps of any other neutral color) wall. Conversely, bold colors and white trims make for a posh and elegant room design.
A wall in a different color also breaks the box look and gives the impression of moving away from the other walls. However, this color palette is recommended only for spaces with large windows and access to natural light.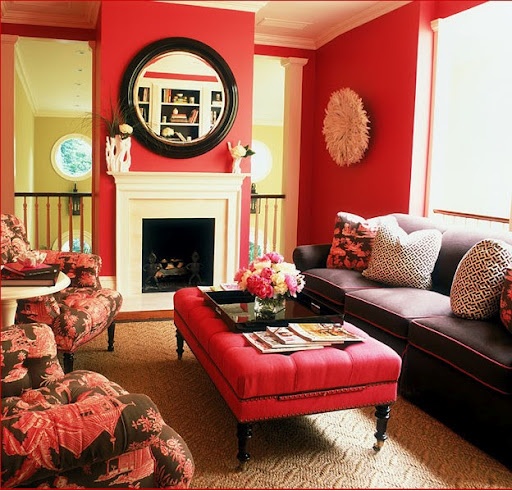 (Dig This Design On Pinterest)
Hopefully, the above suggestions can serve as a starting ground for your ideas. If you are well versed in a photo editing software, use it to test the color palette or to put together color combinations of your own. Working with color can be fun, it's difficult at first but it gets easier with practice.
Robert Madison is a Marketing Manager at "GlassTileStore.com"
###
About The Author: Roberta Madison loves pastel colors because she finds them very soothing. She works as marketing manager for tiles provider GlassTileStore.com, which specializes in mosaic tiles, glass tiles, exotic tiles and other products. Follow GlassTileStore.com on G+.