When designing a shower there are many things to consider and one of them is what type of shower enclosure to have. Glass shower doors are popular as they visually increase the size of the bathroom. When choosing one, it is important to make a choice between a framed or a semi-frameless shower door.
Let's look at both of them: a framed shower door and a frameless shower door. These doors are similar in design but do have different features that we will breakdown below:
Framed or Semi-frameless Shower Doors?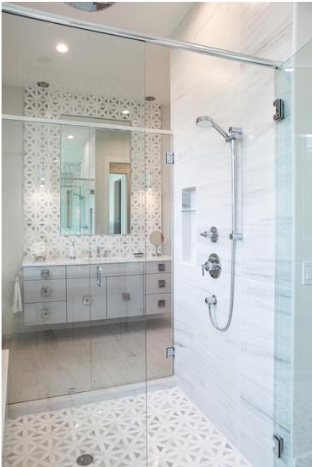 Design by Patricia Davis Brown Designs
Framed Shower Doors
Framed shower doors have a metal frame around the perimeter of the glass panels. The metal frame holds them secure and gives them strength and stability. These doors are available as hinged or sliding systems. Choosing the right style of enclosure for you will depend on your personal design style.
A framed Shower door is also more affordable than its frameless counterpart. They are also aesthetically pleasing and can be just as attractive as their frameless counterparts. Installing a framed door is also simpler than installing a frameless one, which can reduce the cost of hiring a contractor if the homeowner is a DIYer.
Advantages Of Framed 
A framed door has three main components: the header, side jambs, and bottom track. The side jambs attach to the side walls using screws or wall anchors. The bottom track fits within the side jambs. Depending on your needs, you may need to cut and grind the lower track to fit the opening. To complete the look, you can add a fixed panel to your framed door.
There are many different types of glass that you can choose from, obscured, textured, etc. The most popular type of material is clear glass. Glass shower doors that are framed usually have a minimum of 3/8 inch thick glass. The thicker the glass, the more luxurious the look and feel. A heavier glass will also be easier to glide.
Semi-frameless Shower Doors
Semi-frameless shower doors combine the benefits of frameless and framed shower doors. Both enclosure styles are visually stunning. Semi-frameless shower doors, on the other hand, have bare edges. The semi-frameless has a header and is attached with stainless steel hardware that stands up to water.
A semi-frameless shower door has minimal hardware, which minimizes water collection. These doors also make the shower area appear bigger as the total glass pane is exposed and not reduced by a frame. These features make semi-frameless shower doors a great choice for many bathrooms.
Semi-frameless shower doors are available in clear or opaque glass. Opaque-colored glass provides more privacy.
Advantages Of Semi-Frameless
Semi-frameless shower doors are less expensive than frameless ones, and they can enhance the bathroom's look by adding sophistication. Semi-frameless shower doors also feature metal bars on the top and bottom and are easy to clean. These doors are also inexpensive and easy to install. Semi-frameless shower doors are an excellent choice if you're looking for a modern look.
Semi-frameless shower doors can be customized to match a variety of bathroom themes. They are a great option for bathrooms with minimalist designs, which go with most contemporary themes. These doors also have better filtration to keep soap scum at bay. They can also be easily cleaned from the inside.
Another option is to install a semi-frameless sliding shower door. Semi-frameless sliding shower doors provide a seamless look. They come with a special shower glass protection coating, which keeps mineral deposits and soap film from forming on the glass. Moreover, the glazing is 3/16-inch thick and five times stronger than standard glass. They also feature a slotted roller that can move along the length of the door.
Other posts you might enjoy:
Walk-in Shower – 7 Tips for Installing
How to Design a Sleek & Modern Bathroom
Finding the Best Contractors for a Bathroom Remodel
Share This Story, Choose Your Platform!