Choosing the right wedding flowers for your big day can be tough with all the gorgeous options. Let's explore the right option to help you pick the right flowers based on when you're tying the knot!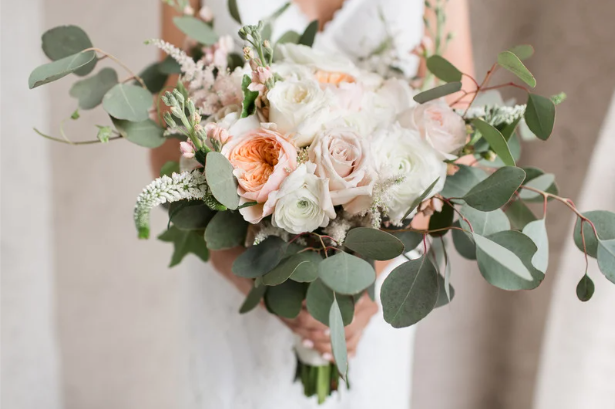 Choosing the Right Seasonal Wedding Flowers
Spring Wedding Flowers
You'll have the pick of the most colorful and beautiful blooms if you get married in spring.
Lily of the Valley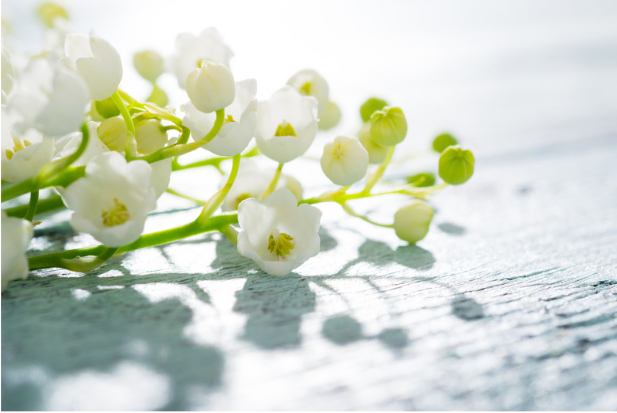 A look that is timelessly elegant, exquisite, and effortlessly stylish can be achieved with these delicate white blooms. This flower is perfect for a more natural bouquet style. This is for the wedding seeking a casual organically free-flowing vibe.  
Tulips
Tulips are great for a clean, modern aesthetic, and they come in all types of colors and sizes to match your wedding theme. They are the perfect way to add an element of elegance before you walk down the aisle! Tulips can make for a stunning choice when it comes to picking out your wedding flowers.
Lilac
The lilac is a springtime classic that offers a vivid purple hue in flower arrangements for May weddings.  
Hyacinth 
Purple, pink, and white hyacinths are similar to lilacs in shape, and their height makes them great for spring centerpieces.  
Ranunculus
A member of the buttercup family, ranunculus looks great in country-style gardens. An arrangement of ranunculus says, 'I'm in awe of your beauty'.
Tweedia
This pop of color is perfect for a modern bridal trousseau. The simple blue and white star shapes on these preppy blooms make us want to fall in love with them. They also come in lavender colors, light blue, and purple.
Peony 
There's nothing like a peony to brighten up your big day, but sadly they don't grow for long. It's only available mid-Spring to a few lucky couples.  
Sweet Pea 
Sweet peas don't just come in pinks and peaches. They also come in browns and purples.  
Anemone
That's hard to say, but it's pretty to look at. The colors of an anemone range from scarlet to purple, white, lilac, and pink, with the striking contrast of black and green centers completing the vintage look.
Summer Wedding Flowers
Since summer flowers have to withstand more heat, they're naturally a bit harder. Summer flowers are also great for weddings because of their resilience. Summer wedding flowers are incredibly vibrant, flexible, and absolutely gorgeous, from wildflower arrangements to garlands of marigolds.  
Delphinium
A summer wedding with delphiniums is more lavish and elegant. Also available in various colors, they'll give your wedding venue a classic look!
Calla Lily 
This flower is great for boutonnieres, and it blooms in early summer. With its sleek, long stems, this floral is perfect for glamorous celebrations.  
Zinnias
It's a good idea to use these fun flowers for your bridesmaid bouquets since they symbolize togetherness and kindness. From pistachio green to raspberry pink, these flowers complement each bridesmaid's style and individuality.
Freesia
This funnel-shaped flower is perfect for brides who want something elegant. White blooms like these would look fabulous mixed with tulips in a bouquet.
Hydrangea
Hydrangeas are known for their vivid colors, so use them for pomanders. The perfect way to embellish your pew ends or hang pomanders for your flower girls.
Fall Wedding Flowers
Keep in mind color cues and in-season foliage to make your wedding stand out during the wedding season's true golden hour.
Marigold 
Marigolds look great as backdrops for late summer and early fall celebrations, especially when strung into garlands.  
Dahlia
Dahlias are a great choice if you want your flowers to stand out. It only takes a few to wow your loved ones at a vibrant wedding and to make a statement.
Amaranthus 
Since amaranthus hangs down rather than standing up, it's great for cascading bridal bouquets.  
Poppies
For edgier brides who want to stand out, poppies are a great option. For a glamorous red wedding theme, their romantic red color is a perfect match.
Winter Wedding Flowers
You'll have limited choices in terms of floral variety when you get married in winter, but you'll be able to make your wedding unforgettable with what's in season. 
Amaryllis
Flowers like amaryllis add a touch of class to your big day. They come in soft shades of coral, pink, white, and more.
Hellebores
With stunning shades like burgundy, eggplant, beige, and mauve, they can stand out in large bouquets and look great in jewel-tone arrangements.
Berried Ivy
For a spectacular Great Gatsby-themed celebration, berried ivy is a sheer delight. Add antique birdcages and pearls to make it really stunning.
Pussy Willow
Put pussy willow centerpieces to work for your winter wonderland wedding. Make an unforgettable impression with a breathtaking all-white wedding theme.
Conclusion
You've now got all the information you need to make your wedding dreams come true! Share this information with your wedding florist so you can make the perfect choice for your unique wedding.
Other posts you might enjoy:
How to Transform Your Backyard Into a Wedding Venue
How to Personalize Your Wedding from Start to Finish
Useful Wedding Invitation Etiquette Tips
Share This Story, Choose Your Platform!