Backyard Wedding Ideas: Right now, the times we live in are strange, and the wedding industry is just one of the many industries that the Covid-19 pandemic has hit hard. Brides and grooms have had to cancel or postpone their weddings until the world recovers. There are also those who have rethought their wedding plans and found an alternative to celebrate their love.
Getting married today isn't impossible. The key is to keep the wedding small to reduce the spread of infection and protect risk groups. So why not come up with a plan to organize weddings in the comfort of your backyard as the perfect opportunity for you to share your love and joy with close friends and family.
There are many ways to easily create a small welcoming oasis with a wonderful atmosphere and intimate setting. Arranging weddings in your backyard on a budget has many advantages. In this article, we provide some tips on backyard wedding DIY ideas and transforming the backyard into a perfect wedding venue you can use for this special occasion.
How do you convert your backyard into a wedding ceremony venue?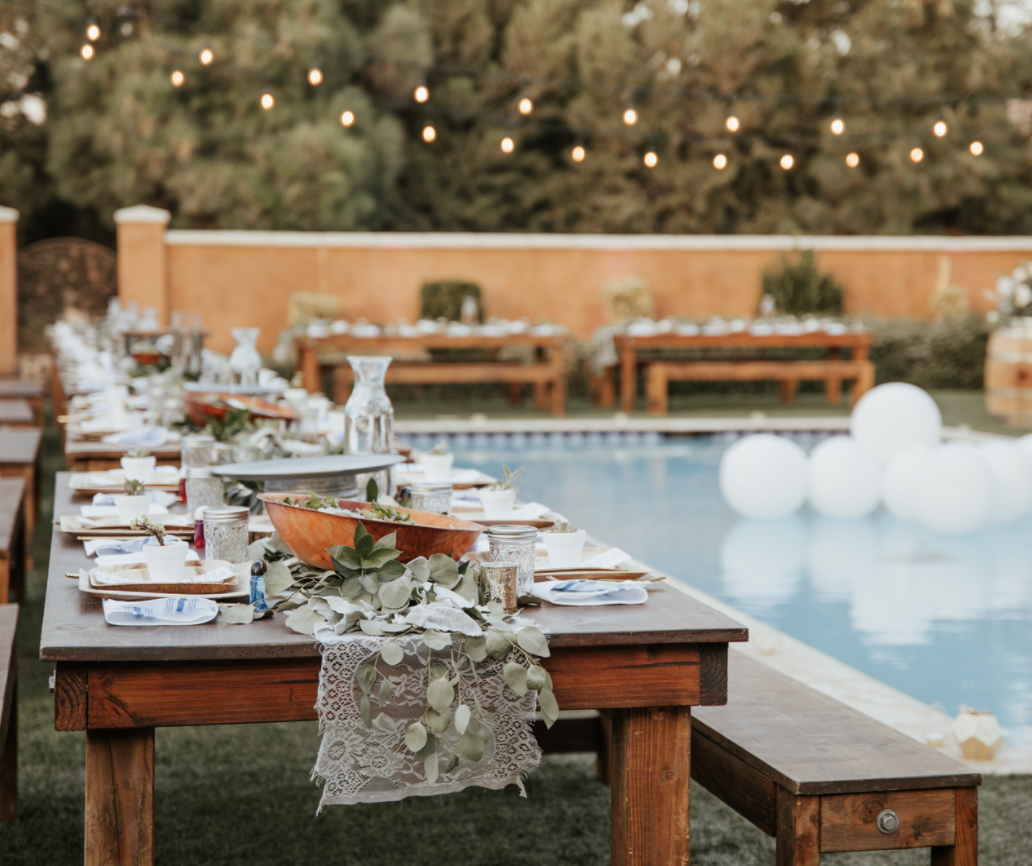 Start Preparing in Advance
Backyard weddings can be very practical, but you need to check the entire area and prepare your space well in advance to make it an attractive venue. First, evaluate the place and take all necessary measurements.
We recommend doing this before preparing the guest list because you most likely want to know how many guests the backyard will fit. Get rid of all unnecessary items and free up space as it will give you a better idea of how the event would look. You can divide the space in your head and figure out the different zones (such as the buffet, ceremony, reception.)
Finally, remember to test the place before making the final decisions. Consider all aspects, such as where the sun shines the brightest day, and think of the shade during different hours. 
This will make it easier for you to adjust the arrangement accordingly.
Prep and Green Up Your Space
Once you arrange the space properly, consider making cosmetic changes and keeping the lawns and trees well-kept and manicured, since the backyard will be fully displayed during the wedding ceremony.
Ensure to take care of any gardening issues your backyard may have, sort out the lawn, and plant some new grass seeds to replenish any sparse areas and make everything look flawless. It is best to plant the flowers and prep the grass months before the wedding ceremony so that the grass and flowers can bloom.
It should also keep the space secure for your guests. When left unmaintained, trees and branches can become unwieldy and grow in various directions. As you want to be on the safe side, try to find garden maintenance businesses with tree trimming insurance options that can protect your venue and event if a branch breaks off and hurts your guests.
Create a Rental Checklist
One of your key priorities should also be to take care of all the rentals you'll need on this special day. You'll probably dance the night away, and we all know that high heels and lawns are not the best of friends.
To avoid construction, you can rent a portable dance floor. In addition, weather forecasts may change, so renting a tent ahead of time is probably a good idea.
Remember to think of the necessities like
appealing lighting,
tables,
chairs,
cocktail tables,
plates,
and cutlery.
Don't shy away from decorative backdrops and photo walls to create the ultimate festive ambiance.
Focus on Intimacy
A backyard wedding is always more intimate than in another place, which is also one of its greatest advantages. Let this permeate the wedding on all different levels, from the layout of the tables during dinner to the entertainment and menu.
For example, instead of having a hired DJ, let one guest play and sing. Place the tables so that all guests can see each other, and choose your favorite food instead of the ready-made menu.
Final Thoughts
When planning the most important party right there in your backyard, there are certain things to remember and prepare to make it an occasion you'll never forget. A backyard as your wedding venue offers you the freedom to be creative and add a personal touch.
Images Courtesy of Canva.
Other Posts You Might Enjoy:
Wedding Planning- 4 Tips for a Unique Wedding
Top 5 Tips for Finding the Right Gallery Space
Share This Story, Choose Your Platform!