Using reclaimed wood panels is an amazing way to improve the look of your house. There is so much that you can do with them, and you can find a purpose for reclaimed wood in just about every room of the house. By using reclaimed wood, you are helping the environment by recycling, rather than buying brand new wood panels. In addition to that, reclaimed wood comes with a lot of character that new wood might not have.
5 Different Ways to Use Reclaimed Wood Panels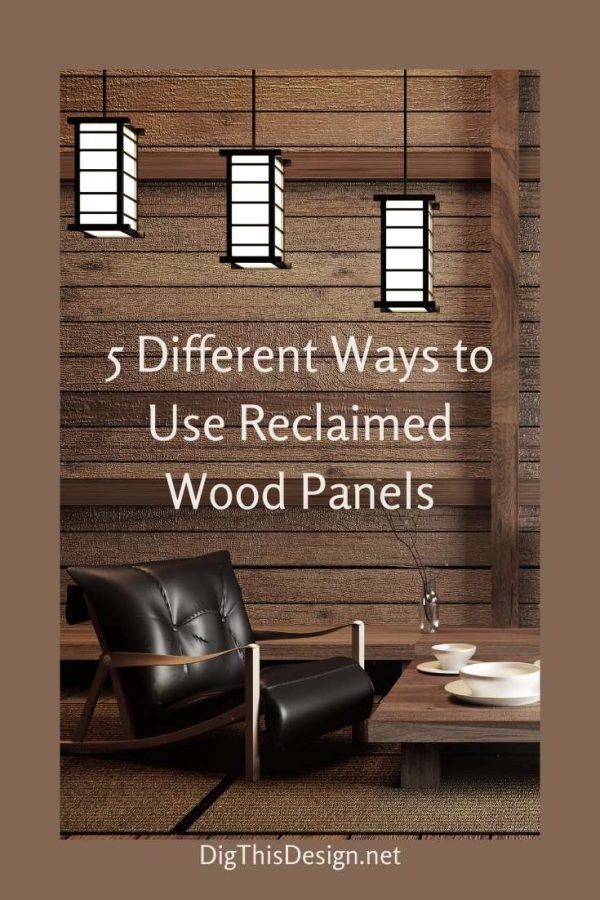 1. Exterior Siding
Changing the exterior look of your home can be extremely expensive. Using reclaimed wood panels is a great way to add character to your home that can potentially be cheaper than other methods. One thing that people do to reclaimed wood panels is charring them with a flame to create a beautiful and unique black ash look. Every wood panel that you char will look different from the others, but it will still have the same overall look. It's called Shou Sugi Ban, and this is an easy and natural way to stain and treat the wood. You don't have to totally change all the siding on your house to update your look, you can simply frame the walls around the garage, the garage door, the windows, or any other parts of your exterior.
2. Add a Feature Wall
A great way to utilize reclaimed wood inside the home is to create a feature wall. A feature wall is a wall that has a different look from the other walls. The first thing you need to do is clean up the reclaimed wood panels by sanding them, washing them, and possibly staining them if needed. After that, simply measure the pieces, cut them, and attach them to the wall. It's as simple as that. You can make your feature wall as big or small as you want it to be. Some people do an entire wall behind their bed or couch, while others will simply frame the fireplace with it. Additionally, you can even create a feature wall behind the bathtub.
3. Reclaimed Wood Backsplash
The most common form of backsplashes is tile. However, if you are looking for a unique and inexpensive way to change the look of your backsplash, reclaimed wood panels work great. The reclaimed wood panels require waterproofing first, then measuring and cutting. After installation, the backsplash provides a very unique and rustic appearance. In addition to the kitchen backsplash, you can also utilize these panels in the bathroom. When you backsplash the entire wall behind the sink with reclaimed wood panels, it isn't just a backsplash anymore. It becomes a beautiful piece of art or decoration.
4. Reclaimed Wood Tables
One of the most beautiful ways to reuse reclaimed wood panels is to create a table out of them. You can make the entire table, including the legs, out of reclaimed wood. The thick, wood legs would make a beautiful outdoor picnic table. However, if you wanted to make a more modern looking table for indoors, you can add steel pin legs or industrial metal pipes. The best thing about reclaimed wood tables is that you can make them whatever size you want.
5. Reclaimed Wood Panel Decorations
There are so many different decorations that you can make out of reclaimed wood panels. One popular decoration is picture frames or picture mounts. You can also make a picture frame backsplash by mounting different shades of wood panels to a wall. Additionally, some other decorations that you could make include: candle mounts, shelves, mirror frames, inspirational signs, abstract art, and more. There are hundreds of decoration options for you to choose from.
The best thing about reclaimed wood is that you can use it in a multitude of different ways in your home, without it ever looking the same. Whatever look you are going for, whether it is modern, rustic, or traditional, reclaimed wood panels are a great way to add originality and character to your home.
Images Courtesy of Canva.
Other Posts You Might Enjoy
Unique Ways to Design a Signature Wall
A Look at The Top Home Design Trends for 2016
Decorative Lighting Trends for 2016
Share This Story, Choose Your Platform!