St. Patty's (St. Paddy's) is just around the corner and many people enjoy staying in and hosting their own parties rather than venturing out into the chaos of bars and mayhem. But green beer isn't the only color-themed drink you can serve, why not your martini?
You can use Appletini's, which are already green. Just use food coloring and make a regular martini green, keep things low calorie and simple, or really go the distance and try an make your martini beautiful in celebration of a day that celebrates drinking!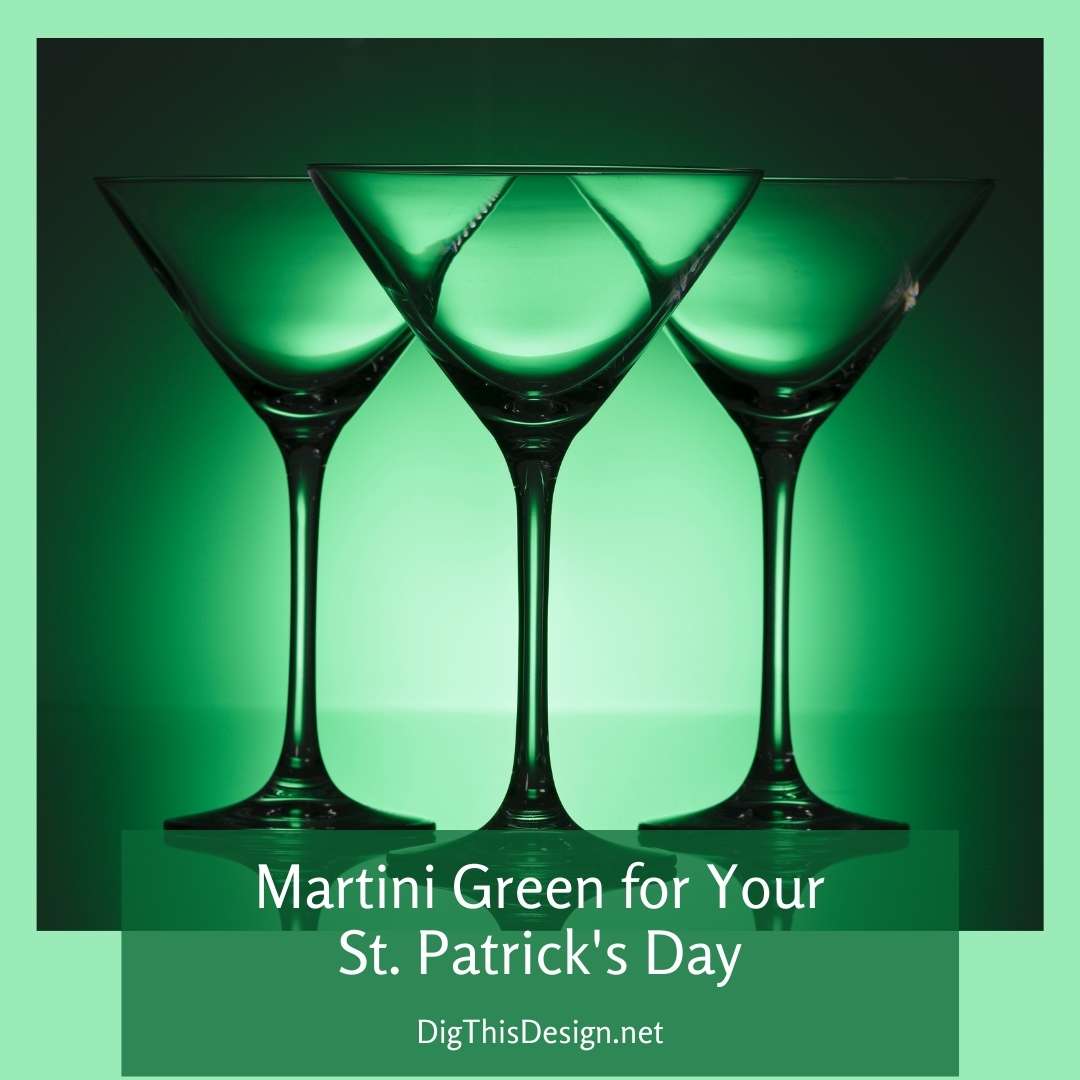 Make Your Green-tini an Appletini
Both pictures people show different kinds of Appletini, though the flavor may not speak St. Patrick's Day, the color certainly does.
Traditional Appletini
This Appletini has a lighter color green, and the little slice inside gives it an authentic flavor of apple rather than just a pucker or apple flavored vodka. It's a dainty, lovely martini for a lady, but it also tastes spectacular.
Ingredients:
30ml shot vodka or gin
30ml shot sour apple liqueur
3 tsp Monin Green Apple syrup
1 thin slice of a granny smith apple
Directions:
Combine the vodka or gin, apple liqueur and syrup in a cocktail shaker with lots of ice. Shake well, then strain into a martini glass and garnish with a slice of apple.
Sour Appletini
The Appletini featured below (from Martini Mischief) is a darker, thicker martini, but it's also a sour apple martini. If tart is more your taste and you're looking for something that deep St. Patricks green, then this might be a drink you'd like to serve at your party.
Ingredients:
2oz Citadelle Green Apple Vodka
.5oz House infused Cinnamon vodka
1oz Apfelkorn
A Splash simple syrup
Directions:
Chill a Martini Glass. Rim with Cinnamon-Sugar.
In a Cocktail shaker, add all ingredients, and fill with crushed ice.
Shake gently.
Strain into the chilled glass.
Garnish with a Green Apple Wedge.
Put the "Tea" in Your Green Martini
Putting tea in just about anything is recommended these days, it's healthy for you, and some people are rather fond of it's flavor. Here are a few martini's below that give tea it's own special highlight, and meanwhile could be great color-wise to use at your St. Patricks Day party.
Zen Green Basil Tea Martini
This is a zen green basil tea martini from Kai Vodka. It's beautiful with the contrasting garnishes on the side. This is a one of a kind drink and would really show your guest that you not only know your martini's, but are adventurous as well.
Ingredients:
1.5oz Kai Lychee vodka
0.5 oz simple syrup
3 thai basil leaves
1 lemon wedge (1/8 lemon)
0.5 oz green tea liqueur
Directions:
Muddle simple syrup, basil, and lemon wedge together
Shake and strain into a martini glass
Garnish with basil leaf and a lemon twist
Sake Green Martini
If you want to be really innovative take the green martini featured below from the Food Network and serve it at your party. It is a sake green tea martini with crushed peppercorns as a garnish.
Ingredients:
McCormick® Gourmet Collection Peppercorn Melange
1 1/2 ounces dry sake
1 1/2 ounces vodka
1/2 ounce green tea liqueur
1 small cucumber (optional)
Directions:
Place peppercorns in large resealable plastic bag. Close tightly. Pound with a rolling pin, mallet or heavy skillet until coarsely cracked. Pour out onto a small plate. Wet outside rims of martini glasses with water. Dip glasses in cracked peppercorns to lightly coat.
Fill cocktail shaker two-thirds full with ice. Add sake, vodka and green tea liqueur; shake until well mixed and chilled. Strain into martini glasses.
If desired, scoop out small cucumber balls from peeled cucumber using a melon baller. Slice thin strips of cucumber peel and float in the martinis.
Low Calorie Martinis
Just because you are a healthy eater (or drinker) doesn't mean you can't partake in the funsies of our green colored St. Patricks Day martini's. Below is a martini from The Nibble that is low in calories.
Ingredients:
2 ounces 360 vodka
1.5 ounces melon liqueur
Directions:
Shake with ice and strain into a martini glass
Garnish with a lime wedge
For Appearances Alone
If your flavor palate for your martini's is straight to business but you still want to be festive for St. Patricks Day there isn't anything a little food coloring can't change, and you still end up with a beautifully colored green martini.
Emerald Mint Martini
When I see this Emerald Mint martini from MyRecipes.com it really captures the spirit of St. Patricks Day. It's dark green color stands alone with a simple shamrock, boldly showing it's beautiful color by simply just being. This is a drink for an elegant St. Patricks Day party.
Ingredients:
3/4 ounce vodka
1/3 ounce dry vermouth
1/3 ounce crème de menthe
Directions:
Pour ingredients over ice into mixing glass and shake gently. Strain into martini glass.
Mint Chocolate Martini
This mint and chocolate martini may not be a typical choice for a St. Patricks Day martini, but for the man or woman that aren't fans of your regular martini this has a great flavor and is garnished to look extravagant and beautiful.
Ingredients:
2 parts Pinnacle® Chocolate Whipped® Vodka
1 part DeKuyper® Peppermint Schnapps
1 part DeKuyper® Green Crème de Menthe
1 part Half & Half
Directions:
Shake with ice and strain into a chocolate sauce striped martini glass.
Garnish with mint leaves
Images Courtesy of Canva.
Share This Story, Choose Your Platform!