Here is the delicious Seared Tuna & Tropical Fruit Salsa Recipe featured in Clean Drink Happy Hour.
Seared Tuna & Tropical Fruit Salsa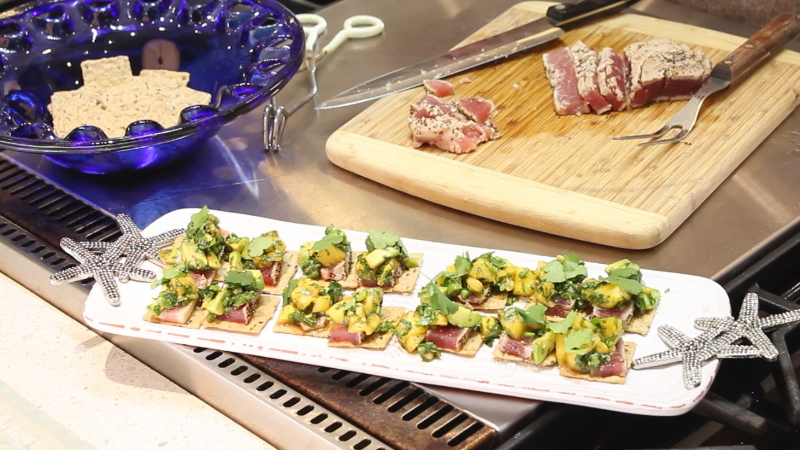 Makes about 48 pieces
8-9 oz. fresh tuna fillet
1tbs. olive, grape seed, or coconut oil
Sea salt & freshly ground black pepper
¾ cup finely diced fresh pineapple
4 scallions, thinly sliced
2-1/2 tbs. fresh lime juice
1-1/2 tbs. soy sauce or soy sauce alternative
1 tsp. minced fresh ginger
1 small ripe Hass avocado, finely diced
½ cup fresh cilantro, coarsely chopped. Plus a few whole leaves for garnish
3-4 oz. package of rice or gluten free multi seed crackers
Cut tuna into long, wide squared off strips, 1" to 1-1/2" thick. Coat tuna with oil and lightly season with salt & pepper. Set a 10" heavy-duty skillet over medium-high heat. After about 2 – 3 minutes when skillet is very hot, sear tuna for about 5 seconds on each side. They should be seared on the surface and rare inside. Transfer to cutting board and cut to 1/4" thick pieces.
In a medium bowl, combine pineapple, scallions, lime juice, soy sauce, and ginger, then add the avocado and gently stir to combine. Add the cilantro and gently stir in.
Set out the rice crackers and place 1 tuna slice on each. Top with a small spoonful of the Tropical Fruit Salsa. Garnish with a whole cilantro leaf.
If you are looking for the Ginger Blossom drink recipe featured on Clean Drink Happy Hour visit www.indianriverjuice.com.
Share This Story, Choose Your Platform!