We are so excited to post another episode of Clean Drink Happy Hour. In the show, we will introduce you to fun and exciting recipes using only fresh ingredients and clean living products.
This episode contains:
A recipe for a cocktail – containing only clean ingredients
A recipe for an appetizer – again, made only with clean ingredients
Style and entertaining tips
BIG Thanks to our friends at Indian River Select who provided us with the freshest, best tasting orange and grapefruit juice we could imagine for our drink recipes.
Watch the Full Episode Now
Join Patricia Davis Brown, Stephanie Davis for Clean Drink Happy Hour! Watch the full episode here… recipes and more information about the products we used can be found below:
Indian River Select was the perfect choice for our clean drinks.  All of their juices are 100% fresh squeezed Florida juice. In the episode, you saw Stephanie mixing up the Ginger Blossom drink using Indian River Select Orange Juice.
Ginger Blossom Ingredients:
2 part Tito's Vodka
1 parts Indian River Select® Original Orange juice
1 tsp of sliced fresh ginger – adjust to taste
1 part Pellegrino
Ice
Chill glass with ice. Muddle fresh ginger in a shaker with orange juice and vodka. Add ice, cap and shake. Remove ice from glass and pour drink, then top with Pellegrino.
Garnish:
Dried ginger pieces
1 orange
Cut an orange in half and cut a thin slice to get one whole circular piece. Pierce dried ginger pieces through a bamboo pick. Fold the orange slice in half and pierce through the middle with the bamboo pick, finish with dried ginger at remaining end.
Clean Living Appetizer Recipe: Seared Tuna & Tropical Fruit Salsa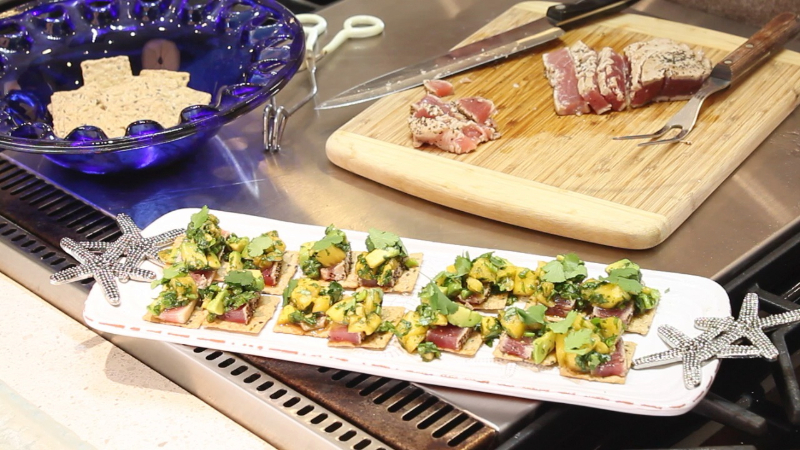 Makes about 48 pieces
8-9 oz. fresh tuna filet
1tbs. olive, grapeseed, or coconut oil
Sea salt & freshly ground black pepper
¾ cup finely diced fresh pineapple
4 scallions, thinly sliced
2-1/2 tbs. fresh lime juice
1-1/2 tbs. soy sauce or soy sauce alternative
1 tsp. minced fresh ginger
1 small ripe Hass avocado, finely diced
½ cup fresh cilantro, coarsely chopped. Plus a few whole leaves for garnish
3-4 oz. package of rice or gluten free multi-seed crackers
Cut tuna into long, wide squared off strips, 1" to 1-1/2" thick. Coat tuna with oil and lightly season with salt & pepper. Set a 10" heavy-duty skillet over medium-high heat. After about 2 – 3 minutes when skillet is very hot, sear tuna for about 5 seconds on each side. They should be seared on the surface and rare inside. Transfer to cutting board and cut to 1/4" thick pieces.
In a medium bowl, combine pineapple, scallions, lime juice, soy sauce, and ginger, then add the avocado and gently stir to combine. Add the cilantro and gently stir in.
Set out the rice crackers and place 1 tuna slice on each. Top with a small spoonful of the Tropical Fruit Salsa. Garnish with a whole cilantro leaf.
Clean Living Glassware and Serving ware
Clean living goes beyond what you put in your body. The glasses, plates, and other items that we use to prepare, serve and store our foods and drinks has a big impact on our health and on our environment. So, in the Clean Drink Happy Hour, you'll see us using products that are made with natural materials – they are good for us and good for our environment.
Share This Story, Choose Your Platform!