Solar Lighting is a Must-Have Feature for Suburban Properties

Outdoor lighting serves a range of purposes. From bolstering the security of your home to creating undeniable curb appeal, quality lighting adds style and ambiance to any home.
Buying or replacing outdoor lighting for your suburban home is a significant investment, and there's a wide range of options to choose from. More and more, suburban homeowners are investing in solar lighting to bring their property to life after dark.
If this topic intrigues you, we invite you to continue reading to discover why solar lighting is the ideal solution for your suburban property.
Reasons To Include Solar Lighting In Your Suburban Yard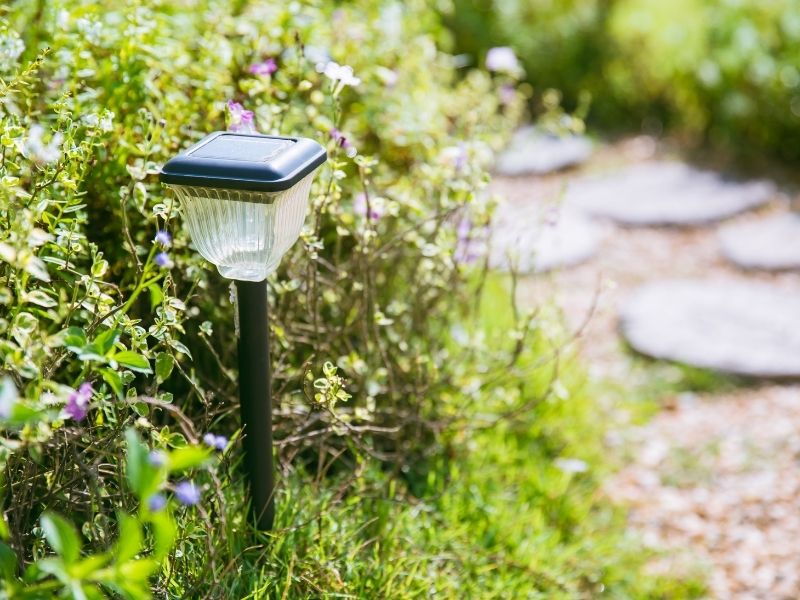 ⎆ There's less light in suburban areas.
Many people move to the suburbs to escape the bright lights and big-city atmosphere of a dense urban setting. Part of the appeal of the suburbs is the fact that homes are spread out. Plus, there's more room for families to enjoy the outdoors with seclusion from the neighbors. That also means there's less light at night, making outdoor lighting essential.
Solar is a smart, efficient way to light areas that need illumination. Whether you're ready to get more use of your outdoor entertainment space after dark or you're highlighting the unique features of a home's architecture and your landscaping, solar is simply the practical choice.
⎆ Conserve energy costs with solar lighting.
Most people move to the suburbs to take advantage of more space, both indoors and out. Since suburban properties are typically much larger than their urban counterparts and feature expansive yards, it takes more to light them effectively. A comprehensive outdoor illumination strategy with layered lighting is best in terms of aesthetic appeal and security.
With so much more needed in the way of lighting, solar is a cost-effective solution for homeowners. There are several types of solar fixtures that serve distinct, practical purposes, including the following:
Path lights, to help safely navigate driveways, walkways and other hardscape features.
Sconces and ledge lighting to enhance visibility and ambiance in entertainment spaces.
Shed lights to keep your outbuildings accessible after dark.
Garden lights to highlight flowerbeds, shrubbery and low-growing foliage.
However, don't forget about fence and perimeter lighting! These options are the gold standard for security and visibility, In fact, they keep away unwanted intruders in addition to keeping an eye on the family dog for those nighttime potty breaks.
In short, you need a variety of fixtures to achieve the perfect lighting strategy for your property, But, what about the energy it takes to run these lights? Luckily, solar lighting relies on free, renewable energy from the sun. These fixtures collect and store energy during the day to use at night. That means you can effectively light your entire outdoor space, no matter how large, without increasing your energy bills.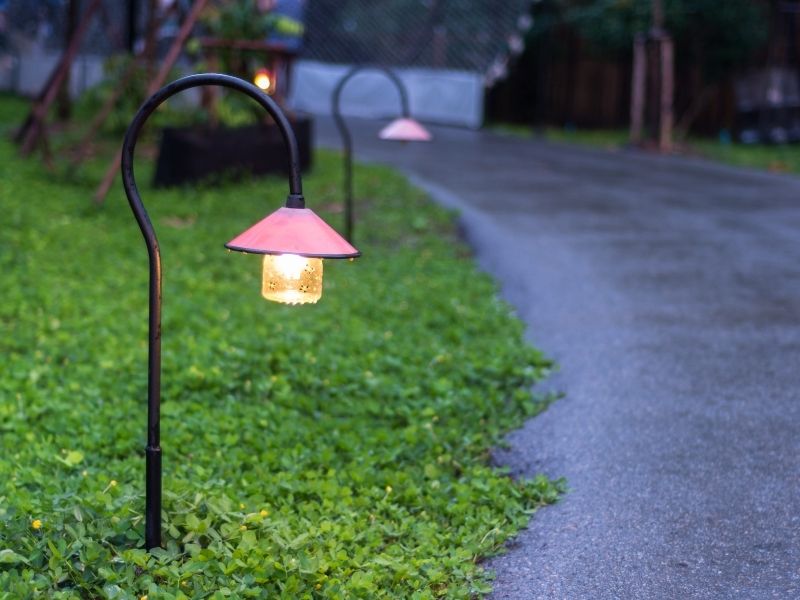 ⎆ Mood-setting, non-intrusive light options.
Solar fixtures are ideal for creating a warm, inviting ambiance for your outdoor space. They're well-suited to suburban environments because homeowners don't want to simply blast light at night and neither do their neighbors. With solar, you can control lighting across landscapes.
Solar is perfect for adding subtle touches of light to walkways, patios, driveways, gardens and more. It also helps set the right mood for your outdoor space. There's no reason to settle for wash-out lighting when a few strategic fixtures give you the perfect amount of light for your outdoors after dark.
⎆ Simple installation won't interrupt landscaping.
Solar lighting is affordable not only in terms of energy savings, but also in terms of installation. Traditional landscape lighting requires an invasive approach. In fact, this often requires difficult and time-consuming trenching and wiring. But, don't worry about wiring with quality solar fixtures because they are self-contained, making them quick and easy to install.
Easy installation saves you money and keeps your existing landscaping intact. After all, if you put in the work to create great curb appeal and an inviting outdoor space, you don't want to tear it up. Naturally, with solar, you don't have to. In fact, the plug-and-play nature of solar makes it every suburban property owner's best friend.
⎆ Your suburban property deserves the benefits of solar lighting.
Solar-powered landscape lights are affordable, eco-friendly and incredibly versatile. Whether you're in the mood to accentuate your home's special outdoor features, improve accessibility in your outdoor space, or bolster security by enhancing visibility, you can do it all with solar fixtures.
The key to a great suburban solar installation is a professional installer. So, talk to a landscape lighting expert today. They will teach you why solar lighting is the simple and effective solution for adding irresistible appeal and function to your property.
Not only will you get creative insights into the best ways to illuminate your landscape, but you also benefit from access to world-class fixtures. Plus, I guarantee they are better than what you find on the shelf at big-box stores. Remember, when it comes to your home, the additional expense is worth it.
In conclusion.
Use these tips to play around and try different types of solar lighting in your yard and let us know how it works for you. If you have any questions or suggestions, we always love to hear from you in the comments below. Also below are links to more fantastic articles about ALL things DESIGN for your home or business.
Other Posts You Might Enjoy:
6 Tips to Create an Awesome Outdoor Living Space
Easy Ways To Create a Zen Outdoor Space
A Guide to Enhancing Your Outdoor Space
https://digthisdesign.net/wp-content/uploads/2021/11/Reasons-To-Include-Solar-Lighting-In-Your-Suburban-Yard.jpg
788
940
Ashley Edwards
https://digthisdesign.net/wp-content/uploads/2022/11/OLD_DigThisDesign_logo-300x225.png
Ashley Edwards
2021-11-18 01:00:00
2021-11-18 14:31:50
Solar Lighting is a Must-Have Feature for Suburban Properties