Last week, when browsing through my peer blogger's page at http://homelilys.com, I was intrigued while reading about portable hot tubs. I knew that people used various kinds of hot tubs, but I didn't know all the specifics. A hot tub can either be a large tub or a very small pool full of heated water which is used for either relaxation or hydrotherapy. Some hot tubs are also referred to as Jacuzzis. Hot tubs are specifically made for body massages with the powerful jets they contain.
Choosing Portable Hot Tubs over Fixed Hot Tubs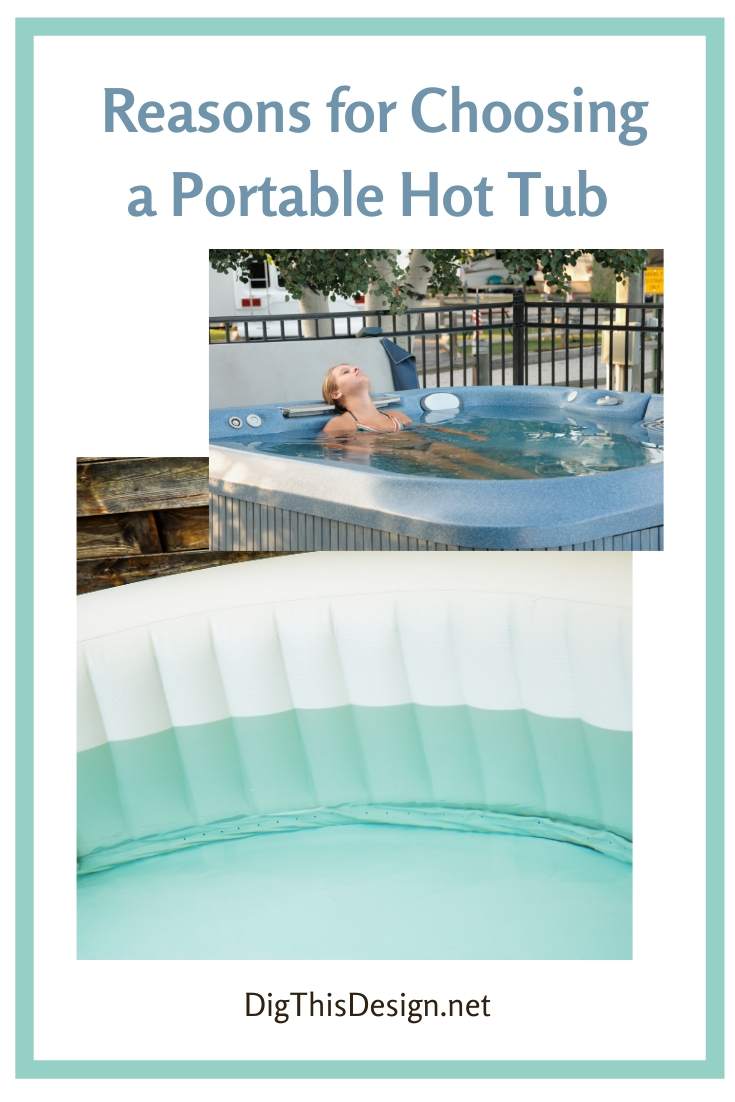 Fixed Hot Tubs Overview
Before jumping into the topic of portable hot tubs, here is some background information on fixed ones. Hot tubs come in various shapes, sizes, and designs. They are designed to accommodate more than one person, and they can either be portable or fixed. Fixed hot tubs are really heavy to move around, and they are mostly permanent. They can either be ground level or above ground level, depending on preference. They are fixed to a particular spot, therefore they are very difficult to move. Fixed hot tubs are made from materials such as cement, wood, stainless steel, acrylic, and glass fiber.
Portable Hot Tubs Overview
Portable hot tubs can be inflatable hot tubs that can be easily moved around. Inflatable hot tubs are great for areas where there is limited space. Portable hot tubs can give a person all the same relaxation and benefits that fixed hot tubs offer. They also often occupy less space overall, and most of them come with a cover to keep the water clean. Most portable hot tubs come with safety features for adults and children alike. However, it is always advisable to watch over children while they are using the hot tub.
Pros and Cons of Portable Hot Tubs
Just like most things, these hot tubs come with both advantages and disadvantages. First I will tell you the pros and cons of portable hot tubs, and then you can compare them to the fixed hot tub pros and cons below. You can see my peer's blogger review of portable hot tubs here.
Advantages
Can be used in limited space
Easy to install
Very easy to relocate
Can be used either indoors or outdoors
Can easily be put away
Ability to maintain a particular set temperature
Disadvantages
It has limited features
Unlike the fixed hot tubs, some portable ones have no seating pattern
It may consume more energy.
Pros and Cons of Fixed Hot Tubs
Now that you know about the pros and cons of portable hot tubs, here are the advantages and disadvantages of fixed ones.
Advantages
Accommodates more people compared to portable
Exclusive features such as lighting and stereos
Shapes can be personalized
Well-arranged sitting pattern
Disadvantages
Difficult to move about
Occupies a lot of space
Needs special installation which can be costly
Water Heating in Portable Hot Tubs
The water in hot tubs is always hot to soothe the individuals using it. The water can be heated either by electricity or gas. For hot tubs to maintain heat, insulation has to be very effective. There are various approaches to the insulation technique. Some hot tubs can be insulated using foam on the cabinet, while others can be insulated using the underside of the shell. Energy consumption in hot tub depends largely on the hot tub heater as well as the hot tub pump.
Portable hot tubs have unique plumbing systems that are mostly connected within the cabinet of the hot tub. They include the following:
A pressure system which supplies water
A suction system that brings backwater
The filtration system to maintain hygiene
Induced air system
If you want to help conserve water in the hot tub, hot tub covers are advisable to reduce the level of evaporation. They can help reduce about 70-75% in heating costs. It is important to note that since portable hot tubs aren't drained immediately after each use, the water must be treated after use to maintain proper hygiene and the water's color.
Prices Of Hot Tubs
Hot tubs are not like your everyday electronic appliances. They can be quite pricey, and their prices largely depend on their quality level. Hot tub prices are mostly classified under various categories such as:
Luxury which cost around $13,000-18,000
High level, which cost around $9,000-12,000
Mid-level which cost around $5,000-8,000
The low level which cost around $2,000-4000
It comes down to personal preference, budget, space availability, and family size when figuring out the perfect hot tub to buy for your home.
Images Courtesy of Canva.
Other Posts You Might Enjoy
How To Afford To Upgrade Your Home With A Hot Tub
Comparing 3 Types of In-ground Pool Construction
Share This Story, Choose Your Platform!