When you live in a warm climate you will find many people own an in-ground pool. As a designer, I am part of the design team that helps homeowners make the right decision on what materials they put into their home building project and that extends to their outdoor living space. There are three different in-ground pools that I have researched to be able to help my clients make the right fit for their needs and today's post discusses all options.
In-ground Pool Construction
Concrete Pool Pros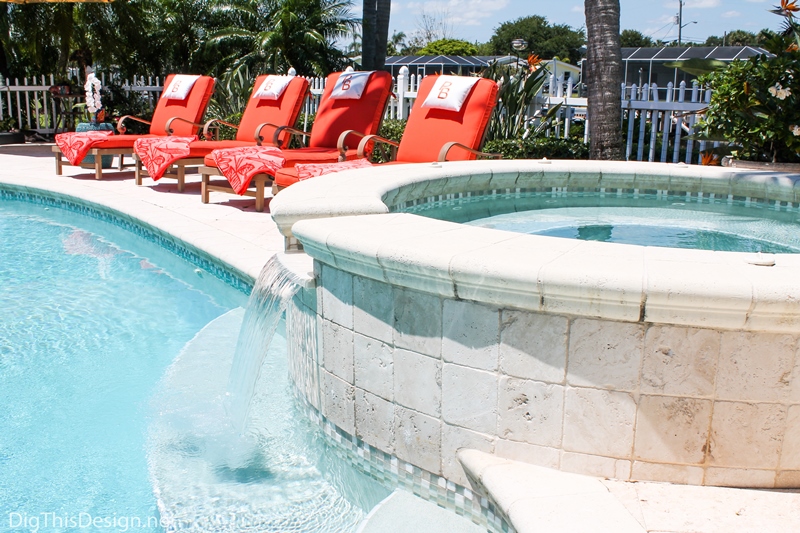 Concrete pools are customizable in size and shape. One of the leading companies in concrete pool construction, Concrete Pools Perth, say that homeowners love the fact that they can have a custom made pool. I would have to agree with them on that as I loved that fact when I purchased an older home that had a kidney shaped pool design, I was able to modify it by adding a hot tub which changed it to my own custom design.
Another added advantage is the durability that a concrete pool gives you. Just like fiberglass, there is no concern with puncturing the surface as you would with a liner.
Compatible with salt chlorinators which cut down on the maintenance.
Fiberglass Pros
A fiberglass pool is a low maintenance advantage due to its porosity. What is great about this quality is you don't have to use large doses of chemicals to kill bacteria that would build up on a pool surface that was porous like a concrete in-ground pool.
Installation of a fiberglass pool is quicker because the pool shell is manufactured off site and is a two-day process. A concrete pool duration to complete in a 3 to 6 month lead time and needs to be scheduled into a project to allow for the time.
Fiberglass pools are very durable and their surface can't be punctured like a liner.
Fiberglass surface is compatible with salt chlorinators. Salt chlorinators are low maintenance and become a popular option for homeowners.
Fiberglass Cons
A major disadvantage to fiberglass pools is that you can not customize the shape, size or depth of the pool.
The initial cost of a fiberglass pool is higher than a vinyl liner but, if you factor it over a 10-year span you will spend less over time.
Concrete Pool Cons
More hands-on maintenance than with fiberglass due to a porous surface. Using salt chlorinator reduces the maintenance time.
More costly to own.
Slow installation time.
Vinyl Liner Pros
Vinyl pools are much more affordable to install, approximately $10,000.00 less than concrete or fiberglass pools. This makes a vinyl pool more attainable for some budgets.
Most vinyl pools are a rectangle but, it is possible to customize the shape, size, and depth.
Vinyl Liner Cons
Read your warranty well because typically it only covers the seams of the liner, not the full liner on the replacement. Usually, it doesn't cover labor, water or other expenses and it is prorated.
As a homeowner you want the facts when it comes to selecting your new in-ground pool construction so, do your research carefully and make the right decision for you.
Images Courtesy of Canva.
Other posts you might enjoy:
Pool Designs – Keeping It Real
What You Need To Know About Natural Swimming Pools
Tips For When You Are Shopping For A Swimmming Pool
Share This Story, Choose Your Platform!