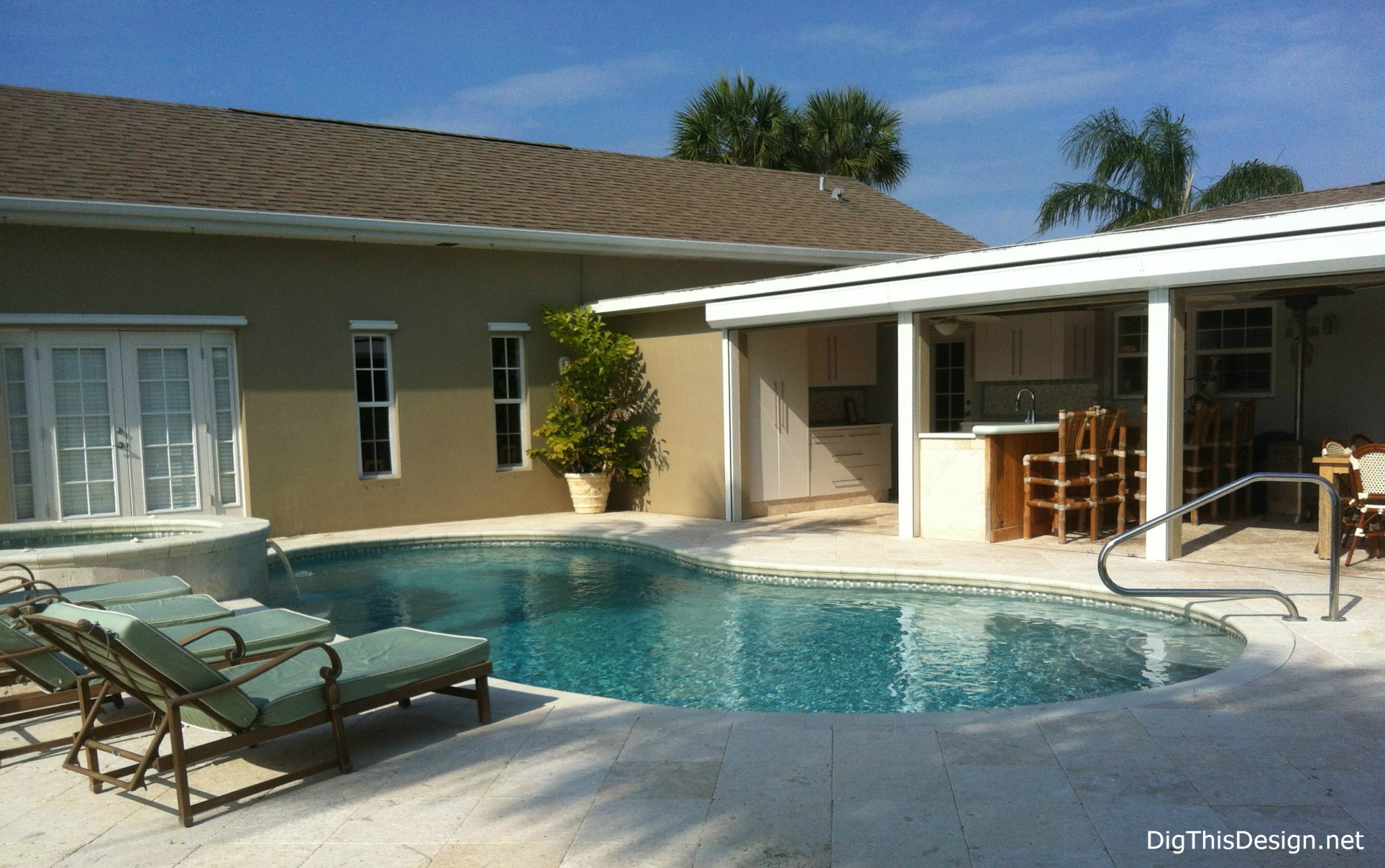 At this time of year, many of you are getting busy making your homes a cozy refuge from the chillier weather outdoors. Your backyard is slowly losing popularity as the hang-out spot as the days get shorter and colder. If you have a pool on your property, there's no better time than now to make sure there are safety features installed that would ensure no accidents happen throughout the winter (and any time of the year) when hanging out by the pool is one of the last things on your mind. In this post, I will go through the pros and cons of the different options available for pool safety.
Enclosures
Some people think screened pool enclosures can effectively keep pets and children from wandering into the pool unsupervised but in fact, this is not what they are designed for. You will need additional deterrents such as alarms, a fence, etc. to truly keep your loved ones safe. Still, there are other benefits, a big plus with homeowners who do their own pool maintenance is that they keep a lot of leaf litter, insects, and other outdoor debris out of the water because they cover the area completely. One downside is that they can really cramp your backyard style. Installing a screened enclosure over your pool will require permitting and a qualified contractor. The price will vary depending on your pool size, height, shape and how much area around your pool you want to cover, but for the most basic permanent enclosure Home Advisor reported $8,520 as a median cost, Cost Owl's nationwide average was $10,000, Fixr.com reported $20,000 for a 11'x18'x40 structure. My advice is to get a plan worked out for the size and features that best suits your needs and price it out with three different contractors.
Pool Fences
A fence surrounding the perimeter of your pool deck can be a more stylish method to pool safety. With this option, the fence can take on any style to best match your home. Price depends on the material and style. A powder coated metal fence will stand up to the elements for many years, but if it is not your forever home, plastic is a good lower cost alternative. There are a set of requirements to look out for when choosing to go forth with this project. Although specific requirements depend on your area's codes for pool safety inspections Sunshine Coast, but as a good rule of thumb make sure fences are at least 4 feet high, gaps between vertical rails and clearance from the ground is no more than 4″, no climbable object such as ledges or tree branches adjacent to the fence, and lastly gate locks should self-close properly. Thus far, I have found varying estimates for basic plastic fences from $1,500 to $3,00 for approximately 100 linear feet of fence. Once again, if you're interested in this option, get a plan and price it out.
Pool Alarms
There are alarm systems to aid in the protection of children and pets from entering the pool. This system requires you to regularly check that batteries and electrical components are properly working. This invisible safety system is great to use in conjunction with fences. Some pool cover systems (which should be rated for use as safety covers, not just heat covers) also come with a pool alarm. Poolguard is one brand of pool safety alarms that can be found through online retailers for about $250 – $300.
Pool Covers
Although not all pool covers are rated as safety covers, with this option, you can keep your pool cleaner and your loved ones out of danger even when you're not around. Mesh covers are great for keeping debris out and not having to remove water trapped on top, but they cannot hold the weight of a person or animal that has fallen in. Adversly, solid vinyl covers can be rated strong enough to keep people and animals out of the pool, but there is maintenance involved in keeping out water trapped on the surface. In both in-ground or above ground pools, vinyl or mesh covers can be anchored down to provide a solution over winter. The downside of season long covers is that they are not easy to put on and take off, but that's why they're a temporary season long fix, so at least you don't have to do this chore too often. Automatic safety pool covers take the seasonal chore out of this safety device. With the push of a button, the cover can slide on or off the pool, there are even automatic pumps available to keep trapped water off. The convenience of automatic pool covers can get expensive, anywhere from $5,000 – $15,000 or more depending on the size and customization of your system. Over winter pool covers can be a hassle, but are priced around $100-$500.
Images Courtesy of Canva.
Share This Story, Choose Your Platform!