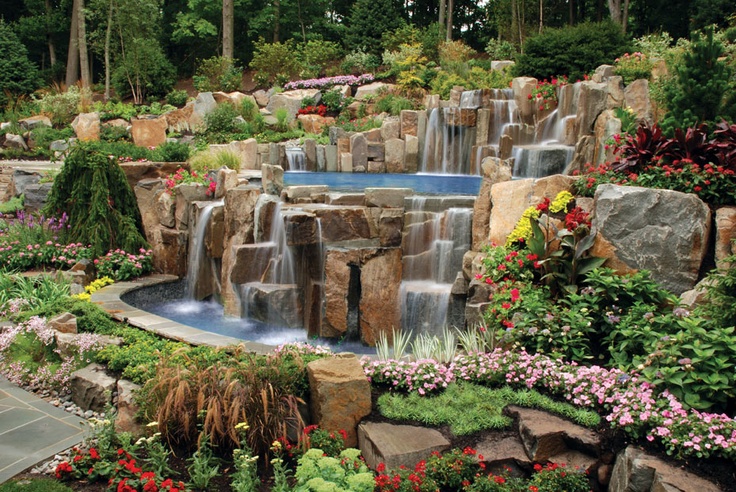 Decorating your backyard with a theme not only spruces up your space, but makes your backyard into a relaxing environment that you will not want to leave. A great theme to turn your backyard into is a tropical oasis. Just imagine… Sipping a margarita while sitting at your tiki bar, laying next to your fabulous pool, or laying out in the sun right in your backyard!
Plants
Plants are an inexpensive way to draw in the tropical island feel. Examples of tropical plants include palm trees, calla lilies and cactus. If you live in areas where tropical plants do not grow such as areas with cooler temperatures, you should opt for large, lush trees, ferns, and bright flowers to bring the tropical feel in.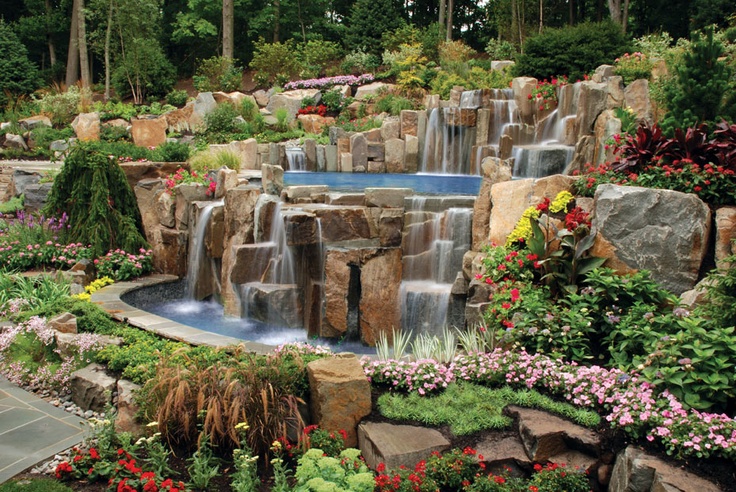 (Dig This Design On Pinterest)
Water Features such as Pool or Waterfall
What a better way to feel as though you are on a tropical vacation than by having a beautiful water feature such as a pool or waterfall in your backyard? If your backyard is on the large size, a lagoon style pool or waterfall can add a very dramatic look to your backyard. If your backyard is smaller, opt for a smaller pool or an above-ground pool. Use elements such as a rocks, slate, and stones as an accent around the pool or waterfall.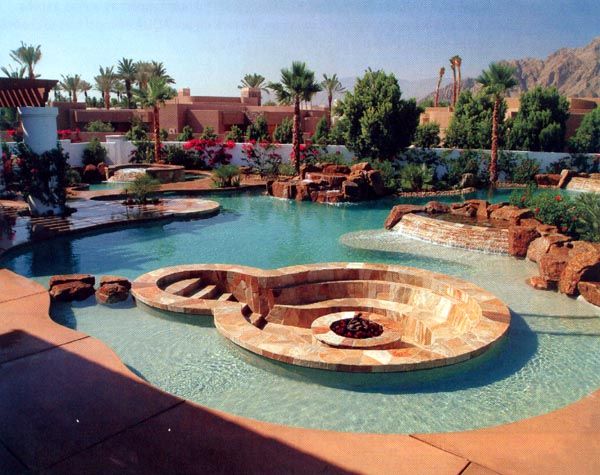 (Dig This Design On Pinterest)
Tiki Hut 
A tiki hut is a great idea to bring the tropical paradise feel into your backyard. A tiki hut also creates an entertaining space. This tiki hut is modern, without being too overpowering, complete with a bar and bar stools around the hut. You can place this tiki hut on your deck or on the outside patio or even lawn. Look for a bar that has features such as a thatched roof and bamboo accents for that authentic tropical look.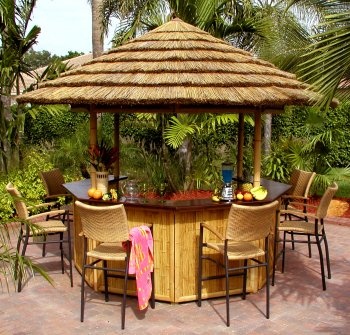 (Dig This Design On Pinterest)
Seating
Couches that are made for the outdoors give a sexy and beautiful vibe to your backyard. They can be used for you to lay out in the sun and also makes seating for guests when they come over for entertaining.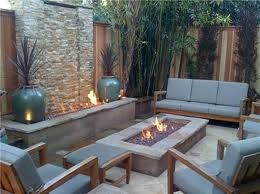 (Dig This Design On Pinterest)