Finding fresh, new design inspiration for holiday decor is a lot of fun.  Our imaginations can transport us to sugar plum lands and ice castle clouds.  The trick is recreating it into a beautiful centerpiece in our home.  Our expert contributor and Interior & Event Designer, Shandra Ward, has shared a few of her bold & imaginative holiday designs with us that would beautify any home or event, making it a time to remember!
Red and Haute Christmas Tree
This vibrant Christmas tree design was inspired by all this rich red. Using a white tree for my holiday backdrop allows me to add bold color and and plenty of sizzle to my design. I love incorporating unique ornaments in my holiday designs. I used all things red and haute! This fabulous design included red over-sized butterflies, sequin balls, ruby red jewels, boots with bling, waves of velvet ribbon and for a touch of whimsy, velvet feathers, green and black beaded animal print balls. And the piece of resistance is the topiary-style tree topper made from red velvet roses.
White Ice Holiday Design
What a fabulous way to greet guests for the holidays! Transform your entryway into a winter wonderland. This design was inspired by all things shiny and blue. I used manzanita branches that I painted silver and placed them in a mirrored vase. I'm a girl who loves the "bling", so I added crystal ice cycles, Tiffany blue mirrored ornaments, mini feathered wreaths, and blue glittered flowerettes. I took white pearlized candles with diamonds and placed them on diamond crystal-cut candle holders. For this icy design, I placed tapered candles in glass holders accented with white feathered wreaths and blue candle holders wrapped with sliver garland. This design reeks sparkle.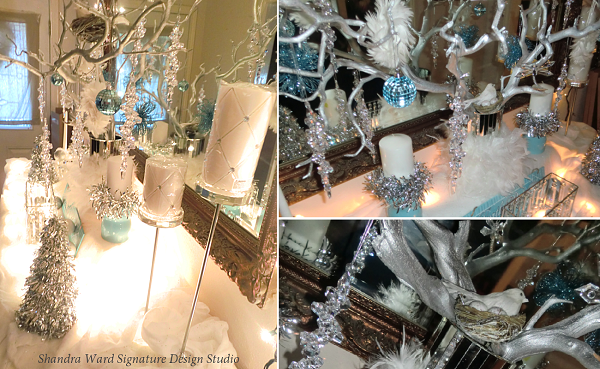 Shandra Ward, Interior & Event Designer, Shandra Ward Signature Design Studio