Your living room remodel can significantly impact the overall look and feel of your home. Thus, the space deserves special attention when remodeling it. A properly executed living room remodel can add significant value to your property while enhancing your daily life. Yet, not all living room remodels are created equal.
Ensuring the changes you make will enhance your daily living experience and pay off is essential. The exterior is equally important as the interior in making a lasting impression. As such, consider hiring professional lawn care services to enhance the overall appeal of your home. Below are living room remodel ideas that not only enhance the aesthetics of your space but also offer a valuable return on your investment:
7 Living Room Remodel Tips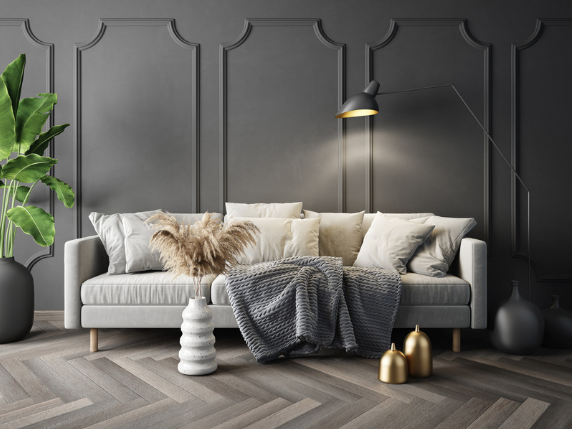 Open Concept Living
One of the most popular living room remodel ideas that pays off is adopting an open-concept design. Open concept living creates a spacious and interconnected living space.
By breaking down the walls that traditionally separate these areas, you can create a sense of airiness and fluidity in your home. The increased natural light and the ability to communicate with family members or guests in different areas of the house make open-concept living incredibly appealing. It also allows for better traffic flow, making it easier to move around and entertain.
From a financial perspective, an open-concept living room remodel can significantly increase the value of your home. Buyers today often seek homes with open floor plans as they appreciate the flexibility and sense of togetherness it offers. This remodeling idea not only pays off in terms of your living experience but can also offer a strong return on investment.
Fireplace Transformation for Your Living Room Remodel
Fireplaces have long been a focal point in living rooms, and they continue to be a popular feature in modern homes. If your living room has an existing fireplace, consider transforming it to make a lasting impact. There are several ways to do this, and the choice largely depends on your style and budget.
One option is to update the fireplace surround with modern materials like sleek tiles, natural stone, or even a reclaimed wood mantel. You can also choose to refinish the hearth and apply a fresh coat of paint for a more contemporary and clean look. Adding built-in shelving on either side of the fireplace can enhance both the functionality and aesthetics of the space, providing storage and display opportunities.
Remodeling your fireplace not only transforms your living room but can also add value to your home. A well-designed and updated fireplace becomes a focal point that draws attention and impresses potential buyers, making it a remodeling idea that truly pays off in terms of both comfort and property value.
Lighting and Technology Upgrades
The right lighting can completely transform the ambiance of your living room. Consider upgrading your lighting fixtures to create a more inviting and functional space. Use recessed lighting, pendant lights, and sconces to add layers of light to your living room. Install dimmer switches to set the mood for different occasions.
It's also worth investing in smart home technology. Smart lighting, audio, and entertainment systems can make your space more convenient and enjoyable. You can use these technologies to control your living room's lighting and entertainment systems from your smartphone or voice commands, providing a level of comfort and sophistication that appeals to modern homeowners.
Flooring Revamp
Consider giving your living room a fresh look by updating the flooring. Hardwood floors are timeless and add a touch of elegance to any space. Opting for high-quality laminate or engineered wood can provide a cost-effective alternative that still exudes sophistication. If you prefer a cozier atmosphere, a plush carpet can introduce warmth and comfort. Quality flooring not only contributes to the overall appeal but can also be a major selling point, increasing the value of your home.
Accent Wall Design
Create a focal point in your living room by designing an accent wall. Whether you choose a bold paint color, textured wallpaper, or reclaimed wood paneling, an accent wall can add depth and character to the space. This cost-effective remodeling idea allows you to experiment with different styles, giving your living room a unique and personalized touch. Potential buyers appreciate well-designed spaces, making an accent wall a feature that can pay off when it comes time to sell.
Functional Furniture Layout
Reimagine your living room's layout to maximize space and functionality. Invest in multi-functional furniture pieces that serve dual purposes, such as a coffee table with built-in storage or a sofa that converts into a sleeper. A well-thought-out furniture arrangement not only enhances daily living but also contributes to the overall perception of space, making your living room appear larger and more inviting.
Energy-Efficient Upgrades
Consider incorporating energy-efficient elements into your living room remodel. Upgrade windows and doors to improve insulation and reduce energy costs. Choose energy-efficient lighting fixtures and appliances to not only save on utility bills but also appeal to eco-conscious buyers. These upgrades align with modern sustainability trends, making your home more attractive to a broader range of potential buyers.
In conclusion, a comprehensive living room remodel goes beyond aesthetic improvements; it involves thoughtful enhancements that add tangible value to your home. By combining open-concept living, fireplace transformations, lighting and technology upgrades, flooring revamps, accent wall designs, functional furniture layouts, and energy-efficient upgrades, you create a living space that caters to both your immediate needs and the long-term investment in your property. Remember, the key is to strike a balance between personal enjoyment and market appeal. Each remodeling choice should not only reflect your style and preferences but also consider the potential return on investment, ensuring that your living room becomes a space you love while also being a valuable asset in the real estate market.
Other posts you might enjoy:
Top 5 Living Room Decorating Ideas For A Luxury Remodel
Living Room Design Style – How to Choose One
Share This Story, Choose Your Platform!