The open plan concept is popular in today's home design. Whether it is new construction or a remodel where I am removing walls to give a more open design, people simply crave it. There is an art to getting it right because too much open can become too cold! So, how do you create the open design concept and create a cozy home as well?
4 Tips to Develop a Cozy Open Plan Concept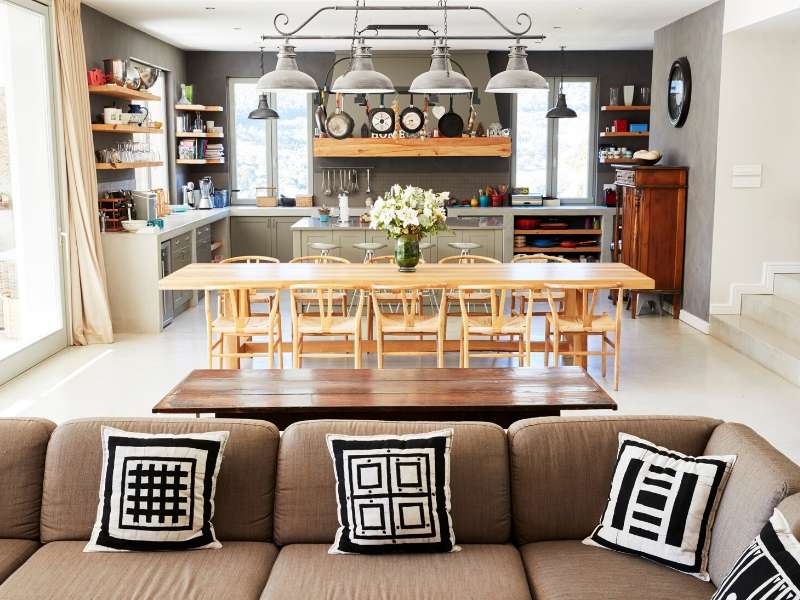 Using Ceiling Details
Consider each room its own space that needs to have some sort of line of demarcation that tells you it's the family room, living room, etc. This can be done through designing the ceiling to emphasize the room while still keeping it open. One way to do this is with open wood beams. It adds architectural interest along with character with the warm wood tones. Like I always say, design is about the right amount of balance and the contrasting painted walls with the natural wood beams gives the balance this room needed to create a comfortable style.
Add Textures
The open plan concept needs textures to warm it up. You can add a wood floor, possible hand scrapped, along with a textured rug to add warmth and comfort. Artwork and accessories work well too. You want to be able to show your own personality in each and every room. This will create the individual spaces and develop just enough open plan concept and coziness to feel right.
Use Lighting to Warm Up the Open Plan Concept
Lighting an open plan concept can be tough, but you need to find a way because not having enough light in any room can be frustrating. Finding the solution to light counters or over a dining table can actually add the right elements to break up the space. The vaulted ceiling in this design is a challenge but, the designer found a great solution by designing a light bridge over the island allowing enough lighting to comfortably work by. Using a dark stained wood that matched the back of the island and the wall cabinets it played well together. The decorative chandelier speaks to adding a coastal style to the room. The decorative lighting fixtures in any space become a powerful focal point to the design and should be given careful consideration.
Room Dividers
Room dividers can be created by pocketing doors, curtains or simply architecturally designed headers at the ceiling. By creating the right divisions in each space you create a cozy home. Without defining each and every room with some type of division you lose the personality that every house needs to feel like a home.
Images Courtesy of Canva.
Other posts you might enjoy:
Living Room Design – 5 Common Mistakes to Avoid
Ceiling Design is the Icing on The Cake in Roon Design
Every Room Design Needs An Anchor Piece
Share This Story, Choose Your Platform!