So, your Pinterest boards are full of renovation inspiration, and you're gutting your kitchen for a clean slate. You've said goodbye to grandma's pale-yellow vintage appliances, and it's time for an upgrade. One small problem: deciding on a finish feels like it just might finish you. Appliances are a considerable investment. The last thing you want is to end up with a finish that you resent for the next decade or more.  
If you're looking for information to get the right kitchen appliance finish, we invite you to continue reading to learn several effective tips and strategies.
Your Guide To Popular Kitchen Appliance Finishes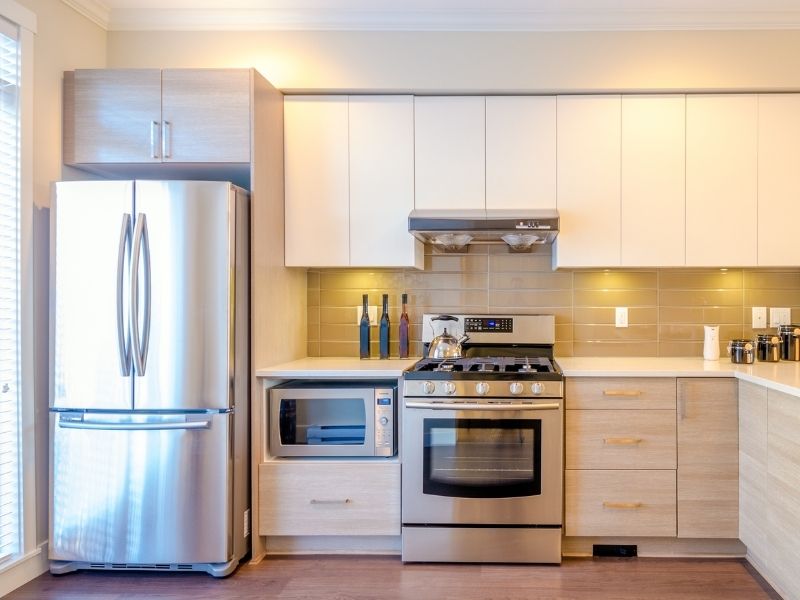 Of course, first, you must know what options are available for your kitchen. To that end, below you will find a list of the most popular appliance finishes from which you may select when shopping for appliances.
1. Stainless Steel
Stainless steel is without question the most popular appliance finish in modern kitchens. Known for its go-with-anything quality and durability, a stainless steel finish is sure to leave any kitchen looking like a magazine spread. Where to find your double-door, stainless-steel show-stopper? Consider home retailers like Goedeker's, fully stocked with the stainless-steel refrigerators of your dreams.
2. Slate
A more recent addition to the market, the slate finish is already winning loyal fans. This finish has a neutral quality that works well with a wide variety of kitchen designs. Slate is much more fingerprint-resistant than stainless steel, making it a fantastic choice for households with grabby children.
3. White
Many may consider white appliances "old school," but manufacturers are coming up with new incarnations of this finish that you may love. Not to mention, the vintage look is always coming back into style.
4. Wood-Paneled
Another old-school (yet higher end) type of appliance finish, wood-paneling, is terrific for kitchens that need that extra boost in coziness.
5. Black
Black appliances are undeniably sophisticated. This finish grants your kitchen a more luxe vibe. The little black dress of appliances, you can rest assured it'll match any style of kitchen décor your heart desires.
6 tips for choosing the right finish for your kitchen appliances.
If you're feeling spoiled for choice, fear not. Here are six tips for choosing the perfect kitchen appliance finish for every homeowner.
1. Be realistic.
Yes, your decor and desire to be stylish are essential. But choosing the right kitchen appliance finish is also a practical task. You'll be using your kitchen appliances every single day for years to come, so don't choose based on aesthetics alone. 
While most homeowners gravitate towards stainless steel, be aware that this finish is prone to fingerprints. If you have kids or even messy roommates, you might find this option relatively high maintenance when cleaning.
2. Choose for the long-term.
Kitchen appliances are expensive but you don't buy an appliance planning to replace it any time soon. You might even have your eye on some design trends at the moment but picture yourself with your appliance five years from now. Then, if you don't still love it, keep looking. 
3. Consider your lifestyle.
Do you have the extra time in your day to polish your appliances into looking shiny and new? If not, you'll probably want to choose a lower-maintenance finish.
Therefore, if you go with stainless steel, ensure you know how to clean it and get rid of fingerprints. Understand the characteristics of different materials and finishes, and consider whether they fit your family's lifestyle and cleaning habits.
4. Think about the rest of your decor.
Consider the colors already in your kitchen decor, as well as its general atmosphere. If you've gone with the current trend of gray tones, stainless steel will be perfect. Black stainless steel is another excellent option if you love stainless steel but want something a little edgier.
5. Remember your sense of style.
Like with any other room of your home, your sense of style should play a significant part when choosing your kitchen finishes. For instance, do you love a comfortable and cozy farm kitchen look? Then think about wood-paneled appliances. Do you prefer a modern, cutting-edge look? If so, you will probably want black or stainless steel. Of course, vintage lovers will do well with white.
However, if you're not sure about what colors appeal to you, surf Pinterest or browse design magazines for inspiration.
6. Know the different appliances.
Different appliances need cleaning sooner than others. For example, your refrigerator probably takes a lot more day-to-day handling than your dishwasher.
There are many new appliance styles on the market, so take your time checking out the market before making your kitchen appliance finish decisions.
In conclusion.
Use these six effective tips to help you put that perfect finishing touch on choosing your kitchen appliance finish. If you have any questions or suggestions, we always love to hear from you in the comments below. Also below are links to more fantastic articles about ALL things DESIGN for your home or business.
Images Courtesy of Canva.
Other Posts You Might Enjoy:
4 Ways To Add Character And Charm In Your Kitchen
Fixing and Repairing your Denton Texas Kitchen Appliances
What To Ask When Hiring an Appliance Repair Service in Burbank, CA
Share This Story, Choose Your Platform!