This is a sponsored post written by me on behalf of Kohler for IZEA. All opinions are 100% mine.
This year's Kitchen and Bath Industry Show offered up a smorgasbord of trendsetting styles for 2016. I attended the show as one of the NKBA K+B Insiders and one of my jobs was to peruse the show floor to find the best of the best in product offerings. I knew just where to begin my search to find the most dazzling of products, Kohler! As a veteran attendee over the last 30 years, I am always anxious to see Kohler's product lineup of pure style and innovation.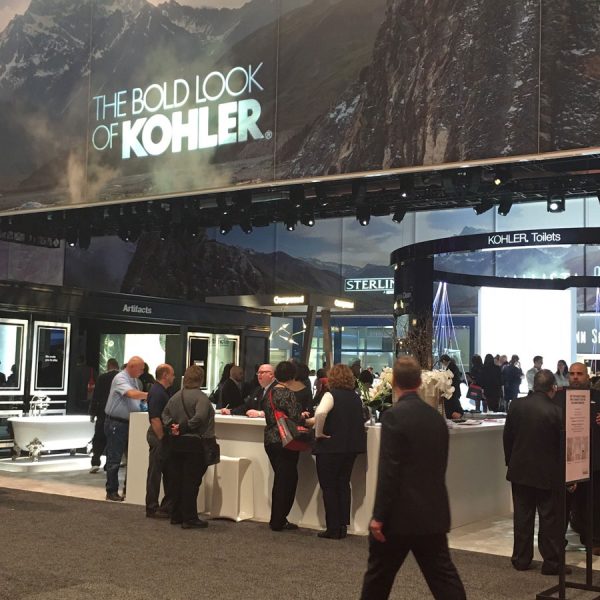 Kohler is known for offering exceptional products and is a leader in design, craftsmanship, and innovation. Kohler's offerings expand over a wide range of price points, so whether you are a DIYer on a budget or a you specify high-end products for the custom home market, Kohler has products for your project.
I am excited to share their latest faucet offerings, sold exclusively at Lowes, the Cardale and the Elliston.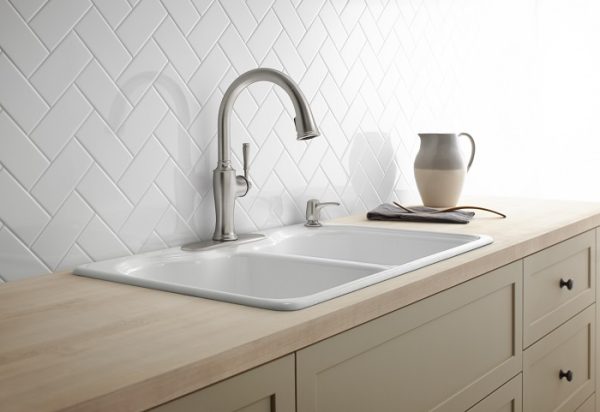 Cardale Kitchen Faucet by Kohler
The Cardale is traditional in style and shown above in a vibrant stainless finish, attached to a 10-1/2 inch escutcheon plate with matching soap dispenser. The spray head is ergonomically designed as a 1-Handle Pull-Down, offering a 2-function spray head for the users preference.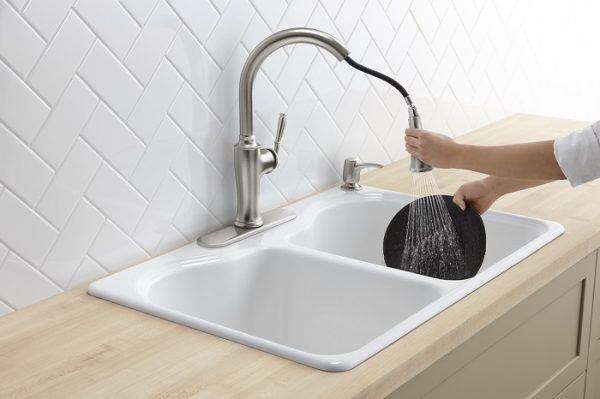 The Cardale Kohler Faucet w/ Sweep Spray Technology
This faucet comes with a Sweep Spray function that creates a forceful blade of water designed to sweep away stuck-on food from your dishes. Another smart feature is the temperature memory that allows the faucet to be turned on and off at any temperature setting. I love the idea of having my water always set for my comfort level. Also, worth mentioning is the 1-piece, self-contained ceramic disc valve that allows both volume and temperature control at all times.
As a designer, I get a lot of feedback from my clients on bad product design and one of the major complaints with faucets is when the pull-down spray doesn't return to it's proper fit and just hangs loose. Good news for those clients, the Cardale comes with DockNetik, a pull-down faucet design that ensures a secure spray head fit every time.
Living in a coastal community, it is always important to me to never specify a faucet with a finish that will corrode and tarnish. Kohler's Cardale has a Scratch Shield finish that resists corrosion and tarnishing, exceeding industry durability standards over two times, which gives me confidence!
This faucet is designed with a 360-degree spout rotation, which is perfect for a kitchen island or peninsula design location. This design would allow someone to access the fixture from all sides
The best part about this faucet is it meets CalGreen requirements for Kitchen faucets. An eco-friendly product is important for me as a specifier because I don't want to use products that hurt our environment.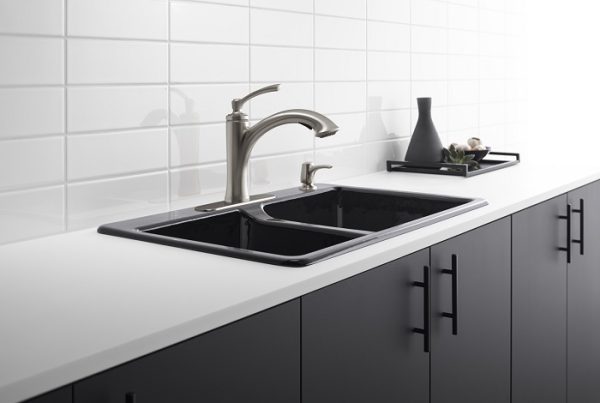 The Elliston Kitchen Faucet by Kohler
The KBIS 2016 Show shined a spotlight on contemporary style, proving it's still popular throughout 2016. The Elliston faucet is right on trend with its sleek design. Like the Cardale, the Elliston has the Scratch Shield finish, so not to worry about corrosion or pitting. The MasterClean spray face resists mineral buildup and is a snap to clean. Also featured on this model is a high-temperature limit stop that allows you to preset a comfortable maximum temperature, making it safe and a good choice for universal design. It is designed with optimal height and reach, providing plenty of clearance beneath the spout. Kohler's ceramic disk valves crush and remove line debris and exceed industry longevity standards by over two times, ensuring durable performance for life.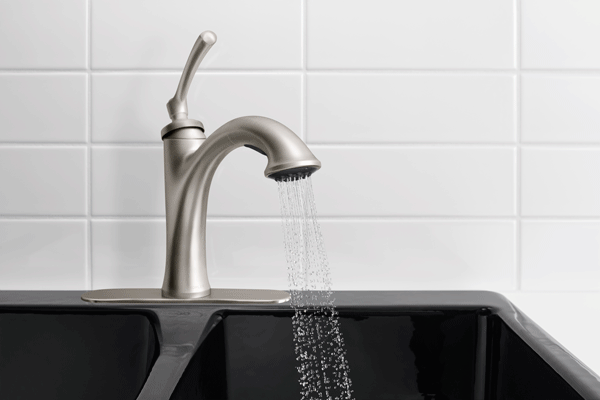 The Elliston Faucet by Kohler
I hope this post provided you with good information and feel free to offer a comment or ask questions. For more information on 2016 trends you might want to check out my latest post on that topic:
A Look at The Top Home Design Trends for 2016
Why is the Most Popular Countertop Material for 2016 Quartz?
KBIS 2016 Most Interesting Product Finds
Interview with Editor at Large on Kitchen and Bath Design Trends 2016
This post is written by me, an Interior Designer in the industry for 30 years and even though this is a sponsored post, I stand behind what I wrote about Kohler being a leader in the industry and known for its quality products.
Share This Story, Choose Your Platform!