When I attend an industry show, I not only want to see what's on trend, I'm also on the look out for products that are innovative and interesting. The Kitchen and Bath Industry Show (KBIS) in Las Vegas did not disappoint at all. There were a number of great products that may not be for everyone, but nevertheless offered incredible design and high-end quality! Let's dive into our finds for kitchen and bath design.
For The Kitchen
MOLTENI
Molteni ranges grabbed my attention with their undeniable for-the-serious-cook style. This range is handmade in Molteni, France using a solid steel structure. There were no seams on the solid steel and magnesium top and when I ran my hand underneath the edge I found a continuous, uninterrupted solid steel surface. In case you haven't noticed, I love sleek design.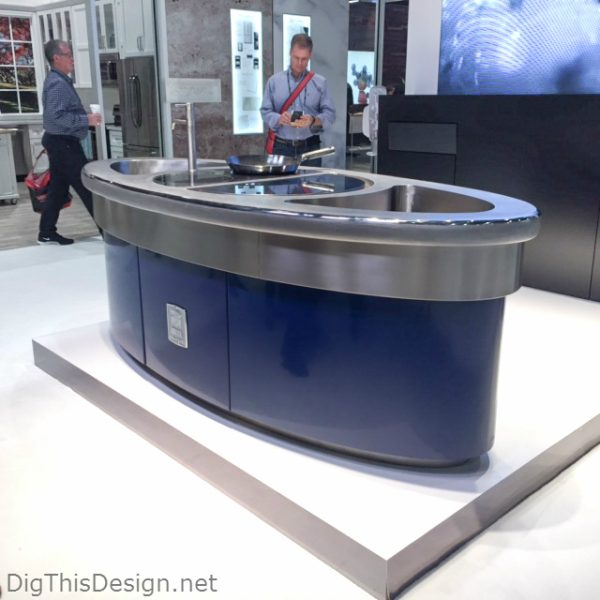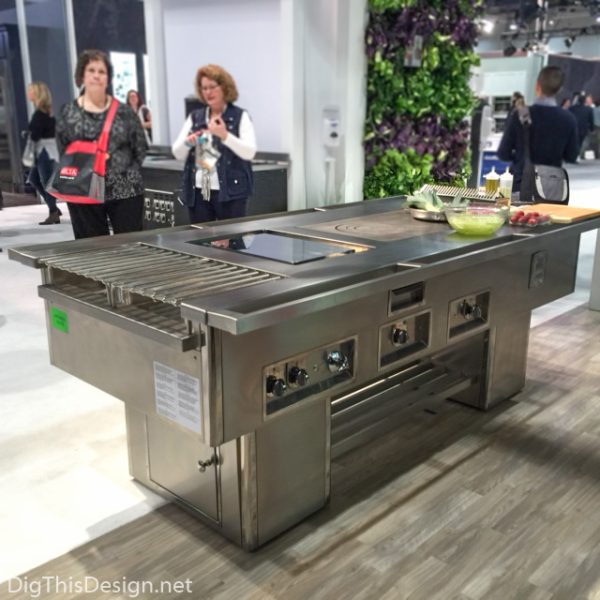 I was greeted by Michael Poulos, a representative for Molteni, who explained that every model is custom made to the chef's specifications. Each piece is handmade, one piece at a time. I loved the efficient design of the work around islands offering multi-cooking technologies. I wanted to learn more about Molteni ranges and sat down for an interview with Michael.
Michael the Molteni ranges are beautiful, but I am sure this is a "Stealth Wealth" item. Can you tell me the price range for this high-end range?
"The Molteni ranges start with the P120 at $35K and the custom made to measure stoves can cost up to $250K."
Are there any cooking technologies that cannot be designed into the range?
"Most any gas, electric, or solid fuel function can be built into our stoves."
How many Molteni ranges, per year, are sold in North America, for the residential market? Restaurants?
"Worldwide production is between 110-120 stove per year. US consumption is 5-6 residential stoves and 10-12 restaurant stoves per year."
I know the Molteni is custom made, can you share the most out of the box request, possibly color?
"We built a 160,000 watts of induction range for a restaurant in Las Vegas. Another one that stands out was a 6-ft. x 12 ft. stove for a 77,000 sq. ft. Las Vegas home. The most out of the box color, I would have to say would be a bright orange, which was rather unique."
Does this type of range need commercial ventilation in a residential application? The P120 and P145 models will normally suffice with a high-quality residential hood. When you move up to larger specification and more power, especially in an island or peninsula installation, it is recommended a commercial type ventilation system be used.
La Cornue
La Cornue has been known for its high-end enameled finishes and quality cooking technologies, but I could not let this special pink colored, Cháteau 150 for designer, Suzanne Kasler, go without mentioning. I heard the buzz during KBIS and on social media as I was trend spotting as one of the NKBA K+B Insiders, that I had to check out the pink La Cornue and I was not disappointed by it's unique flair!
For The Bath
Kohler
Kohler displayed their Artist Edition sinks and one in particular caught my eye, the Ice Antilia Wading Pool made from glass. For those who know me, you know I design with glass a lot, it's one of my favorite materials. I design for a lot of coastal communities, so I love to bring the outside inside and glass is a great representation of water. I was really stoked to learn that this sink is offered in several colors of glass, which would allow me to possibly match to a glass countertop, creating a complete glass vanity top of all glass. I think the layered effect would be smashingly cool!
Accents of black were everywhere at this year's KBIS, but this Brizo freestanding tub filler stood out to me. This graceful design was only accentuated in a matte black finish. The twist design flows effortlessly like flowing water.
Did you attend KBIS 2016? I'd love to see your favorite finds for kitchen and bath. Follow me on Facebook and Instagram, or comment below. I've also started a Pinterest board for 2016 kitchen and bath trends.
Share This Story, Choose Your Platform!