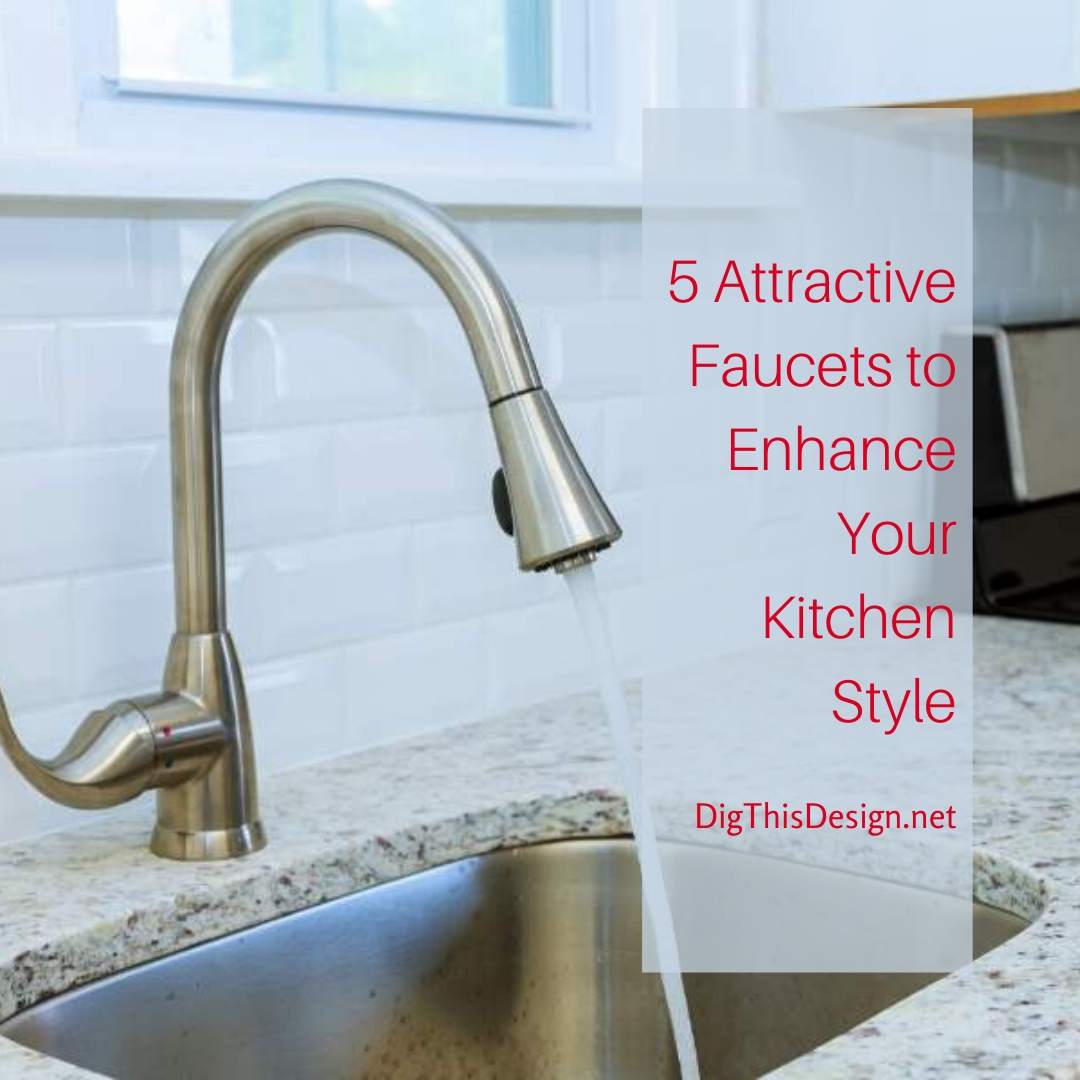 It's never easy to navigate the delicate balance between kitchen style and functionality. That's especially true when it comes to the appliances in your kitchen – and your faucet. Your sink and faucet are an integral part of your kitchen aesthetic, but they're also constantly in use. You want to make sure you have something that's durable, time-tested, and will outlast lesser product models. However, there are hundreds of products on the market today. How do you find the perfect faucet to match your kitchen style and needs?
It's not hopeless (we promise!) The best faucets for your kitchen sink require a few main elements. They need to be the right height and pitch, have a great finish, and offer great water flow. We're making it easier for you today and breaking down the top five faucets for your kitchen on the market right now.
5 Attractive Faucets to Enhance Your Kitchen Style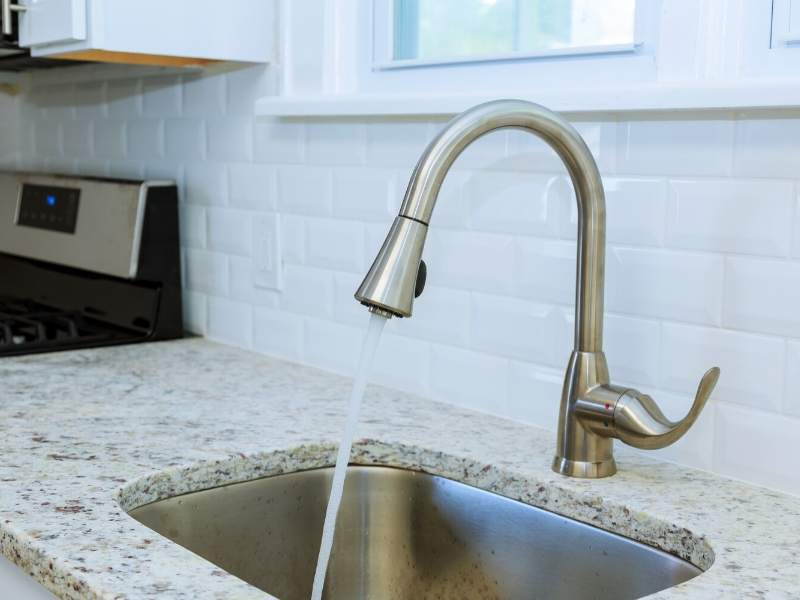 Delta Faucet 9178-AR-DST
This pull-down, single-handle faucet is packed with premium features for enhanced usability, durability, and aesthetics. In addition to complying with ADA standards, the Delta Faucet 9178-AR-DST features a unique MagnaTite docking mechanism which ensures that the spray head remains in place at all times.
This model is extremely popular because it works well in hard water environments. Its innovative touch-clean spray technology prevents the buildup of sediment in the faucet, which is a common result of hard water. This all-around kitchen faucet offers a chic kitchen style, as well as superior functionality.
Moen Arbor MotionSense Touchless
Do you know those days when you're cooking poultry and dread turning on the sink to wash your hands? The Moen Arbor Motionsense Touchless is the cure for the common faucet. This futuristic faucet affords homeowners the opportunity to wash their hands without dirtying the faucet in the process. By detecting the motion of your hands over its surface, the faucet will activate water flow – and cease it with another wave of your hands. It is, without a doubt, a great feature for future modern kitchen designs.
Delta Faucet 9113-AR-DST Essa
Delta is one of the leading manufacturers of the best kitchen faucets today for a number of reasons. They seamlessly merge style, function, aesthetics, and price for consumers of all markets. The Delta Faucet 9113-AR-DST Essa offers great quality, as well as affordability. Featuring innovative DIAMONDTM Seal Technology, gone are the days of worrying about troublesome leaky faucets. Plus, its Touch-Clean, rubber spray holes make it a breeze to clean.
KOHLER K-596-CP Simplice
Is your kitchen style cramped by an old, bulky faucet that takes up too much space? The KOEHLER K-596-CP Simplice drastically improves sightlines and lessens wasted space. It offers increased clearance with a high-arched spout, 36-degree swivel, and a retractable spray nozzle. Traditional sinks can make it difficult to wash larger pots and utensils, but the added space afforded by this unique faucet makes cleanup easier. Plus, it's notoriously easy to install and clean.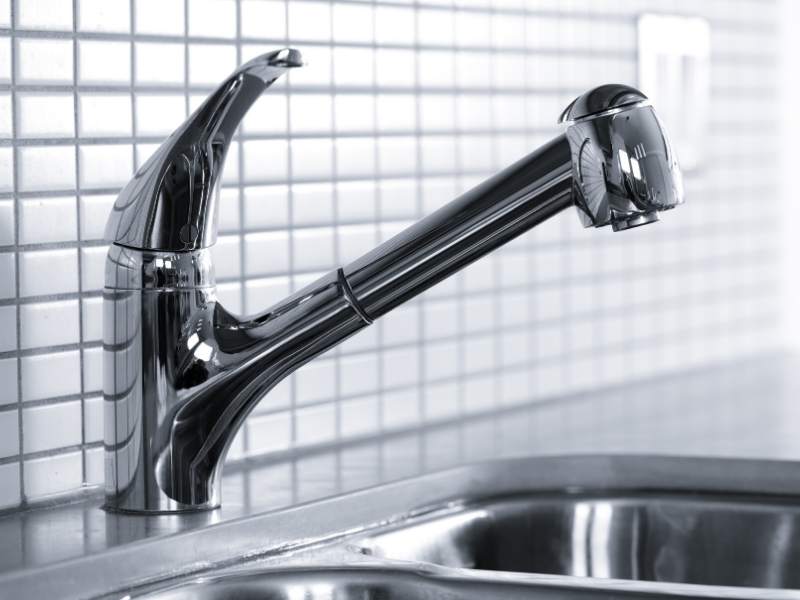 American Standard 4175.300.002
American Standard is, for all intents and purposes, an American standard. For years, they've cemented their reputation for producing well-designed, durable, and reliable faucets. This pull-down, single-handle faucet offers clean lines and a soft aesthetic designed to complement your kitchen style. This model is a part of the Colony® Soft Collection, and it's a favorite among contemporary kitchen designs because of its streamlined appearance and functionality.
Your Faucet Mirrors Your Kitchen Style
Whether you're gearing up for a full kitchen remodel, or you simply want to enhance and improve your kitchen style, don't forget the faucet. There are so many options on the market today that will enhance your design and improve function. By choosing the right one, you can achieve a convenient, durable, and time-tested faucet just for you.
Images Courtesy of Canva.
Other Posts You Might Enjoy:
6 Simple Steps to Transform Your Kitchen Design
Kitchen Appliances: Pick the Best Products for Your Design
The Eat-In Kitchen Design in Modern Day
A Kitchen Facelift to Bring it Into the 21st Century
https://digthisdesign.net/wp-content/uploads/2018/02/5-Attractive-Faucets-to-Enhance-Your-Kitchen-Style.jpg
1080
1080
Melissa Moore
http://development.digthisdesign.net/wp-content/uploads/2016/11/OLD_DigThisDesign_logo.jpg
Melissa Moore
2018-02-02 01:00:59
2021-01-16 11:29:54
Kitchen Style: 5 Faucets to Enhance Your Design