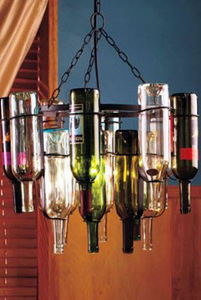 Today our guest author, Eric, tells us about learning how to make a wine bottle chandelier, deciding which bottles to use and figuring out how to add extra character to this decorative piece.
Wine Bottle Chandelier
When my wife and I moved into our house, near the top of the list of things to change was the light in the kitchen. Twelve years later, we finally got around to it.
As someone who reviews wine clubs, I had a lot of wine bottles going into the recycling bin each week. I've seen others build their own wine bottle chandelier, but don't think I have that much skill (or patience). So when I saw this product on Amazon for just $40, I had to give it a try.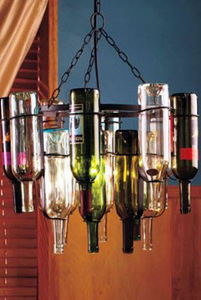 The chandelier hangs from a hook in the ceiling, and plugs into a standard socket. Assembly was fairly easy, requiring only a pair of plyers and a screwdriver.
My old light also plugged into a standard socket and hung from a hook, so I unplugged the old light, removed it from the hook, and put the new one up. Now I had myself a lightbulb in a metal cage – not very attractive.
As I finished off bottles of wine, I removed the labels, washed them out, and placed them in the chandelier. One day, I was lazy and left the label on, and ended up liking that look better! A plain bottle is nothing but decorative glass, but with the label, you can remember when you enjoyed the wine, who you were with, and what the occasion was.
As for the light bulb, I started with a CFL light, but it was very bright and visible, so I wanted to try something else. I tried a 40-watt "Nostalgic Edison Quad Loop-style Bulb," but it was far too dim. Eventually, when the chandelier had all of the spots filled with empty wine bottles, I went back to the CFL and it looks great.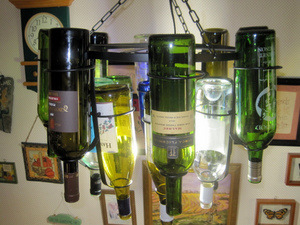 The biggest problem I have with this light fixture is that it doesn't hold all sizes of wine bottles. Pinot Noir, one of my favorite wines, comes in a bottle with a fatter bottom, which doesn't fit in the rings that support the bottle. However, most bottles do fit nicely.
— Eric Nagel
About the Author: Eric is based in Buffalo, NY – near the Niagara Wine Trail. He's a fan of Pinot Noir, but appreciates any good wine. Eric does video reviews of wine clubs and individual wines at http://www.wineclubreviewsandratings.com/