Quartz and granite are two of the most popular materials for kitchen worktops, both of which lend a high-end finish to any kitchen design. You can get excellent granite and quartz countertops from many kitchen suppliers, but you might be wondering about the cost advantages and disadvantages of each option.
Granite Vs. Quartz Countertop Costs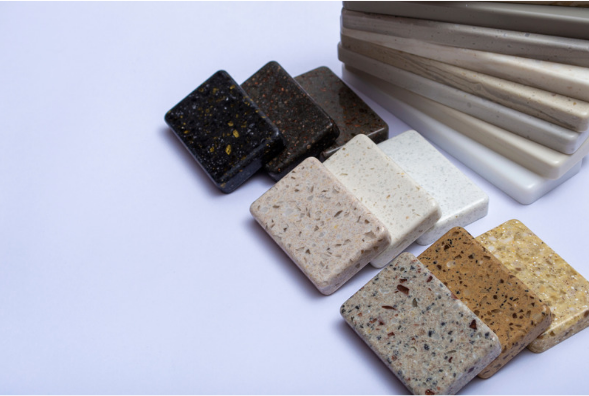 Read on below to find out more about granite vs. quartz costs for countertops.
Cost Comparison Between Countertops
Our pricing comparison can assist you in calculating the cost of supply and installation. These prices are average for regular quartz and granite worktops. Prices may vary based on the color and finish chosen, so you can't rely on this for accurate numbers, but it should give you a rough idea.
To provide a conventional 5m countertop (600mm depth): Quartz will cost around $1000 on average. While granite will cost around $1100 on average.
To source and install a countertop (per m2): Quartz costs around $450 per m2 and granite will cost around $500 per m2. When comparing granite vs. quartz cost per square meter, quartz is usually a little bit less expensive, but the difference is not huge.
However, many skilled granite worktop providers and installers can modify the cutting to make granite a more cost-effective solution. This is because granite comes in bigger slab sizes than quartz. As a result, rather than two slabs of quartz, all of the required pieces for your counter can be obtained from a single larger slab of granite.
Factors That Affect the Cost
When comparing the cost of quartz countertops versus granite, you will notice the pricing differs depending on:
The worktop's size and proportions.

The type of granite or quartz you select.

 The finish you choose.

Unpolished cutouts. This refers to the cutouts for your stove and sink. If you wish to top mount your sink, an unpolished cutout is all that is required because it will not be seen.

Polished cutouts. If you choose a butler sink, for example, polished cutouts are required because you will see the worktop edges around the sink. 

Drainage grooves, which serve as your draining board and can be quite expensive.

Curved corners instead of squares.

Rounded corners, which tend to be more expensive.
These are the main factors that can change the costs of your chosen countertop. A very simple granite countertop can be cheaper than a more complex quartz countertop, for example. If you're interested in these materials, we suggest that you reach out to a company like pioneergraniteandquartz and ask for a quote!
Other Posts You Might Enjoy
How Granite Countertops Enhance Your Kitchen
An Overview of Limestone Kitchen Countertops
Choosing the Best Kitchen Countertops for Your Home
Share This Story, Choose Your Platform!