Is your kitchen the heart of your home? Other than preparing meals here, do you and your friends and family gather in the space to dine or to chat over coffee? Do you work or study in your kitchen? Do your children play games nearby while you cook? So, don't you think it's worth adding color and flair to your kitchen space?
The kitchen is no longer just a functional space for cooking and storing food. The 21st-century kitchen is also a dining space, work and study nook, an area for relaxing and playing, and maybe even a meeting place. Your kitchen needs to have it all!
Are you looking for ways to add color and flair to your kitchen space? Here are some tips to bring some zing and creativity into a space of joy, creativity, and camaraderie.
Add Color And Flair To Your Kitchen Space With These 5 Ingenious Tips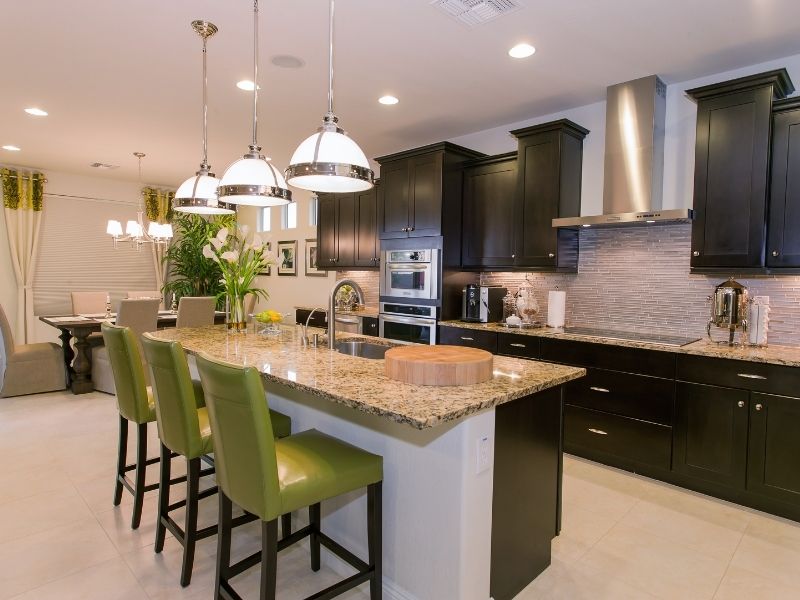 Not sure where to start? Read on to discover some of the tricks used by interior designers when creating a color palette.
Neutrals or bright colors? The jury's out.
Do you know about the debates over how bright and colorful a kitchen "should" be? Some real estate agents advise against using bright colors in the home. Their concerns relate to the saleability of a property and whether "loud" colors might put potential buyers off. Others say, "Go for it!" Your home is your own and you need to enjoy it while you live there. 
Whichever side of the line you fall on, don't worry. Some of the tips below are more permanent, whereas others are more "pack up and go" ways of adding color and flair to the kitchen. 
Follow the 60-30-10 rule.
Most people wisely choose a neutral base color to be the main color in their kitchen. This isn't dull at all; it's for good reason. Large expanses of neutral color will help brighter colors and patterns "pop" without making the overall effect too hard on the eyes.  
Many will be following the 60-30-10 rule when they do this. This is a golden rule of interior design that means colors balance very well. Three colors are chosen for decorating the kitchen's walls, ceiling, flooring, and cabinetry. 60% of the room will be the more neutral base color, with color accents coming from two other colors, one used more than the other. 
Whites and greys make other colors sing.
White and very light grey shades have the dual benefits of brightening a room as well as helping all other colors step into the limelight. Very dark greys, blacks, and even very dark blues provide a brilliant contrast to bright colors but may diminish the light and airy feel. 
Check out the color wheel.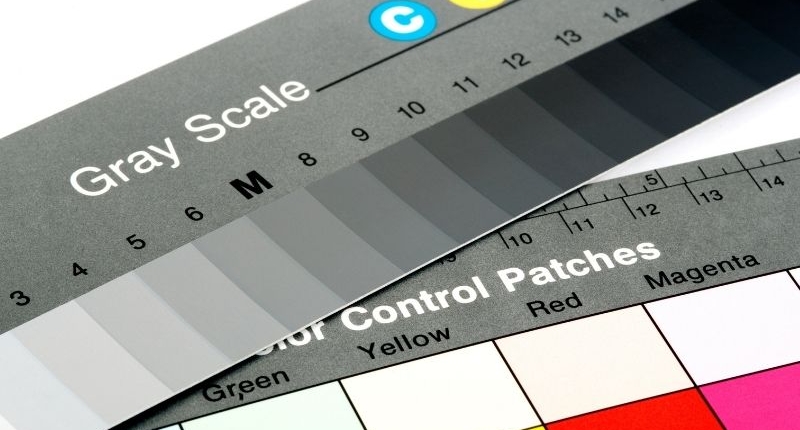 The color wheel is another useful tool used by designers. All colors go around the center of the wheel in the same order as in the rainbow: reds, oranges, yellows, greens, blues, then purple shades. 
What makes the color wheel a great hack for design novices is that colors that sit opposite each other always make a great pairing. So reds compliment greens, blues compliment yellows, and so on. 
Consider color psychology.
Did you know that colors can provoke strong emotional reactions? It's worth thinking about how color might affect the mood of the room. For example, blues are calming and relaxing. Greens are also restful and mind-clearing.
Yellows and oranges are uplifting and inspiring. Reds are warming, happy colors. Beware, however — both reds and oranges have been linked to stimulating appetite. So, if you are counting calories, they might not be the best choice for you. Going even deeper, the dramatic purple colors spark creativity whereas pinks create a playful mood.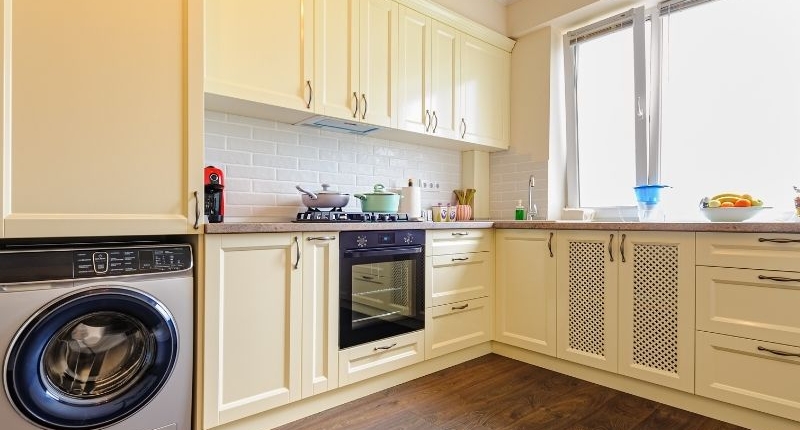 Have an idea of your color combination? Here are five ways to introduce color into your kitchen.
1. Paint a contrasting wall or even ceiling.
While you might want to keep most of your walls a neutral color, you can introduce a stunning flash of color with a bold choice for one wall, or maybe even the ceiling. 
2. Paint your cabinets.
Painting your cabinets can be the ideal way to completely reinvent your kitchen or to breathe new life into an old one without spending a fortune. Be sure to use high-quality, durable paint designed for the material you are painting onto.
3. Consider Terrazzo to add color and durability.
Terrazzo is a colorful finish for both floors and walls and is extremely durable. Terrazzo usually features a base color studded with a pretty combination of materials like glass, marble, quartz, porcelain, granite, mirror chips, or mother-of-pearl. If you like the idea of decorative finishes, this is an easy-to-install way of getting stunning results.  
4. Go for colored concrete flooring.
Concrete floors are as durable as a floor could possibly be, as long as the quick and easy maintenance routine is performed when necessary. Leave your preconceptions about concrete at the door; 21st-century concrete flooring is far from dull and boring. 
Neocement is a way to play with color and texture as a coating for existing concrete floors. This is craftsmanship at its best; neocement is applied by hand for a unique, luxury finish. 
5. Get adventurous with accessories.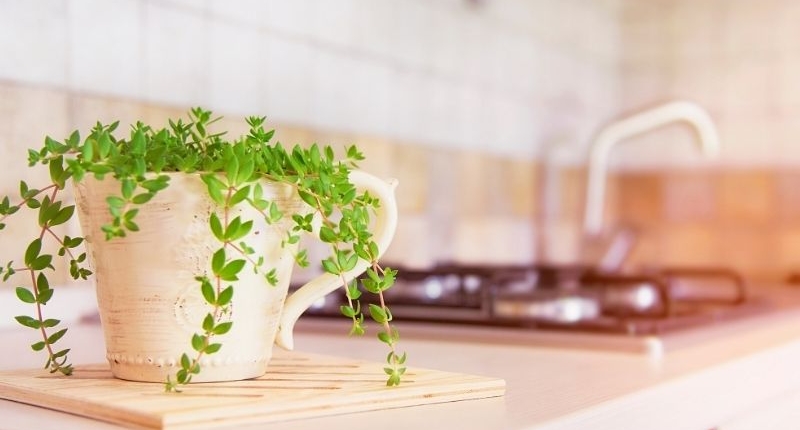 Don't feel like starting again with a kitchen or even repainting it? Then add your color with accessories. Good lighting is essential in creating a mood. Why not add color with some bold light fittings? A large light, low over a table, will create a dramatic and atmospheric dining area.
Oversized houseplants with giant leaves are a way of bringing green into the room. You'll also gain better air quality in your home as a result. 
Alternatively, you could color-match kitchen gadgets on display, like coffee machines and food mixers, to add a pop of color. 
In conclusion.
With these tips and ideas, changing a color scheme or adding some pops of color it is really fun. Finally, you have the perfect place to cook, and work, rest, and play. Have you been inspired? Which ideas will you feature in your reinvented kitchen? 
Author Bio.
Ralph El Eid is the Business Development Manager at COLORTEK – Wall & Floor Fashion. EQUIPAINT is the franchise owner of COLORTEK in Dubai (U.A.E.) and Doha (Qatar); an international paints manufacturer specializing in the widest range of decorative paints and seamless concrete & resin flooring, with a unique showroom concept, and thus an ideal destination for homeowners, consultants, architects, interior designers, and paint applicators.
Images Courtesy of Canva.
Other Posts You Might Enjoy:
4 Kitchen Design Hacks To Support A Healthy Lifestyle
Top Kitchen Design Trends in 2021
8 Important Tips About New Kitchen Design
Share This Story, Choose Your Platform!