The kitchen is one of the home's most renovated spaces in the US, thanks in no small part to the role it plays in bringing families together. The most renovated feature in a kitchen design is countertops (91 percent) followed by backsplashes (86 percent) and sinks (84 percent).
Kitchen Design Trends for 2023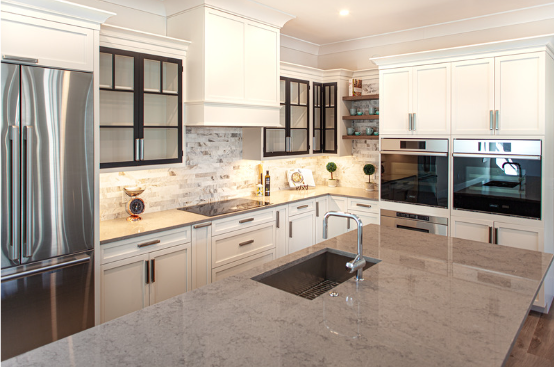 Design by Patricia Davis Brown Designs
If it's time to give your kitchen a makeover, and you'd like to include a few trending features, read on!
Hidden Breakfast Nooks and Gourmet Corners
Popular kitchen storage furniture designers are lending flexibility to their newest products. This new trend turns storage into a breakfast nook or gourmet space for coffee and tea. Check out Harvey Jones' Abor Kitchen or Tom Howley's The Devine Collection in Stormy Sky. When these furniture pieces are closed, they look just like any other modern kitchen storage system. When opened, they reveal a space in which to place a cup of tea, a gourmet coffee maker, or even a small toaster. This type of kitchen design trend is ideal for those who like to leave the kitchen island for food preparation.
Freestanding Furniture Pieces are a HOT Kitchen Trend
Despite the popularity of open kitchens, kitchen furniture itself has always tended to have a somewhat fixed, stagnant air to it.  Islands were unmovable, countertops pasted to walls, and appliances firmly entrenched in their respective spaces. Today, there is a kitchen trend that homeowners are interested in flexible layouts that allow them to change the entire layout of their kitchen. As such, they are conjuring up new pieces of furniture such as raised marble-topped tables that serve the same purpose as kitchen islands. Freestanding fridges, movable shelves, and antique desks-turned-into-central islands are just a few innovative trends.
Fridges that Keep Food Fresh Longer
One of the biggest challenges for many homeowners as the warm season approaches, is keeping fruits and vegetables fresh—especially the food items pests are fondest of. Fruits and vegetables are just two of many foods that pests can swarm to, especially if these items contain sugar. Most people enjoy allowing their fruit to mature outside, but during the summer months, refrigeration can help maintain quality longer and avoid the presence of pests. New-fangled fridges have myriad features that can help preserve the integrity of produce. These include separate fruit and vegetable crispers, ethylene gas filtration systems (since ethylene gas can destroy your produce), humidity sensors, and blue light technology (which is thought to help fruit retain more nutrients).
Marble is Still a Popular Kitchen Trend
The biophilic design trend—which brings many aspects of nature indoors—is embracing the incorporation of rich natural materials such as marble into kitchen design. Imagine a central island with a gorgeous white veined marble top. The effect is one of richness and depth using nature. Pair this island with hanging copper pots, an array of indoor and outdoor plants, and a wooden floor, and you will very much have aced the essence of biophilic design.
It's an exciting time to give your kitchen design a new look. Flexible kitchens, biophilic designs, and high-tech fridges are just a few priorities for modern kitchen design. Adaptability is everything, which is why storage furniture that doubles up as a gourmet nook is also on trend.
Other posts you might enjoy:
Modern Kitchen Design – Tips for a Modern Style
Planning Your Outdoor Kitchen Design
8 Important Tips About New Kitchen Design
Share This Story, Choose Your Platform!